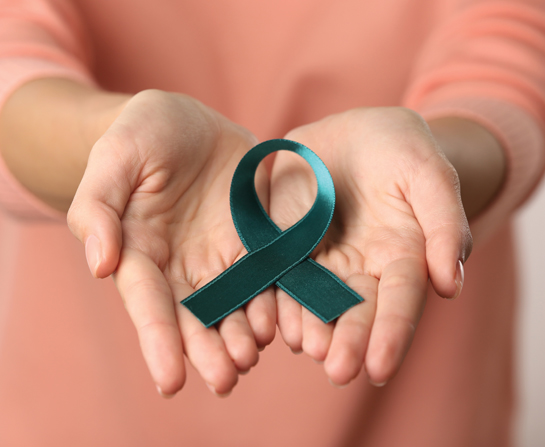 WORDS ABRAHAM MATHEW SAJI
Sarah—the writer's late mother—frequented visits to her doctor when she was in her mid-60s due to occasional vaginal discharge with bleeding and fever. Initial examination revealed urinary tract infection and she was treated accordingly. She reduced her visits to her doctor due to shyness and inability to afford the costs of treatment. Within a period of about 9 to 12 months, her condition started getting worse with discharge and blood stains visible on her clothes and bed sheets. Pathological, radiological and biopsy tests revealed that she had stage 4 cervical cancer. The cancerous cells were so active and malignant that they had spread to her bladder and colon. The treatment options available then could hardly sustain her for another 3 months and she passed away.
To avoid the trauma that Sarah and her loved ones had, and in conjunction with World Immunization Week (April 24 to 30, 2019), let's take the opportunity to learn and spread the awareness of cervical cancer. 
INTRODUCTION TO CERVICAL CANCER
The cervix is the lowest part of the uterus. It is also commonly known as the neck of the womb. Cancer of the cervix, also known as cervical cancer, begins with abnormal changes in its tissues.
The human papillomavirus (HPV) is responsible for the majority of cervical cancer cases. The cancerous cells can grow abnormally and invade the other adjoining tissues and organs like vagina, bladder, rectum, liver or lungs. In 2018, more than 300,000 women died due to cervical cancer and more than 85% of them were from low- and middle- income countries. In Malaysia, cervical cancer is the third most common cancer among women, with an average of about 2,000 women being diagnosed every year. Due to its slow progression rate, cervical cancer can be detected early and treated. It can also be prevented by HPV vaccine.
Some of the common symptoms of cervical cancer are:
Abnormal vaginal discharge
Abnormal vaginal bleeding (different to menstrual bleeding eg, bleeding after sexual intercourse)
Vaginal bleeding post- menopause
Pain in the pelvic region (eg, pain during sexual intercourse)
It is recommended for women to consult their doctor if they have any of the above symptoms.
CAUSES OF CERVICAL CANCER
The most common causes or associated risk factors for cervical cancer are:
HPV infection: A sexually transmitted disease, HPV infection manifests itself in different forms and is the number one cause of cervical cancer.
Weakened immune system: The risk of contracting an infection which can thereby progress to be cancerous is higher in those with HIV/AIDS and those who have undergone an organ transplant.
Birth control medications: Long term use of certain birth control medications can increase the risk of developing cervical cancer.
Sexually transmitted diseases (STDs): Other sexually transmitted diseases like chlamydia, gonorrhea and syphilis infections can also increase the risk of developing cervical cancer.
Smoking: The chemicals in cigarette smoke interact with the cells of the cervix to cause certain precancerous changes that could lead to cervical cancer over a period of time. The risk  of cervical cancer is about two to five times higher in smokers compared with non-smokers.
Socioeconomic background: The rates of STDs and cervical cancer appear to be higher in lower income groups.
"LADIES, CONSULT YOUR DOCTOR QUICKLY IF YOU HAVE UNUSUAL VAGINAL DISCHARGE OR BLEEDING TO RULE OUT CERVICAL CANCER."
STAGES OF CERVICAL CANCER
Timely detection of the cancer and determining its stage is one of the main steps in the treatment of cervical cancer. It helps to identify the most appropriate treatment to prevent the cancer from spreading and affecting other organs. Treatment options are based on age, severity of condition, other underlying diseases in addition to the rate and extent of the cancer. The stages of cervical cancer are:
 Stage 0: Precancerous cells are present in the cervix.
 Stage 1: The cancerous cells have grown, divided and spread from the surface of the cervix to other deeper tissues near or maybe even into the uterus.
 Stage 2: The cancerous cells have spread beyond the cervix, past the uterus into the lower parts of the vagina, affecting the adjoining lymph nodes.
 Stage 3: The cancerous cells have spread beyond the lower parts of the vagina to the walls of the pelvis, blocking the passage of the ureters and affecting the surrounding lymph nodes.
 Stage 4: The cancerous cells have grown and spread affecting the bladder or rectum and begins to grow out of the pelvis to affect other organs like liver, lungs, bones and lymph nodes.
"EARLY DETECTION AND TREATMENT OF CERVICAL CANCER HELPS TO PREVENT IT FROM SPREADING TO OTHER PARTS OF THE BODY."

DETECTION OF CERVICAL CANCER
Early detection of cervical cancer significantly improves the success rate of treatment.
Cervical smear test: A Pap smear test can identify early signs of cervical cancer. This test helps to identify abnormal changes in the cervical cells, which when left untreated could develop into cancerous cells. The test is recommended for every woman aged 30 and above.
HPV DNA test: This test can help to determine if the patient has any HPV infection. Cervical cells are collected for testing for any abnormality and HPV infection especially the high-risk HPV strains. (Read Cervical Cancer Elimination Receives a Boost with ROSE, page 30-31, HealthToday March 2019)
Colposcopy: In this test, the cells of the cervix and vagina are examined visually using a speculum and colposcope. The colposcope is a lighted magnifying laboratory instrument that can aid in the visual examination of abnormalities in the cells. In cases where a more thorough examination or incision is required, the examination may be done under anaesthesia.
Biopsy: A small section of the cervical or affected tissue is taken out for further laboratory analysis and investigation.
Cone biopsy: It is an extended form of the normal cervical biopsy where a small cone-shaped wedge of the cervical tissue is removed for further laboratory analysis and investigations.
Large loop excision of the transformation zone (LLETZ): A fine wire loop charged with electricity is used to shave off the cervical tissue which contains abnormal cells and seals the blood vessels in the adjoining area. This procedure is normally performed under anesthesia.
Blood tests: Additional pathological tests and blood counts can identify liver or kidney dysfunctions related to spread of cancer.
Ultrasound of the pelvis: An ultrasound uses high frequency sound waves to create an image of the target area which is examined on a monitor for any abnormalities.
Scans: A computerised tomography (CT) is widely used to improve clinical staging of cervical carcinoma. CT is useful in evaluating tumour size, lymph node status and distant metastasis which are all critical prognostic factors in cervical carcinoma. A magnetic resonance imaging (MRI) scan can also help in local staging of cervical carcinoma.
TREATMENT OF CERVICAL CANCER
Cervical cancer cases can be treated by surgery, radiotherapy, chemotherapy or a combination of these methods. The type, dosage and regimen of treatment will depend on various factors like age of the individual, stage of the cancer, other underlying conditions and overall state of the individual's health. The success rates of treatment in early stages of the cancer are high; with reducing trends due to treatment delays and extent of spread. During early stages of the cancer, surgery combined with radiotherapy can help to a large extent. Advanced stages of cervical cancer may require a combination of surgery, radiotherapy and chemotherapy to kill the cancer cells and prevent further spread.

PREVENTION OF CERVICAL CANCER
Some of the preventive measures that every woman can take are:
Get vaccinated for HPV: There is a clear and established link between the HPV infection and development of cervical cancer. Two HPV types (type 16 and type 18) are responsible for 70% of the cervical cancer cases.
Practice safe and protected sex: The HPV vaccine can only protect from two strains of the virus. Other strains of the virus may also lead to cervical cancer.
Cervical screening: Regular cervical screening and smear tests can help to detect and identify any abnormal cells.
Stop smoking: As there is a clear line of incidence of cervical cancer among smokers, it is best to avoid smoking.
THE ROAD AHEAD
A comprehensive cervical cancer control begins with primary prevention (HPV vaccination), followed by secondary prevention (early detection and treatment), tertiary prevention (timely diagnosis and appropriate treatment depending on the stage of cancer) and palliative care (inter-disciplinary approach of specialized medical and paramedical care). Cervical cancer is both preventable and treatable. HT
"CERVICAL CANCER IS BOTH PREVENTABLE AND TREATABLE. A COMPREHENSIVE CERVICAL CANCER CONTROL BEGINS WITH HPV VACCINATION."
References: 1. World Health Organization. Human papillomavirus (HPV) and cervical cancer. Retrieved from: https://www.who.int/news-room/fact-sheets/detail/ human-papillomavirus-(hpv)-and-cervical-cancer. 2. Immunise4Life. 7 Vital Facts About Cervical Cancer. Retrieved from: https://immunise4life.my/diseases/7-vital- facts-about-cervical-cancer/.
If you like this article, do subscribe here.