WORDS AINUL SYAFIQAH MOHD AZAHARI & DR NURUL HUDA RAZALLI
FEATURED EXPERTS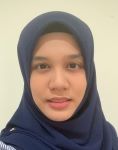 AINUL SYAFIQAH MOHD AZAHARI
Nutritionist and Student of Master Clinical Nutrition
Faculty of Health Sciences
Universiti Kebangsaan Malaysia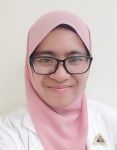 DR NURUL HUDA RAZALLI
Dietetic Programme
Centre for Healthy Ageing and Wellness (H-CARE)
Faculty of Health Sciences
Universiti Kebangsaan Malaysia
DYSPHAGIA: IT MEANS DIFFICULTIES IN SWALLOWING FOODS & LIQUIDS
Dysphagia comes from  Greek word 'dys', which means difficulties, and 'phagia', which means swallowing.
Medically, dysphagia is a term for swallowing difficulties. Someone with dysphagia takes more time and effort to move food or liquid from their mouth down to their stomach.
Episodes of dysphagia can be intermittent or progressive.
IT IS A SYMPTOM FOR MANY MEDICAL CONDITIONS
In adults, dysphagia is very common in adult that has a history of stroke, dementia, Alzheimer's disease, neck cancers, and gastroesophageal reflux disease (GERD).
It could also be present in children with attention deficit hyperactivity disorder (ADHD), autism, Down syndrome, and cerebral palsy.
Dysphagia can also be a sign that there are some issues with the many nerves and muscles that are involved in swallowing activities.
YOU MAY HAVE DYSPHAGIA IF YOU EXPERIENCE THE FOLLOWING
Persistent drooling of saliva
Coughing or choking when eating or drinking
Bringing food back up, sometimes through the nose
Feeling as though food is stuck in your throat or chest
Being unable to chew food properly
PEOPLE WITH DYSPHAGIA FACE ISSUES THAT CAN JEOPARDIZE THEIR HEALTH & WELL-BEING



Choking and lung infection
Individuals with dysphagia are susceptible to choking. Due to difficulties in swallowing normally, consumed foods or liquids can accidentally enter the airway into the lungs. This could result in aspiration pneumonia, often known as a lung infection and can be fatal.
Poor nutrition intake
The prevalence of malnutrition among people with dysphagia is reported to be anywhere between 3% and 29%, which is quite a high number.
Malnutrition leaves people with dysphagia more vulnerable to diseases, should they not receive enough essential nutrients for optimal body function.
Muscle wasting, underweight, and stunting could be other issues that arise. Hence, people with dysphagia needs to be aware of any weight loss, hair loss, feeling of coldness, and fatigue as these are the early symptoms of malnutrition.
Loss of appetite and fear of mealtimes
People with dysphagia often lose their appetite in conjunction with their reduced swallowing ability.
They might develop some degree of "laziness" when it comes to drinking more often, which may lead to dehydration.
Because their eating experiences can be difficult, uncomfortable, and unpleasant, they may develop anxiety during mealtimes.
Inability to talk fluently
Dysphagia can hinder one's ability to talk fluently and, combined with difficulties in eating, may cause the affected person to experience low self-esteem and lead to self-isolation.
The decrease in social engagement will give a negative impact in the person's quality of life.
Thus, social support from their carer, family members, and close friends are crucial. A little extra kindness and help will give a huge impact in their life and sometimes even touch their heart.
Proper nutrition management for people with dysphagia involves providing adequate nutrients through modification of food texture and fluid consistency.
We need to also keep an eye out for symptoms of dehydration such as dry mouth or tongue, thirst, headache, and lethargy. 
Also, be alert to any unexplained weight loss, hair loss, feeling of coldness and fatigue—these could be early symptoms of malnutrition.
IF YOU ARE WORRIED THAT YOU OR SOMEONE CLOSE TO YOU HAVE DYSPHAGIA
Consult a speech language pathologist, a healthcare professional trained to diagnose dysphagia, for a proper diagnosis.
People with dysphagia can consult with dietitians for their nutritional concerns or if they want to assess their nutritional adequacy.
TIPS FOR INDIVIDUALS WITH DYSPHAGIA TO ACHIEVE GOOD NUTRITION



Understand the extent of one's dysphagia
Discuss with the speech language pathologist and other relevant healthcare professionals on the degree of swallowing ability in the person with dysphagia.
Refer to the International Dysphagia Diet Standardization Initiative (IDDSI) Framework
This guideline has seven levels. Flow test, spoon tilt, and fork drips are used as measurement methods to determine each level.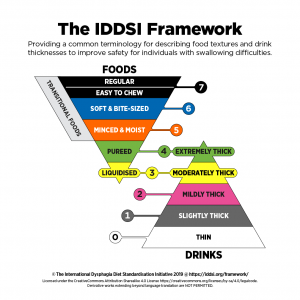 Further information can be obtained from the IDDSI website (link opens in a new tab).
Modify foods into certain textures 
For more detailed information on how to modify the textures of various foods, you can refer to this page on the IDDSI website (link opens in a new tab).
While modifying the textures of foods into appropriate textures, take into consideration the nutritional content (carbohydrates, protein, fat, as well as vitamin and minerals). Daily meals should provide all the nutrients to improve the person's nutritional status.
Always choose softer food options if texture modification is not possible. For example, choose papaya instead of apple, and 'soften' a dish with gravy.
Add special thickening powder to watery liquids. This thickening allows for easier swallowing.
Useful tips for eating
Have the person with dysphagia sit upright to prevent choking.
Have them tilt their heads to prevent liquids from going into their air passage.
Encourage the person to take smaller bites, and give enough time to chew the food thoroughly.
If small pieces of food or liquid are stuck, have them cough a little.
---
Dysphagia is a journey of eating experience that may switch an individual's life 360 degree. Hence support and motivation play an important role in the management of one's dysphagia.
---
References: