WORDS DR VICKY KOH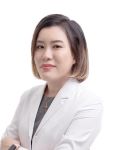 FEATURED EXPERT
DR VICKY KOH
Medical Director
Clinic RX
WELL, READ THIS FIRST
Every woman's body is unique. Therefore, the question of the 'right option' or 'best option' is something that each and every woman has to figure out on her own.
For example, mothers that breastfeed often experience rapid weight loss and may benefit from an increased intake of certain nutrients or supplements. Women that gave birth via caesarean section may need a longer time to recover. Existing health issues and lifestyle variables also need to be considered.
If you are interested to find out more about the topics discussed below, you should discuss the matter further with your doctor.
BREASTFEEDING CONSIDERATIONS
Postpartum weight loss averages about 4.5 to 5.5 kg in the first 6 weeks. Women often return to their pre-pregnancy weight within a year, though this time frame varies depending on how much weight was gained during their pregnancy.
Breastfeeding aids in weight loss since it consumes extra calories, resulting in a natural weight loss for many women.
Breastfeeding women should pay special attention to their diets at this time.
While experiencing weight loss after giving birth may seem like a good idea, doing so too quickly will actually hinder healing!
POST-PREGNANCY DIETARY RECOMMENDATIONS
Dietary recommendations should include a variety of fresh produce, whole grains, lean proteins, and healthy fats.
Breastfeeding mothers, in particular, should drink a lot of water (6-10 glasses daily). Try to stay away from sodas and other sugary drinks.
Meanwhile, for moms that had a C-section, they should focus on eating foods that are high in protein. Avoid junk foods and take vitamin supplements, especially if they are nursing.
Vitamin and mineral supplements are crucial for moms during and after pregnancy.
This is because nutrients such as calcium, iron, vitamin D, folic acid, zinc, and more are normally redirected from the mother's bloodstream to the developing infant.
Furthermore, the delivery process as well as breastfeeding depletes the body of essential vitamins.
Hence, postnatal supplements such as calcium, vitamin D, B vitamins, docosahexaenoic acid (DHA), magnesium, selenium, iodine, and choline may be helpful in replenishing nutrients that were used up during pregnancy and after childbirth.
EXERCISE RECOMMENDATIONS
Regular exercise after childbirth will help strengthen and tone your muscles while increasing your energy levels and making you feel less weary.
It also aids in the loss of excess weight.
During the first 6 weeks, the uterus returns to its pre-pregnancy size, and some women may feel uterine cramping and discharge.
However, mothers are recommended to gradually resume their exercise habits, starting with less strenuous activities during the first few weeks after giving birth.
A few days after delivery, you can start doing gentle abdominal and pelvic floor exercises if they don't cause you any pain.
Try to proceed at your own pace—you can gradually increase the duration and tempo of your workout of over time.
Swimming, cycling, yoga, pilates, mild weight training, and low-impact aerobics are all good alternatives after the first few weeks.