WORDS LIM TECK CHOON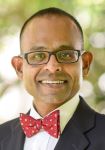 FEATURED EXPERT


DR EESON SINTHAMONEY
Fertility Specialist
Director of Sunfert International Fertility Centre
According to Dr Eeson Sinthamoney, there are various possible reasons why a man's fertility can be affected.
"Male infertility can be attributed to various biological factors, including genetic abnormalities, hormonal imbalances, anatomical issues, and underlying medical conditions," he says.
He adds that lifestyle choices such as smoking, excessive alcohol consumption, and poor diet can also negatively affect a man's fertility.
"While body weight does not primarily affect infertility in men, activities such as engaging in frequent and long bicycle rides can have an impact," he further states.
HOW CAN A MAN BE SURE THAT HE IS SHOOTING BLANKS?
"A simple sperm test serves as the initial step in assessing sperm count and overall fertility health," says Dr Eeson.
Once the test reveals that the man has infertility issues, the fertility specialist will investigate potential underlying issues that could be the cause of these issues, such as hormonal imbalances, genetic factors, and semen parameters.
"This thorough examination enables personalized treatment approaches tailored to address the unique factors affecting male fertility," Dr Eeson assures us.
GENETIC TESTING CAN HELP DIAGNOSE SEVERE MALE INFERTILITY?
According to Dr Eeson, genetic testing allows the analysis of an individual's genetic material, such as DNA or chromosomes, to identify any genetic abnormalities that can contribute to infertility.
For such testing, the doctor will obtain blood sample from the man and send it to the laboratory for further analysis.
A genetic counselor will then explain the results once they are available.
Consult a fertility specialist if you and your partner have been trying to conceive a child through normal sexual intercourse but are unsuccessful after 6 months to 1 year of trying. They can help identify possible causes that are keeping you from achieving your dreams of parenthood, as well as to share fertility treatment options that can help you become a parent.