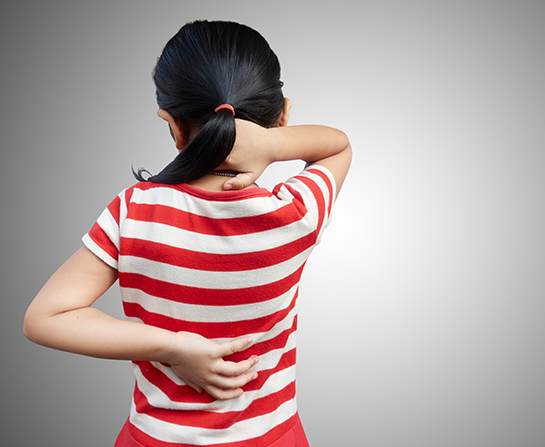 WORDS HANNAH MAY-LEE WONG
Scoliosis happens when the spine forms an abnormal sideways curve—usually in a C-shape or S-shape. People affected by scoliosis are most often diagnosed during their growth spurt years, usually between the ages of 10 to 17.
ARE HEAVY SCHOOL BAGS TO BLAME?
As scoliosis is usually diagnosed in a child's schooling years, many parents mistakenly believe that heavy school bags are the cause of scoliosis. However, Dr Lim Sze Wei assures that this is only a myth.

He explains, "Research and medical reports have noted that there are no associations between the occurrence of scoliosis and heavy school bags."
CAUSES OF SCOLIOSIS
In most cases, the exact cause of scoliosis is not known. That said, scoliosis is more common in people with genetic conditions such as cerebral palsy or muscular dystrophy. It is also more common in girls than boys, and in children who have siblings or close relatives with scoliosis.
SIGNS OF SCOLIOSIS
One of the most common signs of scoliosis is uneven shoulders, shoulder blades or hips. This can be observed if one shoulder or one side of the hip looks to be drooping below the other side.

"The head not being centered with the rest of the body is another common sign of scoliosis," Dr Lim adds.

Parents can also do the Adam's Forward Bend Test to check if their child has scoliosis. They can do so by asking their child to bend forward with both palms between the knees. Any imbalances in the rib cage or along the back could be a sign of scoliosis. If signs of scoliosis are observed, it is best to consult a doctor as soon as possible.
TREATMENT
Treatment for scoliosis can range from non-surgical to surgical treatment options. A doctor would recommend a treatment plan according to the severity of scoliosis and the age of the patient.

"For mild scoliosis cases, non-surgical treatment methods such as exercises or a wearing a scoliosis brace can help slow down or stop the progression of scoliosis."

"However, these methods cannot fix the curvature in the spine. Patients will need to be monitored throughout their lives to ensure their condition does not worsen," Dr Lim concludes.