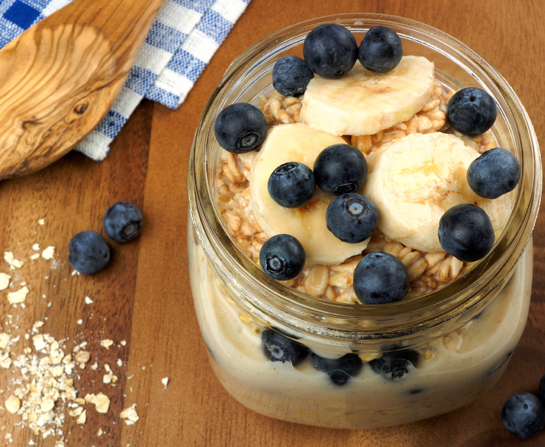 Having oatmeal for breakfast can kick-start your day as oats are a great source of whole grain, a food that is packed with energy.
The Goodness of Oats
They are rich in soluble fibre and help your digestive system work efficiently. The soluble fibre absorbs water when passing through your gut and bulks up your stool, hence helping to prevent constipation.
The soluble fibre of oats is not well-absorbed in your body so your blood sugar levels will remain stable while you feel full. So, soluble fibre helps you maintain a healthy weight and may prevent type 2 diabetes
Help to lower your cholesterol levels and protect your heart in the long run.
Looking at all of oats' nutritious goodness, you will surely want to eat oats everyday for breakfast. If you find it tough to set aside some time every morning to cook oats for breakfast, why don't you try overnight oats?
Overnight Oat-ilicious
Overnight oats is a quick no-cook method of preparing oats. It's so simple. All you need to do is put equal parts of oats, yoghurt and milk in a bowl – usually about half a cup of each is enough. For a less thicker version, add about half a cup of oats to one cup of milk. You may use full cream or low-fat milk of your choice.
Here's an easy recipe for creamy overnight oats:
Ingredients
1/3 cup oats
1/3 cup almond milk
1/3 cup Greek yoghurt
¼ cup blueberries
2 tablespoons chia seeds
1 tablespoon honey
1-2 teaspoons cinnamon powder
Method
Combine all ingredients in a medium bowl and give the mixture a good stir until well combined.
Pour the mixture to a 30 ml (or 12-ounce) mason jar or any airtight container, and close the lid tightly.
Refrigerate overnight or for at least 4 hours.
To serve, keep in the jar or scoop out into a bowl and top with extra blueberries and cinnamon.
You'll be surprised to find the mixture soft and yummy without becoming too mushy. You can eat it straight away or warm it. If you're planning to warm it, transfer the mixture into a saucepan and heat it on the stove. Alternatively, transfer into a microwaveable container and heat it in the microwave oven.
The best part of overnight oats is you can be creative and pick your own ingredients to add to oats. You can even enjoy it dairy-free, nut-free, gluten-free or vegan. Enjoy your overnight oats today … or rather tomorrow morning!
References: 1. Mother Nature Network. Available at www.mnn.com 2. WebMD. Available at www.webmd.com
If you like this article, do subscribe here.