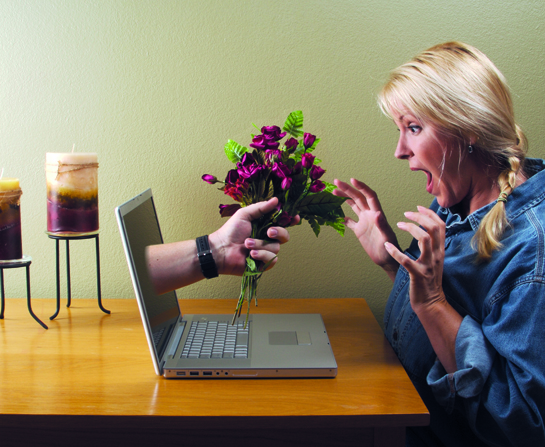 The road in search for love and companionship is quite the busy highway. Someone, somewhere around the world, or even next door to you, could be logging on to the internet right now to embark on the journey of possibly finding true love, searching for a friend to chat with or planning their first date with someone.  
"Lonely in KL, hoping to meet …"
The World Wide Web makes it easy for everyone to connect – especially, the lonely hearts. Anyone above the age of consent and who has access to the internet, who seeks to connect with another individual, can simply register, fill in their profile and use the online service.
Of course, there are those who use such dating websites not solely for matrimonial reasons, but whatever the given reason (or excuses), statistics have shown that there's always a high traffic of users in the online sites during the eve of festivals such as New Year's and Valentine's suggesting that many turn to their computers and apps to help them ease their loneliness and the stress of being unattached.
Online dating, with its wide and specific search criteria have helped many to narrow down the individuals they'd like to connect and eventually meet up with, without wasting too much time and effort. No matter what you are looking for – someone who loves the outdoors or prefers to stay in all day; a connoisseur of European literature or a collector of Archie comics – there is probably someone out there who fits the bill. You can also refine your list of prospective life partners based on ethnicity or ideology – all without the hassle of vetting tens of strange people over a cup of coffee! Isn't technology wonderful?
According to Online Dating Magazine, nearly 20 million people visit these sites and about 120,000 marriages take place every year worldwide due to online dating. They are certainly effective for many people!
Love around the block, literally
Over the last few years, dating apps have risen in prominence, sometimes eclipsing even dating websites, as the use of smartphones increases in popularity.
There are apps that offer mere friendships and then, there are those which hope to link users to romance and more. With the Web being what it is, there are also apps that allow users to look for a more temporary kind of attachment, or in some cases, 'distractions' outside a relationship a person is already in. Most apps have a certain dominant audience, usually based on religion, ethnicity, and sexual orientation. Fortunately, it is quick and easy to do some research on each app before you download it into your phone.
Navigating the rocky sea of love
Just like real-life dating, online dating can be fraught with perils such as saying the wrong things, making a bad first impression and more. Here are some tips to help you enjoy romance, online style, without feeling awkward or, worse, putting yourself at risk out there.
Don't get too personal too soon.
Proceed at a pace you are comfortable with, and feel free to stick to neutral topics until you feel more at ease about opening up more about yourself.
Don't rush to meet in real life.
The best time to meet is when the two of you feel comfortable enough with one another that it seems natural to take the relationship to the next level. Go for something quick and simple, such as coffee, as the first date is usually for you to decide whether you want to see that person again.
Date safely.
Arrange for the date at a place with a reasonably good crowd. Make sure that your family and friends know where you are going, and arrange for someone to call you after a certain period of time, just to check on you. (The phone call is also a good way to cut short the date if you are not interested in seeing that person again!)
References:
1. New York Times. Available at www.nytimes.com
2. Dating Sites Reviews. Available at www.datingsitesreviews.com
3. Men's Fitness. Available at www.mensfitness.com
If you like this article, do subscribe here.