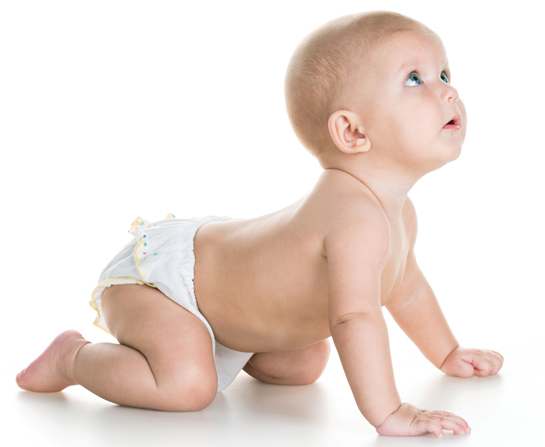 Words Pank Jit Sin and Lim Teck Choon
Dr Leong Kin Fon
Paediatric Dermatologist
Patches of bright red skin on the buttocks, thighs and genitals… many parents will be familiar with such a sight in their babies as diaper rash is a common condition among babies that regularly wear diapers. Also called perianal dermatitis, diaper rash can cause a baby to fuss and cry (especially when someone touches the diaper area) and alarm the parents.
This month, paediatric dermatologist Dr Leong Kin Fon offers a look into what causes diaper rash and how we can keep our little ones free from this annoying condition.

WHAT CAUSES DIAPER RASHES, ANYWAY?
There are a few possible causes that parents should take note of.
The baby's own stool. Dr Leong shares that a baby's stool contains high amounts of protease, an enzyme that helps in the digestion of protein. Protease can also irritate a baby's skin, which is thinner and more sensitive than an adult's. This is why diaper rash is more prone to break out when a baby experiences frequent bowel movement or has diarrhoea.
Tip! Vaseline and zinc oxide cream can help protect a baby's intact healthy skin from irritation. For babies who are prone to developing diaper rash, parents may consider the use of diaper rash prevention creams that contain protease enzyme inhibitors which keep the protease in a baby's stool from irritating the skin and vitamin E which helps to support the healing of damaged skin.
Diapers that are too tight. When a baby's diapers are too tight, the diaper material can rub against the skin each time the baby moves. This constant rubbing can lead to rashes forming on the affected areas of the skin. Also, tight diapers reduce the airflow into the diaper region, causing that area to stay moist. A moist environment will encourage bacteria and yeast to grow and irritate our baby's skin.
Tip! Make sure our baby's diapers fit comfortably without being too snug or too loose.
Constant use of wet wipes. Babies do as they please, and much to many parents' exasperation, this behaviour also applies to doing a number one or two at the most inconvenient moments. In such a moment, wet wipes can come in handy. However, Dr Leong cautions against overusing them, as wet wipes tend to contain preservatives that can cause allergic reaction on a baby's skin.
Tip! "Wet wipes are no replacement for water and soap," he clarifies.

OTHER GENERAL TIPS TO KEEP DIAPER RASH AWAY FROM OUR BABY
Change our baby's diapers often. Soiled diapers should be removed promptly. If your baby is cared for by a nanny or a daycare centre, remind them to do this in your absence.
Clean our baby's bottom gently but thoroughly during diaper change. We can do this using a moist washcloth. As Dr Leong mentioned earlier, avoid the use of wet wipes as much as possible.
It's okay for baby to go without diapers. Exposing our baby's skin to air is a gentle but effective way to let the diaper region dry. Therefore, after a diaper change, we can lay our baby down on a large towel (just in case our baby decides to do another round) and play with him or her for a while.
Wash our hands before and after a diaper change. Our hands may carry germs that can be passed on to the baby's diaper region and cause an infection.
MY BABY HAS DIAPER RASHES… WHAT SHOULD I DO?
Diaper rashes are rarely life threatening and can often be addressed without having to bring the baby to a paediatrician.
Dr Leong advises the following:
Keep the baby's skin dry as much as possible.
Wash soiled areas with tap water. Then, use a clean cloth or towel and gently pat to dry.
Change the baby's diapers as often as possible.
However, we should bring our baby to a paediatrician if we observe any of the following:
The rashes look severe.
The rashes remain or get worse despite our efforts to keep our baby's skin dry and clean.
There is also bleeding and/or pus formation.
Our baby also has a fever.
KEEP THE BABY'S SKIN CLEAN AND DRY, AND CHANGE DIAPERS AS OFTEN AS POSSIBLE. HT
If you like this article, do subscribe here.