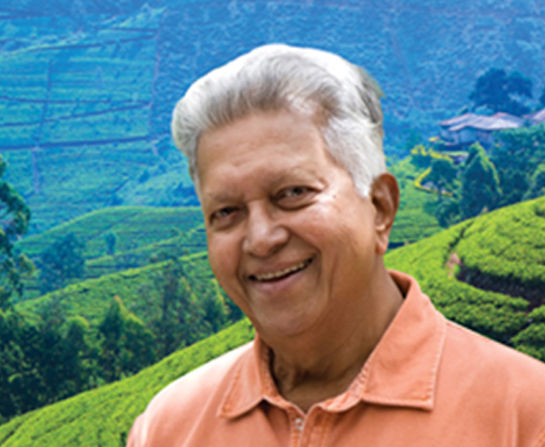 Merrill J. Fernando loves tea with a passion. But instead of just catering rich, savoury tea to tea lovers worldwide, he is also dedicated to ensuring that ethics and integrity go into the production of his favourite beverage.
Born in 1930, hailing from a middle-class background in rural Sri Lanka – then, a British colony known as Ceylon – Merrill found his calling in life early on during his youth. After completing his college education in the 1950s, he moved to Colombo in hopes of becoming a tea tester. The profession of tea testing was dominated and closely guarded by the British expatriates, but Merrill was fortunate enough to be selected among the first batch of Ceylonese to be trained at Mincing Lane, London.
What Merrill observed at Mincing Lance – then dubbed the 'Mecca of Tea' – was an industry in which the tea producers in his country were exploited by multinational corporations. Sri Lanka relied heavily on the tea industry to support its economy, but the leaves, painstakingly grown according to traditional Ceylonese process and hand-picked for the finest in taste and quality, were treated as low-value commodity in Europe. Ceylonese producers received only a small fraction of the profits, the lion's share going to the middlemen, which were the large corporations. This realization shaped Merrill's perspective, fuelling his determination to address this inequity in the Ceylonese tea trade.
In 1988, Merrill founded his own tea company, Dilmah. The name was derived by combining the names of his two sons, Dilhan and Malik. He pioneered the concept of single-origin tea, going against the grain in a market of multi-origin blends. Dilmah became the first producer-owned tea brand, where leaves were picked, packed and shipped by the growers themselves. This practice allowed him to pay his workers fairer wages, as well as ensuring that his clients would savour high quality garden-fresh tea.
His vision of fair and ethical trade was not without obstacles, though. Over the last decade, Merrill's comparatively tiny family business was pitted against big traders that had been monopolising the industry. Furthermore, in a market filled with multi-origin tea blends, his peers and government regulators had a hard time sharing his belief that tea could be produced directly from crops to consumer.
Nevertheless, Merrill stood by his passionate commitment to authentic, exquisite quality and above all, ethically produced tea. Over the decades, Dilmah has grown into one of the world's leading tea brands, available in over 100 countries. Never forgetting his roots, Merill founded the MJF Charitable Foundation. Revenue from sales of Dilmah tea is used to finance the foundation's activities.
"In many aspects, the MJF story is the antithesis of globalisation," wrote Paul Harris in LMD Magazine, Sri Lanka's leading business magazine. "It is the tale of success for the small family unit working hard to overcome the power of the multinationals. It is a tale of values overcoming the sometimes amoral mechanisations of much bigger and more powerful players."
If you like this article, do subscribe here.