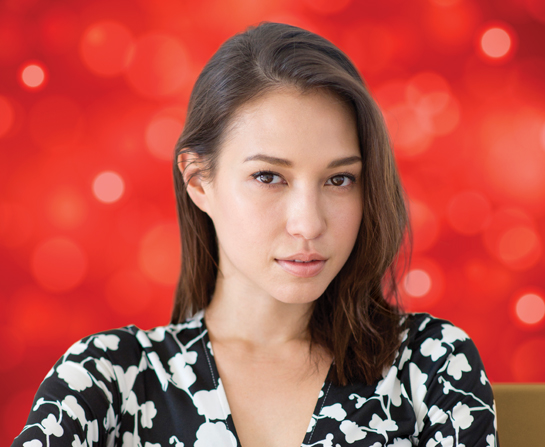 If there's one person who is the epitome of brains and beauty, it has got to be 29 year-old Liv Lo. Her statuesque figure, exquisite facial features (thanks to her mixed Taiwanese and Italian heritage), flawless skin and legs that seem to go on forever are enough to make anyone swoon in admiration. That is why it comes as no surprise that the Taiwanese-born lass has had phenomenal success as a fashion model in Japan – something most girls could only dream of. In fact, her modeling career was so successful that as many as 20,000 fans would turn up at events in Japan just to catch a glimpse of her. Such is the power of beauty, isn't it?
Well, not quite. It takes more than physical attributes to be a successful, regardless of how beautiful one is. "There are millions of people with good looks. There will always be someone taller than you, younger than you, thinner than you," Liv says. So, beauty is just half of the equation? "Definitely. Not everyone has the confidence, intelligence or toughness to make it in the modeling industry. You really have to know yourself, recognise what you are good at, learn how to amplify your traits and of course, understand the market." Words of wisdom, indeed.
The sky's the limit
Elaborating on her modeling career, Liv recall, "Modeling wasn't a dream of mine, actually. I was fortunate enough to have been scouted. I did very well in the modeling business so it became a full-time job for me almost immediately. With the money I earned, I moved out and bought property of my own. I did all this while supporting my family on a monthly basis. Eventually, I put myself through university," she recalls. She may have had her first break when she was first discovered on the streets of Taiwan by a model scout but over the years, she has grown by leaps and bounds professionally. "I saw modeling as a career to take me where I wanted to go and I have never looked back since."
Liv has modeled for so many brands that her list of clients seems almost exhaustive. They include Michael Kors, BMW, United Airlines, Maserati, Roberto Cavalli, H&M – and that's just naming a few. But these days, you won't find the Eurasian beauty splashed across magazine covers or sashaying down the runway anymore. "I had a wonderful modeling career, but I wanted to excel beyond being just another pretty face and walking the catwalk. The change wasn't easy initially and has taken me several years to find my place in the industry. The transition, while challenging, has been ultimately rewarding. It's the life that I have chosen and I'm definitely the happiest being able to work as television host and yoga instructor now," she enthuses.
Aside from yoga lessons and hosting gigs, she has added acting to her already impressive resume. "Acting was something I dabbled in when I first arrived in Singapore. I was fortunate to get an established leading role in a top-rated show in Singapore." So, has her extensive experience as a model helped with her acting chops? "Acting is completely different from modeling. I had to enroll in acting classes and work hard to memorise lines and to flesh out my on-screen character." For a taste of Liv's acting, do check out Singapore shows such as 'Point of Entry'.
Passion for fashion
Although Liv has left her modeling days behind her, passion for fashion is just something runs in her blood. She recently collaborated with Singapore's leading online fashion store on her first ever sportswear collection. "I helped design the collection purely from the desire to provide girls with affordable and aesthetically pleasing yoga wear. I've wanted to create a yoga-friendly apparel collection for a while now and have been a huge fan of Love, Bonito since moving to Singapore. I was talking to a friend once day and when I told her about my interest to start an active wear line, she suggested that I speak to Viola who is the founder of Love, Bonito. This was over a year ago from today. Thankfully, Viola loved my idea – and Liv4LB was born!"
Liv describes her collection as "flattering, comfortable and flexible". Aside from practising yoga, she runs, bikes and practises HIIT so there was how she got her inspiration for her line. "I wanted to be able to wear these pieces for whatever exercise I wanted to do. That's why joggers and scuba necks are also in the collection. To sum it up, my zest for life and desire for functional apparel (that didn't look like the typical sportswear) inspired Liv4LB."
Jill of all trades
Supermodel, television host, actress, entrepreneur and now, fashion designer – is there anything Liv Lo cannot do? This Jill of all trades seems to have done it all but she is not one to rest on her laurels. "I am developing as a person and definitely not finished. I hope to have more design collaborations, more acting, more hosting, more shaking up of the health industry. I want to be a frontrunner for the health and fitness industry," she shares candidly.
With so many feathers in her cap, it begets the question: how does she find that elusive balance amidst it all? "Well, every day is different. I plan each days around my tasks. Some weeks can be hectic while others not so busy. It depends on my projects and the season of events. I don't find it stressful at all because ultimately, this is what I want. It all comes from me – hence, naturally, I'm able to keep up. I savour every little bit of who I am and what I do."
Staying fit and healthy also certainly helps with things. "I love working out. I also cook for myself, at least two meals a day. I'm a huge foodie. I enjoy learning about nutrition such as what kinds of food suits my body and lifestyle; likewise, avoiding what doesn't," she says.
Living her dreams
Looking back on her life, Liv says, "If there was one piece of advice I could give my younger self, it would be this: all that you want, you will have in due time. Looking back, there was so much that I wanted – and I wanted them immediately. I wasn't always happy and at times, confused about what was good for me or what I wanted to do. But in the end, all it took was time. Time to learn about myself, time to develop my abilities step by step and time to achieve my dreams."
If you like this article, do subscribe here.