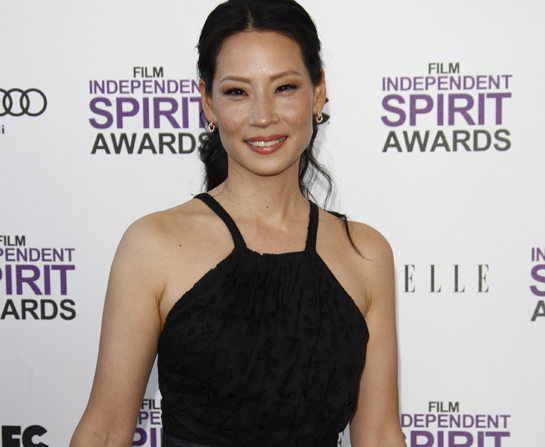 Lucy Liu couldn't be in a better place right now. For starters, the actress has a new man in her life. No, she isn't dating a Hollywood hunk or being wooed by some real estate mogul. I'm referring to her adorable baby boy! Last August, Lucy took to Instagram to announce the arrival of her son born via gestational surrogate with the caption: "Introducing the new man in my life, my son Rockwell Liu. In love!" And no wonder, she's in love. The photo which she uploaded shows baby Rockwell clad in an onesie while smiling oh-so-sweetly at the camera.
Besides that, the crime drama Elementary in which she stars as Sherlock Holmes' sidekick, Dr Watson is already in its successful fourth season. Despite being met with doubts initially, the series has won over critics and the public alike – amassing a large fan base over the years.
With the onset of motherhood and her successful movie-to-TV transition, it's safe to say that Lucy's in a good place in her life right now. But things were not always easy breezy for this petite lady.
'I had to be a pioneer'
When discussing her career, it is impossible for Lucy to not mention the elephant in the room: stereotypes – after all, she was a regular victim of stereotype casting during her early days as a budding actress trying to make it big in Tinsel town.
"It's alright if I'm cast as a woman who happens to be Chinese-American or in roles where my race can be acknowledged and wrapped into the plot without turning me into a total stereotype but many of the roles I've been given were stereotyped.," she says. "I wish people wouldn't see me merely as the Asian girl who beats people up, or the Asian girl with no emotion. People can see actresses like Julia Roberts in a romantic comedy, but not me."
Despite the odds, Lucy wouldn't settle for anything less. She fought hard to get herself involved in projects which didn't pressure her into the 'stereotype corner' – Elementary being one of them. When news got out that she had been cast as Dr Watson, many people were enraged with the idea of a woman (and an Asian one at that) portraying such a famous – and traditionally male – role. Thankfully, Lucy wasn't fazed choosing instead to channel her energy into proving critics wrong.
"If I didn't try something, I'd still be doing TV ads. It's not always about pleasing people; sometimes it's about pleasing yourself. For me, the more individual you make something, the more universal it can be. You need to be a pioneer and that means doing stuff that's different," she explains. And we are glad she did – or else, we wouldn't have been able to enjoy the great on-screen chemistry that she has with her co-star Johnny Lee Miller who plays Sherlock Holmes opposite her Watson.
Lucy the artist
Besides boasting an acting resume dating back to the late 80s, Lucy is also a talented artist. However, her artistic skills were only made known to the public several years ago. "I've always had an interested in visual arts. I first started exhibiting my paintings and photographs at art galleries under the pseudonym 'Yu Ling' because I didn't want to draw more attention to myself than there already was," she confesses.
It was only at her publisher's encouragement that Lucy began considering the possibility of putting her own name to her work. "My publisher insisted that I use my name; that it was an opportunity to show the world my work and be proud of it. So, I did. It was nerve-wracking initially but I realised that if people were going to criticise me, they were going to do so whether I used my name or not. So, I decided to just go for it." However, her fears have proved unfounded as her work has received much praise and has been exhibited at prestigious galleries in New York, Munich and Miami.
Better than ever
While many actresses worry about ageing in beauty-obsessed Hollywood, Lucy is more confident than ever these days. For one thing, she's in fantastic shape – thanks to well-balanced meals and regular exercise. "Pilates and running introduced me to muscles I never knew I had. I now feel longer and leaner," she gushes. "I also eat healthy. I feel good about my body after exercising, so I don't want to ruin it with unhealthy food." "I'm stronger and more accepting of myself than I've ever been."
On a roll
Lucy may be reaching the big 50 in a couple of years but she's not slowing down in the slightest judging by the recent triumphs in her personal and professional life. In fact, she's just getting started. "I do things be it acting or drawing because I want to discover who I am. Self-discovery is a life-long journey," Lucy says. "I want to keep going forward."
References:
1. Fitness. Available at www.fitnessmagazine.com
2. Hunger TV. Available at www.hungertv.com
3. Interview Magazine. Available at www.interviewmagazine.com
4. XO Jane. Available at www.xojane.com
If you like this article, do subscribe here.