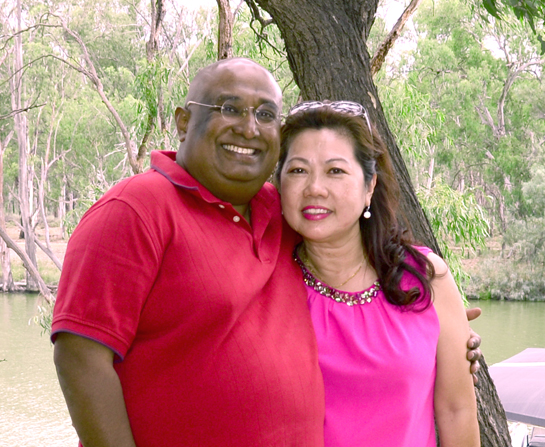 Yong Lee Lee and Remesh Kumar first met when they became classmates in Form 6. What they had was not love at first sight, but rather, a gradual building of affections anchored on a foundation of friendship and respect.  
"Together with our friends, we formed a music machine group," Lee Lee recalls fondly. Just like Bryan Adams sang in his song Summer of '69, the group did not go far, but those days were a time to cherish and remember.
Perhaps it was kismet that had their paths crossed again, when they ended up as interns at the same accountancy firm. They often worked together, and as a result, they became very familiar with each other's quirks, strengths and weaknesses. "We learned to respect each other, and to give and take," Remesh says. Falling in love with her, therefore, seemed like the most natural thing for him to do.
He adds that it took him about 3 years before he mustered the courage to propose! She said yes, of course. Their marriage produced two beautiful and intelligent daughters, and their careers flourished.
Lee Lee eventually became the Finance Director of Malaysia, Singapore and Thailand of a multinational corporation. It was a rewarding position, but it was also a stressful one that consumed much of her time and energy. Eventually, her blood pressure rose. Her wake-up call came in the form of a mild stroke in 2003.
"It was a very difficult decision to make, but the stroke made me realise that I needed a change in my life," she says. "My health was getting worse and the work stress was burning me out."
The mammogram that changed everything
In 2005, Lee Lee tendered her resignation. She was still entitled to receive her medical benefits in the meantime, so she decided to go for a medical check-up, which included a mammogram. It was her second time undergoing a mammogram, so it seemed like a cruel kind of irony when they told her that they had found a lump in her breast. The lump was about 2 cm, "mainly cancerous".
"I was devastated and angry," Lee Lee says. "I was going to give up my career for a healthier life, but now it seemed that I was too late."
She remained calm and silent as the doctor told her about the cancer. "But once I was out of the clinic, I broke down and cried uncontrollably at the corridor."
Remesh remembers that moment vividly. He held Lee Lee as she had her breakdown, assuring her that everything would be alright and they would get through this together. In his heart, he was terrified for Lee Lee, but he had to be strong for the two of them at that point in time.
Lee Lee says that it took her about 2 months before she came to terms with her diagnosis. Initially, she was scheduled to undergo chemotherapy, but she and Remesh decided to seek a second opinion from Mount Elizabeth Hospital in Singapore. To their huge relief, they found that only 1 cm of her lump was cancerous, a discovery that was confirmed by the Singapore General Hospital.
Her cancer was restaged to Stage I (early stage) and she did not have to undergo chemotherapy. Instead, she had her lump surgically removed. "I also underwent 25 cycles of radiotherapy," she adds.
Her experience in Singapore was an eye-opener on the importance of having a second opinion. She reiterates that a second opinion is important before deciding on any treatment.
Lee Lee fondly describes how supportive Remesh was during that trying period. He would help with household chores, take care of the girls and support his wife while keeping an optimistic cheer to lift everyone's spirits.
For Remesh, being present and supporting his wife every step of her cancer journey comes naturally to him. "I remember those days when I was courting her to be my wife," he says with a smile. "And I did the same thing all over again." After all, Lee Lee was still the same woman he fell in love with and married, and cancer did not change that. Whenever she was cranky, upset or burned out, he would make her fall in love with him all over again.
And that he did, as Lee Lee recalls how he was her rock when she needed someone to lean on. He was her silence when she needed peace; her laughter when she needed to pick herself up.
"Support is very important for any cancer patient," she says. "And I am very fortunate to have Remesh by my side. He makes all the difference." 
Lee Lee's daughters were 8 and 12 when she was diagnosed. She and Remesh did not tell them at first, believing that they were too young to understand what she was going through. Her daughters instinctively knew that Lee Lee was not well, however. Lee Lee recalls a letters her younger daughter wrote to her during a personal development course, telling Lee Lee that she was so sorry if she had ever caused her mother any stress. "I was so touched," she says with a fond sigh. 

A new direction, a new hope
Today, Lee Lee's cancer has been in remission for 10 years and counting. She has her own business, one that allows her to achieve a better work-life balance.
However, Lee Lee shares how miserable she was in the first 2 years after her treatment. She had too much time to worry about a recurrence of the cancer as well as to dwell on the uncertainties of the future, and as a result, she felt that she was slipping into depression.
It was during one of the meetings with her doctor, Datuk Dr M Devanand, a Consultant Breast Surgeon, when inspiration struck. In 2009, he invited her to participate in a project involving other cancer survivors, and Lee Lee found a new direction to channel her time and energy into. She helped raise $150,000 to sponsor 29 cancer survivors to the Reach to Recovery International breast cancer support conference in Brisbane, Australia.
Taking inspiration from this conference, Lee Lee together with Datuk Dr Devanand and her peers embarked on a journey to share what they learned to create and promote breast cancer awareness. The group raised funds through the "Pink Ribbon Charity Ball" in 2009 and 2010 to sponsor another 74 cancer survivors to the Reach to Recovery International conference in Taiwan in 2011.
It would be impractical to keep financing breast cancer survivors to attend the international support conference, and doing so also limits the number of breast cancer survivors who would benefit from the experience. So, why not create local opportunities for breast cancer survivors to participate in similarly empowering experiences?
Thus, in February 2012, the Pink Ribbon Wellness (L) Foundation was co-founded in by Datuk Dr Devanand and Lee Lee, with Puan Sri Maniseh Adam as its Patron. With the support of cancer survivors and volunteers, the Foundation organizes public lectures and survivors' workshops in urban and rural areas as part of its awareness and support programme.
Lee Lee proudly recalls how the Foundation took its education programmes to the next level by organising a national conference entitled "Life Beyond Breast Cancer Symposium" in 2012 and 2015, which reached out to 600 cancer survivors. "We also organised the first ever Pink Wigathon Charity Run/Walk at Bukit Jalil and the Lost World of Tambun. 2000 participants walked with cancer survivors, all in pink wigs – that was a sight to remember!" she goes on to say.
Founding and managing the Foundation keeps Lee Lee busy, but more importantly, doing so allows her to reach out to the sisterhood of breast cancer survivors in Malaysia.
Remesh supports Lee Lee's work with the Foundation, naturally, by participating in the Foundation's many efforts and events in an unofficial capacity. Even her daughters are enthusiastic supporters, helping out with fundraising whenever they can.
Lee Lee is grateful that, during her cancer treatment journey, she had the love and support of her family, Datuk Dr Devanand and peers to keep her strong and positive. And now, even the shadow of cancer fades into the background, her family continues to rally around her as she pays it forward, reaching out to breast cancer survivors who may be less fortunate than her.
As Maya Angelou said: "I sustain myself with the love of family."
For more information on the Pink Ribbon Wellness (L) Foundation, visit www.pinkribbonwellnessfoundation.org.my. Enquiries and donations are welcomed.  
If you like this article, do subscribe here.