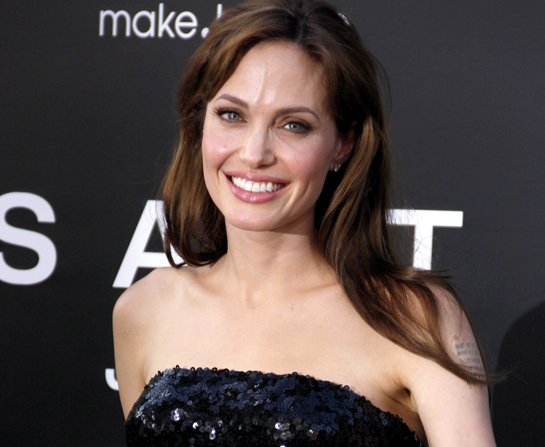 WORDS HANNAH MAY-LEE WONG
Oscar-winning actress, humanitarian and mother of six—Angelina Jolie is back on the big screen as Maleficent this October. Read on as she graces HealthToday's cover this Breast Cancer Awareness month.
A FAMILY HISTORY
Growing up, Angelina Jolie wasn't your average girl. Born in Los Angeles to legendary actor Jon Voight and late actress Marcheline Bertrand, Angelina was a child among the stars. With her poise, charisma, and natural good looks, it's no surprise Angelina chose to continue running the "family business" in acting. Though she came from a prominent family, she struggled with mental health issues and a strained relationship with her father when she was growing up. Despite a troubled childhood, it didn't stop her from rising to the top, becoming one of the world's most influential and highest paid actresses.
At a young age, Angelina's parents separated. This left Jolie and her brother under the care of their mother. The actress had a very close relationship with her mother, Marcheline who died at the age of 56, after almost 8 years battling with breast and ovarian cancers. Angelina's mother's death affected her greatly, and the actress still wells up when talking about her mother during interviews. Angelina describes her mother as her best friend, an amazing woman, and the best mother she could have had. She says during an interview on 60 Minutes, "I will never be as good a mother as she was … I will try my best, but I don't think I could ever be. She was grace incarnate, the most generous, loving—she's better than me."
Unfortunately, Angelina's mother wasn't the only one in the family to die young. She reveals in an interview with Esquire, "There is no longevity on my mother's side of the family. My grandmother also died young, so my mother always thought it could happen to her. But she lived to see her grandchildren, lived to see both me and my brother in a nice place. She was a real mother that way. She waited till everyone was okay. Then she closed her eyes." Angelina's grandmother died of ovarian cancer and her aunt (Marcheline's younger sister) had breast cancer.1
TAKING HEALTH INTO HER OWN
In February 2013, Jolie shocked the world when she announced her decision to undergo a preventive double mastectomy (breast removal surgery) to decrease her risk of developing breast cancer. She chose not to keep her story private, in hopes for more awareness on breast cancer prevention worldwide. She wrote an op-ed in the New York Times stating,"the decision to have a mastectomy was not easy. But it is one I am very happy that I made. My chances of developing breast cancer have dropped from 87 percent to under 5 percent. I can tell my children that they don't need to fear they will lose me to breast cancer."
Angelina revealed in the New York Times, "the truth is I carry a 'faulty' gene, BRCA1, which sharply increases my risk of developing breast cancer and ovarian cancer." She continued, "Once I knew that this was my reality, I decided to be proactive and to minimize the risk as much I could. I made a decision to have Angelina revealed in the New York Times, "the truth is I carry a 'faulty' gene, BRCA1, which sharply increases my risk of developing breast cancer and ovarian cancer." She continued, "Once I knew that this was my reality, I decided to be proactive and to minimize the risk as much I could. I made a decision to have  a preventive double mastectomy. I started with the breasts, as my risk of breast cancer is higher than my risk of ovarian cancer, and the surgery is more complex." Jolie went through 3 months of medical procedures and recovered successfully. More importantly, she hopes to empower all women to be aware and conscious of their health, "I want to encourage every woman, especially if you have a family history of breast or ovarian cancer, to seek out the information and medical experts who can help you through this aspect of your life, and to make your own informed choices."2

HER PERSONAL JOURNEY THROUGH MOTHERHOOD
A relationship once dubbed as "Brangelina", Angelina Jolie was married to high-profile actor Brad Pitt. They met on the set of the hit movie, Mr. and Mrs. Smith (2005) and embarked on a whirlwind romance from then onwards. They officially split up in 2016, but during their marriage, they shared six children, of which three are adopted and three are biological.
Angelina adopted her first child, Maddox before getting together with Brad Pitt. Maddox was a Cambodian orphan, adopted by Jolie in 2001, when he was just 7 months old. On her choice to adopt from Cambodia, she told People magazine, "Somebody told me that if you're going to adopt an orphan, you should adopt from a country you love, because that's the only history you're going to share with them." Angelina's love for Cambodia first sparked when she was there filming the movie, Tomb Raider.
MEETING MADDOX
Describing her first meeting with Maddox, Angelina says, "I went into an orphanage and decided I'd not go for the cutest child but just go to the one that connected to me." Upon meeting Maddox, she recalls, "He was asleep, and he woke up and smiled … As soon as I saw him smile, I felt like this kid wasn't uncomfortable with me. He seemed okay in my arms." After that love at first sight experience between the mother and son duo, Angelina brought Maddox home upon completing 4 months of paperwork.3 Fast forward to today, Maddox is almost 18 years old. With his mother's blessing, he has flown the nest, choosing to study biochemistry in South Korea. He was sent off by none other than his proud mum who will miss him dearly.
Jolie's older child, Zahara was adopted from Ethiopia and her youngest adopted child, Pax was taken in from an orphanage in Vietnam. Brad and Angelina have three biological children: Shiloh and twins, Knox and Vivienne.
DOING THE GOOD WORK
Angelina has a big heart for humanitarian work—a cause she held dear even before she got married and became a mother. Jolie was named a UNHCR (United Nations High Commissioner for Refugees) Goodwill Ambassador in early 2001, and she has visited more than 20 countries around the world. Her mission was to bring attention to the plight of millions of uprooted, displaced people; to advocate for their protection, and to call for international assistance.
Angelina's passion for humanitarian work was first ignited when she went to Cambodia to film Tomb Raider, and she continues to advocate for human rights to this day. During a visit to Sudan and Chad in early 2007, the dire situation Jolie witnessed impacted her so much that she and her partner at the time, Brad Pitt decided to donate US$1 million towards helping millions of people affected by the crisis. In 2006, Angelina and Brad Pitt formed the Jolie-Pitt Foundation, which has made donations worldwide. The brave actress has also visited Afghanistan, Syria and Iraq to raise support for UNHCR and its partners. Jolie has since won various awards including the Citizen of the World Award (by the United Nations Correspondents Association), and the Global Humanitarian Action Award (by the United Nations Association) for her work with refugees.4
A BRIGHT FUTURE AHEAD
Having lived an extraordinary life, Jolie shows no signs of slowing down—she has plans to take her career to even greater heights. Angelina will reprise her role as Maleficent in Maleficent 2: Mistress of Evil, which hits cinemas this month. She will also be making her debut in the Marvel Cinematic Universe as she is set to play superhero, Thena in The Eternals which will show late next year. All we can say is: the world can't wait to watch the feisty veteran actress, Angelina Jolie back in action again! HT
If you like this article, do subscribe here.