WORDS GEORGEN THYE
It's a common belief that detox diets and products can cleanse your body of toxins, but let's unravel the truth.
MYTH 1: DETOXING CLEARS YOUR TOXINS
Fact: Your body has its own built-in detox system. Your liver, kidneys, and digestive system work around the clock to eliminate waste and toxins.
---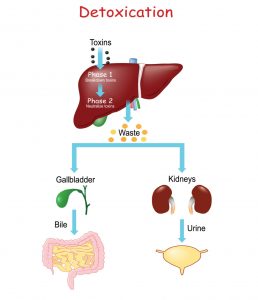 An overview of the detox system of our body. Click on the image for a larger, clearer version.
---
MYTH 2: DETOX DIETS ARE EFFECTIVE
Fact: Most detox diets are restrictive and low in essential nutrients. They may lead to temporary weight loss, but it's mostly water weight, not toxins.
MYTH 3: DETOX PRODUCTS WORK MIRACLES
Fact: Detox teas, supplements, and wraps often lack scientific evidence and can have side effects. They're not a magic solution.
SO, HOW CAN YOU SUPPORT YOUR BODY'S NATURAL DETOX PROCESSES?
Eat a balanced diet, stay hydrated, and get enough sleep. Your body has the detox game covered!
LOOKING FOR AUTHENTIC DIETARY FACTS & ADVICE?
Visit Georgen's social media, links above, for more fun educational advice, facts, and more.
Drop him a note if you are interested in his services:
Corporate Wellness Programme
Health Talks
Cooking Workshop
Virtual Diet Consultations