WORDS DR HOE YUT HUNG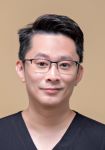 FEATURED EXPERT
DR HOE YUT HUNG
Founder and Medical Director
MyClinic
As we get older, our bodies start to go through normal and expected changes.
It can be upsetting to find yourself unable to keep up with activities and lifestyles that were once simple and effortless, but we must learn to accept that aging is a natural part of life.
Changes in our physical capabilities become more noticeable as we age, and vaginal function, like many other areas of the body, can be affected by age.
AS WOMEN AGE, ESPECIALLY DURING MENOPAUSE, THE VAGINA AND SURROUNDING AREA MAY EXPERIENCE CHANGES THAT IMPACT THEIR ABILITY TO EXPERIENCE PLEASURE
Vaginal dryness is a common menopausal symptom that many Malaysian women experience. Furthermore, 56.1% and 39.9% of postmenopausal women had sexual problems and vaginal dryness, respectively.
However, according to one study, only 38% of the respondents with vaginal dryness sought treatment.
These statistics show that, despite its prevalence, many Malaysian women do not seek treatment for it. This could be due to a lack of awareness about the condition and available treatment options, as well as the societal stigma associated with it.
WHAT CAUSES VAGINAL DRYNESS?
Decrease in oestrogen levels

One of the most common causes.
Oestrogen plays an important role in maintaining the health of the vaginal lining, ensuring that it remains thick, elastic, and well-lubricated.
Its levels tend to drop in older women.

Certain medications
Examples: antihistamines, antidepressants, and birth control pills.
Certain medical conditions
Examples: diabetes, Sjögren's syndrome, and lupus.
Lifestyle habits
Examples: smoking and inadequate water intake.
SYMPTOMS OF VAGINAL DRYNESS
Vaginal itching
Burning, pain, or discomfort in the vaginal area
Vaginal bleeding after intercourse
Vaginal bleeding or spotting between periods
Frequent urinary tract infections
THE SOLUTIONS TO VAGINAL DRYNESS
While experiencing vaginal dryness can be frightening, it does not mean the end of the world.
Over-the-counter lubricants or moisturisers
These can help to relieve symptoms and make intercourse more comfortable.
They can help provide temporary relief from the symptoms of vaginal dryness, but they may not be effective for all women and may need to be used frequently.
Natural remedies
Examples include coconut oil and aloe vera gel, which can also be used to moisturise the vagina and relieve discomfort.
These natural remedies can also help improve of overall skin texture, reduce of inflammation, and relieve itching or burning sensations.
Hormone therapy
This can help to replace oestrogen and improve vaginal lubrication.
Can be prescribed in a variety of ways, including vaginal rings, tablets, and creams.
However, hormonal therapy is not the best choice for everyone, so it is important to talk to a doctor or speak to a specialist before you begin.
Ultra Femme 360 
This is a non-surgical radiofrequency treatment for both internal and external vaginal rejuvenation.
It can help improve muscle strength and laxity in the vagina, giving you a tighter, firmer vagina.
There is no downtime or scarring.
WHEN SHOULD YOU SEE A DOCTOR?
Although vaginal dryness can be treated at home or with non-invasive treatments, you should seek medical attention if you have symptoms such as:
Bleeding or unusual vaginal discharge
Discomfort from the vaginal dryness interfering with your daily activities
Bleeding between periods or after sexual intercourse.
It is important to note that vaginal dryness can be a sign of an underlying medical condition, such as vaginal infections or sexually transmitted infections.
---
If the vaginal dryness is severe or long-term, it is best to consult with a specialist, such as a gynaecologist. They can help determine the cause of vaginal dryness and recommend the best treatment option for you.
---
References:
Abdullah, B., Moize, B., Ismail, B. A., Zamri, M., & Mohd Nasir, N. F. (2017). Prevalence of menopausal symptoms, its effect to quality of life among Malaysian women and their treatment seeking behaviour. The medical journal of Malaysia, 72(2), 94–99. https://www.e-mjm.org/2017/v72n2/menopausal-symptoms.pdf
Nik Hazlina, N. H., Norhayati, M. N., Shaiful Bahari, I., & Nik Muhammad Arif, N. A. (2022). Prevalence of psychosomatic and genitourinary syndrome among menopausal women: A systematic review and meta-analysis. Frontiers in medicine, 9, 848202. https://doi.org/10.3389/fmed.2022.848202