WORDS LIM TECK CHOON
On 15 June 2023, the IMFeD for Growth programme inaugurated June as Growth Watch Month.
Growth Watch Month was jointly launched by the Malaysian Paediatric Association (MPA)—which also helmed the IMFeD for Growth programme—in partnership with the Malaysian Medical Association, the Malaysian Family Medicine Specialists' Association, the Malaysian Association of Kindergartens, and the Malaysian Association of Registered Early Child Care and Development.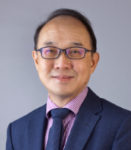 FEATURED EXPERT


PROFESSOR DR LEE WAY SEAH
Senior Consultant Paediatric Gastroenterologist and Hepatologist
Chairman of IMFeD for Growth Programme
WHAT THE GROWTH WATCH MONTH MEANS TO PARENTS
According to Professor Dr Lee Way Seah, Chairman of the IMFeD for Growth programme:
Growth Watch Month is largely dedicated to identifying children and adolescents that are either stunted or at risk of stunting.
The IMFeD for Growth programme organizers will organize avenues and activities that will provide advice to parents of these children and adolescents, so that they can avail themselves to appropriate nutritional interventions and support that can get their children's growth back on track.
Professor Lee stresses that optimal growth can only be achieved when certain fundamentals are present, namely:
Good feeding practices
Optimal nutrition
Adequate physical activity that are appropriate for age
Regular growth monitoring from young
Thus, he encourages parents of children between 1 and 17 years old to bring their children to an appropriate healthcare professional for growth check.
IS STUNTED GROWTH REALLY THAT A BIG DEAL?
The statistics from the 2022 National Health and Morbidity Survey indicates that there is a cause for concern.
21.2% or 1 out of 5 children have stunted growth by the age of 5.
6.8% of adolescents have stunted growth, falling behind 15 to 20% from their potential adult height.
Additionally, IMFeD for Growth reveals the key results of its screening campaigns from 2018 to 2021, which suggests that a considerable number of children between 1 to 5 years old are at risk of stunting or have stunted growth.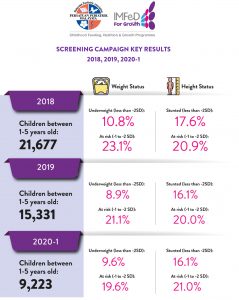 Professor Lee says that this stunting problem needs to be addressed before the number of children at risk of or are affected by stunted growth increases.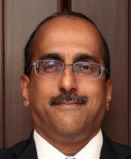 FEATURED EXPERT


DR SELVA KUMAR SIVAPUNNIAM
Consultant Paediatric Nephrologist
President of the Malaysian Paediatric Association (MPA)
WHAT PARENTS CAN LOOK FORWARD TO IN GROWTH WATCH MONTH
Dr Selva Kumar Sivapunniam, the President of the Malaysian Paediatric Association (MPA) shares that the IMFeD for Growth programme will work with all relevant stakeholders to conduct educational activities geared at parents and their children.
Parents as well as other caregivers can look forward to media write-ups and interviews.
Parents Forums (June 25 onward)
From June 25 onward, IMFeD for Growth will host a series of Parents Forums, to be broadcast live over Zoom (click on the link to register), the MPA Facebook page, and their YouTube channel. All links open in new tabs.
Topics covered are:
Feeding, Nutrition and Growth for Tiny Tots (June 25)
Helping Children Shine in School
Nurturing Growth Through the Teenage Years
Parenting Tips for Healthy Children
Annual Screening Campaign (August to November 2023)
Dr Selva shares that the IMFeD For Growth Annual Screening Campaign happening from August to November 2023 in all IMFeD clinics.
Interested parents can click here to view the list of participating clinics in Malaysia (link opens in a new tab).