WORDS PATRICIA TAN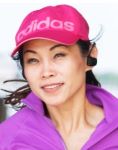 FEATURED EXPERT


PATRICIA TAN
Chief Executive Officer
SCORE Sports Management
www.score.my
'My fitness journey', 'my transformation', 'exercise challenge'—the road to the finish line always already sounds daunting, even before we can start.
While fitness is by no means a short-term journey, I have learnt over the years that it never has to be limited to the physicality, and it certainly doesn't have to be difficult to start.
As a matter of fact, as the saying goes, it actually all begins with that first, single step.
MY FIRST STEP WAS TAKEN 10 YEARS AGO AFTER A LONG DAY AT WORK
I wanted to shake off the monotony of the day and made a spontaneous decision that set my life on a new path for good.
I went for a short run around my neighbourhood and returned feeling refreshed, rejuvenated, and more energized than I had been in a long time.
As it became part of my daily routine, I grew to love the physical benefits of consistent running.
Enhanced overall health and mobility. A strengthened cardiovascular system. The undeniable benefits of weight management. Eradicating the troublesome ailments that are often entangled with excess weight.
These tangible perks may have been the factors that first motivated me, but what has kept me here is something else entirely: it was the realization that running goes far, far beyond the physical.
What running is really, truly about is the benefits less commonly discussed, the mental and personal fortitude that carries over into almost every other area in life.
WIN AT RESILIENCE, DISCIPLINE & DEDICATION
Even small, incremental changes like more balanced meals or more leg days is an experience that ultimately homes in on discipline, focus, and perseverance.
As we consistently build these habits and regimes, the brain subconsciously taps into them to overcome other mental hang-ups in both our personal and professional lives.
The end result? It becomes much easier to stick to what it takes to achieve a goal—even if it's something that was difficult to imagine previously!
CELEBRATE THE SMALL VICTORIES FOR YOU & YOUR CONFIDENCE
Crossing the finish line for a run is one thing and may be the easiest to focus on.
However, it is the process that truly does wonders for a personal sense of accomplishment.
It often lies hidden in the 'sub'-achievements like managing to run a longer distance than at the beginning, or even no longer aching as much as before!
Everything comes together in a big boost for the self-esteem, a sense of pride and satisfaction, and most importantly, the motivation to tackle other challenges in life with the understanding that even a small win along the way deserves to be celebrated.
STERLING CONVERSATION STARTER & COMMUNITY CONNECTION
Just as much as running helps get us into shape, it is also a community favourite in its own way.
Being an accessible (and relatively free) form of exercise, it attracts people from all walks of life. A daily run can quickly turn into a space to meet and connect with like-minded individuals — and not just within running circles either! Sharing an interest in or goals for running can be a great ice-breaker in both personal and professional spaces.
IT'S BEEN A LONG JOURNEY, AND I WILL KEEP GOING
It's been more than 10 years since my journey as a runner began, and it has been one which has impacted me for the better.
As we celebrate a decade of working towards a healthier, more holistic Malaysia, it is also an opportunity to look back on the process, which is something running has taught me.
My experience from a beginner to now an annual runner has bled into my enthusiasm at work as well. It shapes my many initiatives to go beyond running, to also involve other sports that contribute towards scalable fitness journeys like yoga and badminton.
Yet, no matter how far we go, running is still where our heart lies. Recognizing and nurturing the potential of running can go a long way to helping Malaysia harness its power to enhance society's well-being and progress in body, in mind, and in the confidence that shines through every aspect of their life.
All we need to do is take that first step.