WORDS DR KHOO CHOW HUAT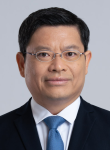 FEATURED EXPERT


DR KHOO CHOW HUAT
Managing Director (Healthcare and Hospital Operations)
Sunway Healthcare Group
We've heard a lot of news of how patients had to wait hours—even days—to be allocated a bed at Malaysian public hospitals.
However, even the private hospitals are beginning to experience such shortages in beds.
PRIVATE HOSPITALS REACHING CAPACITY
As recent as July this year, the Association of Private Hospitals Malaysia has confirmed a report that many private hospitals are also reaching its capacity, causing delays in admissions.
This is not just a local problem, as countries like the UK and US also face bed shortages.
It's high time for us to switch gears and consider bringing the hospital into the home.
BRINGING THE HOSPITAL INTO THE HOME
At the current hospital I work at, we had a taste of this when the COVID-19 pandemic hit and we set up a 24-hour telemedicine command centre manned by doctors and nurses, which received thousands of calls.
Many hospitals began to realize that it is possible and expedient to consult with patients in their own homes.
However, in the post-pandemic era, calls are just not enough.
Some hospitals in the US and Singapore have begun to allow their patients home earlier, but proceed to monitor them through video calls, remote monitoring devices such as blood pressure devices, glucose tests, and oximeter, that transmit data through an app on a mobile, and educational materials to guide patients and their families.
THE BENEFITS OF MANAGING PATIENTS AT HOME
In countries like Australia, some hospitals even manage sub-acute patients at homes. These services provided in the state of Victoria alone are the equivalent of what a 500-bed facility could offer in one year. Patients are given IV fluids, oxygen, medication, insulin, and other forms of treatment in their homes. They have found that the patients treated in this way do just as well, if not better, in their homes.
Patients, especially the elderly, are less likely to contract hospital-acquired infections, and have lower rates of anxiety and confusion since they are in a familiar environment.
There have also been many studies that found that patients treated in their own homes have a lower rate of readmission—as much as 60% less likelihood of readmission within 30 days, and 37% less within 90 days, according to a study in the American Journal of Managed Care.
Their expenses from hospital admission till post discharge up to 90 days were also 11% lower than those who did not benefit from home care.
A MALAYSIAN PERSPECTIVE
In Malaysia, most home nursing providers are independent and not linked to a particular hospital. They provide valuable assistance in areas such as rehabilitation, wound dressing, post-operative care and such.
While effective, they may be disjointed from the patient's initial treatment and not part of an established care plan. Concurrently, how many hospitals consider pre-admission and post-discharge as part of the continuum of care for their patients?
In Sunway we see the transition from hospital to home as an integral and often neglected part of the patient's recovery process. As such, beyond the regular home nursing procedures mentioned, our multi-disciplinary home healthcare team consisting of physiotherapists, wound care nurses, geriatricians and more, is moving towards a more integrated approach of healthcare delivery.
For example, we hope to combine our telemedicine consultations with physical visits at home during pre and post-operative programmes to expedite mobility and administer antibiotics or certain cancer treatment in patients' own homes.
I believe this is where healthcare is headed towards: bringing the hospital to homes, while leaving hospitals to focus on things that can only be done in hospitals.
While the overburdening of hospitals and bed shortage is a complex issue to tackle, I hope both the private and public sectors would join hands to find solutions for the sake of patients and healthcare workers.
---
Reference: Racsa, P., Rogstad, T., Stice, B., Flagg, M., Dailey, C., Li, Y., Sallee, B., Worley, K., Sharma, A., & Annand, D. (2022). Value-based care through postacute home health under CMS PACT regulations. The American journal of managed care, 28(2), e49–e54. https://doi.org/10.37765/ajmc.2022.88827