WORDS LIM TECK CHOON
In conjunction with World Mental Health Month in October, Suria KLCC together with The Body Shop invites the public to be part of the change in temoving the stigma of mental health problems. Also coming onboard this year is the is Mental Illness Awareness & Support Association (MIASA).
The campaign with the tagline #YouMatter will run until 10 November 2022.
A SAFE SPACE FOR PEOPLE TO GATHER AND CONVERSE ABOUT MENTAL HEALTH
A safe space is available Suria KLCC for people to come together and converse about mental health without the fear of receiving judgment and being stigmatized by the rest of society.
This safe space, called Safe Space @ Suria KLCC, will be open for the duration of this campaign.
SAFE SPACE @ SURIA KLCC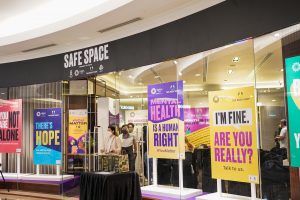 Located at Level 1, Ampang Mall (you can't miss it)
Will be opened throughout the campaign (until 10 November 2022)
10 am to 10 pm daily
Participate in workshops, talks, and panel discussions with mental health professionals
Talk to the stationed mental health volunteer for more information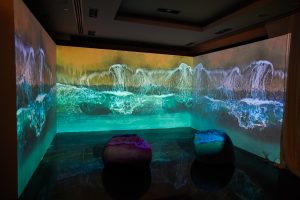 WELCOMING THE CALM AFTER A TURBULENT MCO
"The last two years marked a turbulent and uncertain time for all," says Andrew Brien, the Executive Director of Suria KLCC Sdn Bhd. "With the pandemic in the rear-view mirror, there's no better time to reconnect and focus on recovery."
He adds: "The Safe Space @ Suria KLCC is a welcoming space where the community can come together to share and learn. After all, a problem shared is a problem halved—we want people to leave the space feeling better and with more insight about themselves or others."
A TIMELY EFFORT TO REACH OUT TO AND EMPOWER YOUTHS
YAM Tengku Puteri Raja Tengku Puteri Iman Afzan Al-Sultan Abdullah, the Founder and President of the Green Ribbon Group, emphasizes that Safe Space and similar efforts are needed to show our support for those with mental health problems as well as to highlight an ongoing commitment towards doing more for the cause.
She adds that for this year, the focus is on the mental health of youth. "The focus on youth mental health this year is especially timely for the Green Ribbon Group. We are very fortunate to be able to pilot programmes in secondary schools and universities that focus on mental health literacy, self-management and peer support. This has always been a dream of mine—to reach out to our youth and empower them to prioritise their mental health."
Founder and President of MIASA, Anita Abu Bakar shares a similar sentiment. "Looking after each other should be everyone's responsibility and not just the health sector alone," she says. "This is why we should strive to prioritise community-based mental health support—so that the burden of care can be shifted from being shouldered solely by our incredible frontliners to being shouldered by all of us. Through efforts like this, it is our sincere hope that the scale of our response to the issues surrounding community mental health can begin to match the scale of the challenge itself."
---
For more information on MIASA, you can visit www.miasa.org.my (link opens in a new tab), while more information on the Green Ribbon Group can be found by visiting greenribbongroup.com (link also opens in a new tab).

See the map below if you're unsure as to where KLCC Suria is.