WORDS LIM TECK CHOON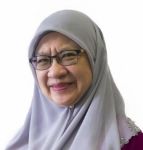 FEATURED EXPERT
DR ENI JURAIDA ABDUL RAHMAN
Consultant Paediatrician, Paediatric Haematologist, and Paediatric Oncologist
Sunway Medical Centre
"Wilms tumour is the most common type of kidney cancer affecting children, usually those that are under 5 years old," says Dr Eni Juraida Abdul Rahman.
FACTS ABOUT WILMS TUMOUR
It is also called Wilms' tumor or nephroblastoma. The name Wilms came from Max Wilms, a German surgeon that first described this cancer.
The tumour is the result of mutations of genetic materials in kidney cells, which typically occur after birth.
Usually only one kidney is affected, but in 5% to 7% of cases, it can be found in both kidneys.
WHAT CAUSES WILM TUMOUR?
Just like with most cancers, we still haven't found the exact causes for this cancer.
However, Dr Eni Juraida points out that there are certain genetic disorders that can increase a child's risk of developing Wilms tumour, such as:
Aniridia, or the abnormal development of the iris of the eye due to genetic mutation, usually along chromosome 11 that led to deleted genes and hence missing genetic information.
Hemihypertrophy or hemihyperplasia, a condition in which one side of the body or a part of one side of the body is larger than the other in an extent that is greater than what is considered normal.
"Patients with WAGR syndrome have a 45% to 60% chance of developing Wilms tumour," says Dr Eni Juraida.  WAGR stands for: Wilms tumour, aniridia, genitourinary malformation, and range of developmental delays.
SYMPTOMS TO WATCH OUT FOR IN A CHILD
Painless swelling in the abdomen, occasionally noted by parents while bathing the child; the tumour may cause discomfort
Haematuria, or blood in urine
Hypertension or high blood pressure
Fever
Unusual loss of appetite, resulting in weight loss
Pain in the abdomen
Generally feeling unwell
Cough and shortness of breath
HOW IS WILMS TUMOUR TREATED?
Treatment options will depend on the stage of the tumour.
Surgery
The mainstay treatment, usually done upfront for stage I and II tumours and sometimes delayed for stage III, is a surgical procedure called nephrectomy. This surgery removes the affected kidney and hence the tumour from the child's body.
In the rare cases when tumours are present in both kidneys, partial nephrectomy removing only the parts affected by the tumour will be performed to preserve as much of the kidneys as possible.
Chemotherapy
"Chemotherapy are medications that are given to kill cancer cells," Dr Eni Juraida explains.
For stage I and II tumours, these medications can be given after a nephrectomy, to kill off any remaining cancer cells.
However, stage III tumours are much larger in size compared to stage I and II ones, and chemotherapy will be prescribed before a surgery to first shrink the tumour. This will allow the surgery to be carried out more safely.
Radiotherapy
This may be prescribed in some cases, usually for tumours that has spread to other organs such as the lungs or are not completely resolved via chemotherapy.
CAN WE HELP PREVENT THE DEVELOPMENT OF WILMS TUMOUR IN OUR CHILD?
"Since we don't know the cause, it is difficult to have any preventive measure," Dr Eni Juraida points out.
However, for children with WAGR syndrome, having them undergo a surveillance ultrasound of the abdomen on a periodic basis—such as every 6 months—can help detect Wilms tumour.