WORDS LIM TECK CHOON
In conjunction with World Immunization Week from 24 to 30 April, the Ministry of Health held a National Immunisation Day 2023 on 31 May 2023.
The event was a collaboration between various divisions in the Ministry of Health's Public Health Programme and Immunise4Life (link opens in a new tab).
THE BIG CATCH-UP
The theme of National Immunisation Day this year is 'Tingkatkan liputan, kurangkan keciciran' or 'The Big Catch-up'.
Dr Zaliha Mustafa, our Minister of Health, revealed that this theme is in line with the expansion of Malaysia's free pneumococcal vaccination programme to those born between 2018 and 2019. This expansion will commence from June 1.
Pneumococcal vaccine was included in the National Immunisation Programme (link opens in new tab) to initially cover children born from January 1 in 2020.
With this expansion, our Ministry of Health hopes to target 70% or 700,000 of the 1 million children aged 4 to 5 under the two-year programme.
"The nationwide pneumococcal vaccination programme will start on June 1 until May 31 next year and it will involve the ministry's primary healthcare facilities," she explained.
Interested parents can set an appointment for their children's vaccination using the MySejahtera app.
WHY KIDS SHOULD GET THE PNEUMOCOCCAL VACCINE
Pneumococcal disease, an infection caused by bacteria called Streptococcus pneumoniae is contagious and may cause severe illness, so early diagnosis and treatment is important.
Children 2 years old or younger are vulnerable to such infection.
Hence, these children are also at risk of developing serious, potentially life-threatening complications such as:
Pneumonia, which is the infection and inflammation of the air sacs in our lungs
Ear infections
Meningitis, which is the inflammation of a membrane called meninges in the spinal cord and brain
Bacteraemia, or infection of the bloodstream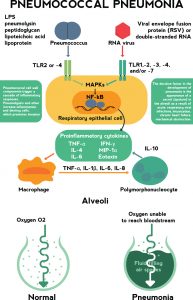 Once the bacteria infect the bloodstream, they can find their way to parts of the body that are normally sterile, such as the peritoneum—that's the membrane lining our abdominal cavity—as well as our joints and heart. This can lead to many more invasive diseases, such as peritonitis, arthritis, and endocarditis (inflammation of the inner layer of the heart) respectively.
Hence, parents with children that are eligible for the free vaccination should consider taking advantage of the expansion of Malaysia's free pneumococcal vaccine programme. They can consult a doctor should they have any doubts and concerns about the vaccine.