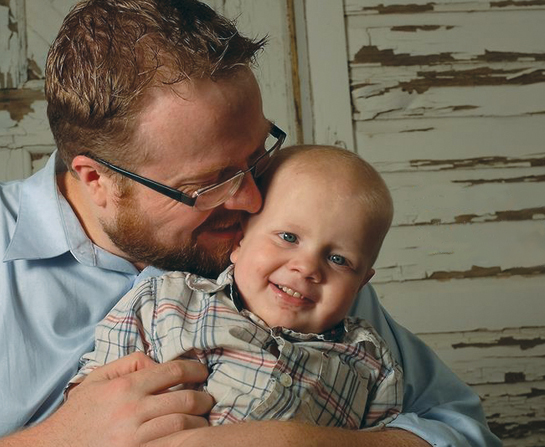 Unlike the more famous professional football player sharing his name, the video game creator Ryan Green is just an ordinary man with a lovely family. Everything changed, however, when his son Joel, then just one year old, was diagnosed with a rare and incurable form of brain cancer.
Radiation therapy and chemotherapy followed. Joel recalls those sleepless nights when they would live out every parent's worst nightmare: their child in pain, unable to get better, and them helpless to do anything other than to pray and try to be strong.
He decided to pay tribute to Joel the only way he knew how: through a video game. "I was scared I would forget Joel," Ryan told Today. The game would be a way for the Greens to channel their grief as well as to celebrate every second that Joel was present and how he filled their lives with so much love and sunshine.
The game was developed by Numerous Studios and a rough demo of the game was exhibited in 2010 at a game convention in the USA. That Dragon, Cancer places the player in the shoes of Joel's caregiver. The player can interact with Joel in many ways, almost like real life. However, the game can cut the heart deeply: the first scene will see the player scrambling to comfort Joel after a radiation treatment – a scene recreated from Ryan's personal experience. Eventually, the player will share the journey with the Greens as Joel's condition deteriorates.
The reception was astounding. Players who tried the game choked up and cried, while journalists and bloggers wrote about how that simple demo broke their hearts and inspired them to never take life for granted. Over the next few years, this simple game became one of the most anticipated titles in the video game industry.
Alas, even as the game demo was well received, doctors found that Joel had developed a new tumour. This time, they were not optimistic. They estimated that Joel had four more months left.
Yet, Joel defied expectations and lived for another three years.
Amy calls this a miracle. For every day that Joel was still with them, the Greens would celebrate the boy's healthy moments. No grief, no tears – those could come later.
Joel Green passed away peacefully in March 24 last year, only five years old, surrounded by those who loved him deeply. Six weeks later, his sister Zoe came into the world. Her presence helped the Greens to heal, love and laugh again, but Ryan says that they would never forget Joel. And with the recent release of That Dragon, Cancer, neither would we.
References:
Today. Available at www.today.com
Wired. Available at www.wired.com
If you like this article, do subscribe here.