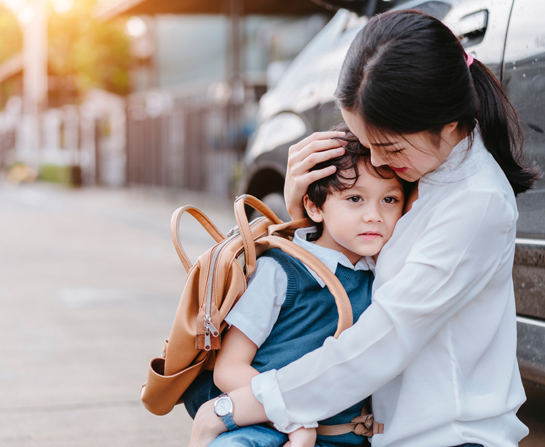 WORDS LIM TECK CHOON
LET THE CHILD IN EARLY ON WHAT THEY CAN EXPECT AT SCHOOL, AND MAKE IT SEEM FUN AND EXCITING
One way to reduce your child's separation anxiety, Dr Yong advises, is to let them know in advance what being in a classroom will be like.
"Make it sound exciting instead of fearful," she says. "Use phrases such as 'You are so lucky' to reduce your child's worries."
SEND YOUR CHILD OFF AND BE THERE WHEN SCHOOL DAY IS OVER
If you drop your child off at school, do so at the same time every day if possible.
Also, Dr Yong advises being there early when picking up your child, so that they won't have to wait all alone in a strange environment.
The same applies if your child takes a bus or private chartered vehicle to school. Send off your child when the vehicle arrives, and be there with a smile when your child gets out of the vehicle at the end of a school day.
This routine will let your child find comfort in knowing that Mommy or Daddy will always be there for them no matter what happens at school.
OFFER HUGS AND KISSES, BUT WITHOUT FANFARE.
You can ease your child's separation anxiety at the start of the day by developing a simple goodbye ritual, such as a kiss on the cheek or a hug.
However, some children may take the opportunity to cry and act up when it's time to be temporarily separated from their parents.
If your child does this, don't cave in no matter how much your heart breaks to do so. Just calmly walk away once your child is safely in the care of their teacher.
Don't worry—you likely won't be causing great emotional distress in your child by leaving without fanfare. Dr Yong shares that some teachers had confided in her on how some teary-eyed children would quickly calm down and even get along well with other children shortly after their parents had left!
HOWEVER, A CAVEAT
If you notice after a few weeks that your child still resists going to school, or acts in other ways to suggest that their time at school wasn't going well, these could be warning signs that your child may be subjected to bullying by their classmates or harsh treatment from the teacher.
You should make some discreet enquiries or consult the school principal to look further into this matter.