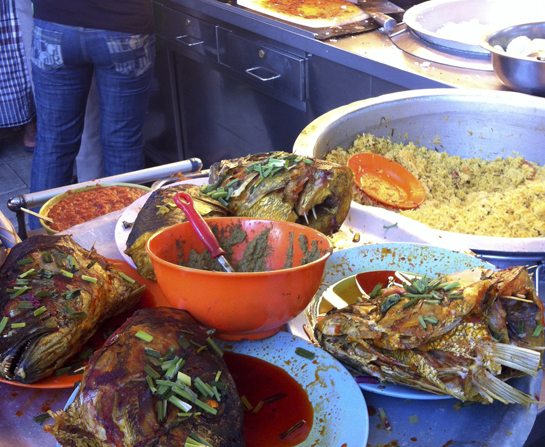 Professor Winnie Chee Dietitian & Professor, Division of Nutrition & Dietetics, International Medical University
We are all aware of the benefits of cooking at home. The main advantage of home-cooked meals is that we have complete control over what goes into each dish. We can choose to use only fresh ingredients, for example, and cut down on oil and sugar. Such control is not always possible when we eat outside.
Several scientific review papers reported rather convincing evidence that eating out is associated with a higher total energy intake, with increased energy contribution from fat in the daily diet as well as lower intake of micronutrients, particularly vitamin C, calcium and iron. Eating out has often been associated with increased body weight and obesity.
However, many of us are busy adults, leaving the house early and staggering home late in the evening. Eating out is often a convenient option when we are out of time or are just too tired to cook. Furthermore, we are surrounded by delicious food – this is Malaysia, after all! And we all love to eat outside, for pleasure as well as to sate our hunger. Unsurprisingly, studies show that on average Malaysians eat at least two meals outside the home everyday.
We are quite fortunate that eating out is affordable in Malaysia and we have a very wide selection of foods – from local favourites to cuisines from all over world! Here are 8 tips to help you enjoy eating out while still making healthy choices for your health and your waistline.
Tip No 1: Limit frequency and serving size
Limit the number of times you eat out. Don't groan – it is faster and easier to prepare meals at home than you may think. For example, whole grain cereals and sandwiches are quick and easy breakfast to prepare. There are also many recipes for simple-to-prepare yet nutritious dinners – try searching for them online.
Be sensible about portion sizes. Go for smaller servings so that you will not eat more than you need (this will be good for your weight and waistline). Western fast food restaurants tend to offer "value meals" that come in portions that are far bigger than you need so order ala carte or, if you order a value meal, share it with a friend or family friend.
Tip No 2: Go for variety
Go to an eating centre which offers a variety of choices. For example, a food court or restaurant will offer a more extensive menu than a stall which only sells fried noodles. Your chances of eating healthier will increase if there is a wider choice of food.
Tip No 3: Choose a restaurant or eating place that you are familiar with and is willing to oblige you to make changes.
Some restaurants offer healthy options – visit these places more often.
Tip No 4: Make special requests!
If you are not familiar with a dish, find out what ingredients are used and how it is cooked. Then request if changes can be made, for example, ask for less oil or sauces.
Tip No 5: Know the menu terminologies – pick the healthier ones
Methods of cooking or menu terminologies actually do tell us which choices are healthier for us. Choose healthier foods such as those listed in Table 1 and go easy on menu items in Table 2.
| Popular but unhealthy drinks | Healthier option(s) |
| --- | --- |
| Sirap bandung | Sirap kosong or sirap kurang manis |
| Cappucino, frappucino | Coffee with low-fat milk, latte |
| Teh tarik | Teh 'o' kosong, Chinese tea or plain tea |
| Canned or sweetened fruit juices | Fresh fruit juices (no added sugar) |
| Carbonated or soft drinks | Light or diet versions |
Table 1: Healthy choice menu terminologies

| | | |
| --- | --- | --- |
| Terminologies | What it means | Benefits |
| Baked (fish, chicken, meat) | Cooked in an oven | Usually less fat content compared to fried foods |
| Grilled | Cooked over a grill | Usually less fat content compared to fried foods. Note: fat may be used to baste food before grilling; you can request the chef to not do this. |
| Steam | Cooked using steam | Low in fat. |
| Clear soups/boiled | Cooked in boiling water/liquid/stock | Low in fat. |
| Roast/broiled | Cooked in direct heat/fire | Usually less fat content compared to fried foods. |
| Tom yum soup | Cooked in broth made of stock and fresh ingredients such as lemon grass, kaffir lime leaves, galangal, lime juice, fish sauce and crushed chili peppers. | Low in fat. Low in sodium (salt) too if only fresh ingredients are used. |
| Masak singgang/masak asam | Cooked in stock with chillies/spices (without coconut milk). | Low in fat. |
Table 2: Menu terminologies which denote less healthy choices

Terminologies

What it means

Less healthy because…

Char eg, char kuay teow

Fried in a substantial amount of oil

High fat and calories.

Masak lemak

Coconut milk is a base ingredient.

High in saturated fat.

Masak merah

Fried items cooked in spices and chillies

High in fat.

Goreng

Deep fried in oil.

High in fat and calories.

Buttered

Cooked with butter, sometimes coated with flour first

High in fat (especially saturated fat) and calories.

Creamed

Cooked with cream or white sauces

High in fat and calories.

Crispy/crunchy

Deep fried in batter/flour or fried in substantial oil.

(Note: crispy and crunchy fresh fruits or raw vegetables are good, however, so enjoy away!)

High in fat and calories.

Pan fried

Fried in shallow/moderate amount of oil

Source of fat and calories.

Breaded

Food coated with egg and breadcrumbs, and then deep fried

High in fat and calories.
Tip No 6: Order plain water or low-calorie drinks
Cut down or avoid drinks or beverages which contain a high amount of sugar, syrup, sweetened condensed milk and cream which are high in calories – they may jeopardize your efforts to maintain a healthy weight.
Go for iced water with a squeeze of lemon or unsweetened or less sweetened drinks.
Avoid cream toppings and sweetened condensed milk in your beverages.
Tip no 7: Always choose healthier options!
Malaysia has many different types of eating places or restaurants. Here are some tips on what to order and enjoy the foods the healthier way. Remember, eating healthy is also about portion sizes, so order smaller portions or share!
Table 3: Healthier options when eating out

Place of eating

Pick these

Try not to pick these

Malay warung, restaurants

Fish curry
Chicken curry
Chicken soup
Fish masak asam/singgang/ tom yam
Ikan bakar
Mee rebus
Mee Siam

Fried items such as ayam goreng, organ meat
Gravies cooked in oily sambal, santan-based curries
Nasi goreng/ mee goreng/mee ladna or noodles with thickened gravy
Sup tulang and sup ekor

Indian restaurant or kedai mamak

Capati
Plain naan
Idli
Thosai
Dhal
Rasam
Toast bread and boiled egg set
Tandoori chicken
Mee sup

Roti canai
Roti tisu
Thickened curry with coconut milk or fresh cream
Ghee based dishes
Poori, paratha
Mee goreng/Maggi goreng

Chinese restaurants

Herbal soups
Noodle soups
Chinese porridge
Steamed fish
Hainanese steamed chicken with plain rice
Braised tofu
Steam boat with non-fried items
Yong tau foo with non-fried items
Wet popiah
Assam laksa

All thickened soups such as cream of corn
Fried noodles such as Hokkien char and Cantonese style
Fried oyster omelet
Pork leg dishes

Western restaurants

Vegetarian pizza
Consomme or clear soups
Salads with lemon juice and vinaigrettes or French dressing
Ratatoullie
Baked fish or grilled chicken
Grilled or roasted chicken, meat, fish or seafood
Seafood paella rice
Tomato-based spaghetti
Teriyaki chicken pasta

Pizza with cheese toppings/crust
Cream soups
Deep fried dishes such as fish n chips or chicken chop
Excessive amount of salad dressings
Sausages, bacon and fatty meats
Cream, cheese cakes, pies and pastries

Japanese restaurants

Sashimi
Sushi
Grilled items
Soup noodles
Shabu shabu

Tempura
Teppanyaki
Deep fried items

Western/fast food restaurants

Plain burgers/ à la carte items
5-piece nuggets
Chicken wraps
Sandwiches – roasted chicken breast, vegetarian, roast beef, chicken teriyaki, turkey (go easy on dressings)
"Diet" or "light" beverages
Unsweetened tea/coffee

Value meals
"Super"/large chicken/beef burgers
Fish burgers
Regular beverages
Large fries
Tip no 8: Finish off with fruits!
Many of us like a sweet ending to every meal, so finish off your meal with fruits as dessert. Most hawker centres and stalls offer a variety of cut fruits so, take advantage of the nicely peeled and portioned fruit to fulfil your daily fruit recommendation and satisfy your longing for something sweet.
Finally, if you have over-eaten, burn off the excess food with exercise!
Reference:
Lachat C et al. (2012). Eating out of home and its association with dietary intake: a systematic review of the evidence. Obes Rev.; 13(4):329-46.
If you like this article, do subscribe here.