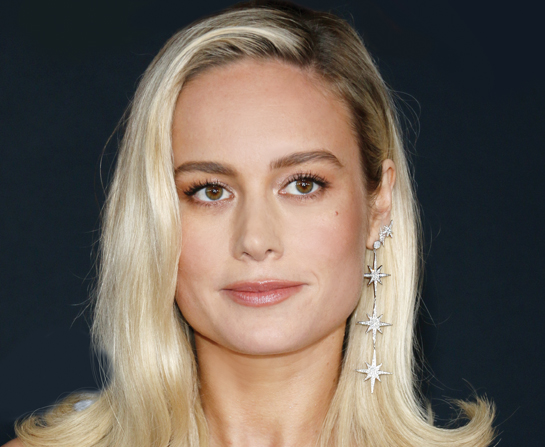 WORDS HANNAH MAY-LEE WONG
Through winning an Oscar just before her 27th birthday, Brie Larson instantly became a household name. The best is yet to come; Brie is excited to bring female empowerment to the silver screen and that's exactly what she'll be doing when Captain Marvel – Marvel Studio's first standalone female superhero movie – hits our cinemas.
The world watched as Brie Larson accepted her Academy Award for best actress in 2016. It was her first nomination and her first win. Many of us (who are less acquainted with the world of indie films) had not heard of Room (2015), the movie she had won the prestigious award for. Though it wasn't a giant summer blockbuster, Brie's portrayal of "Ma" in Room put her on the map and paved the way to the start of an amazing career in Hollywood.
As with many things in life, the road to anything good is never easy. Brie's captivatingly convincing portrayal of a kidnap victim living in dire circumstances comes from a place of first-hand experience. No, she was never kidnapped. But the inspiration to take on this role was drawn from a childhood spent living with a single mother, in a tiny studio apartment.

GROWING UP TOUGH
Though it is not revealed in her dainty, elegant stature, Brie comes from a background far from growing up with the silver spoon. Brie, currently 29, was born Brianne Sidonie Desaulniers to parents Heather and Sylvain Desaulniers, two chiropractors who were living in Sacramento, California. At the tender age of seven, her parents went through a difficult divorce – an event which would take her father out of the picture for years. When Room was released, she hadn't seen or spoken to him in a decade.
Brie found support and solace in her closeness to her mother. As soon as Brie knew she wanted to pursue acting, her mother packed their bags, with Larson's little sister Milaine in tow, and moved to Los Angeles to pursue the big dream. She says in an interview with Elle magazine, "My mom always felt like she was a creative person and her parents wouldn't allow her to have that kind of life. So when I got interested in acting, she was like, 'Okay, let's make this happen.'".
The trio did not have a very glamorous start, to say the least. "We had a crappy one-room apartment where the bed came out of the wall and we each had three articles of clothing," Brie recalls in an interview with The Guardian. As the years went by, the struggle with finances continued as Brie had a tendency to opt for roles in independent movies (those that didn't pay much) – a move heavily influenced by her artistic drive. "I have no problem talking about how hard it's been, how broke I've been and how broke I was not even that long ago … I thought, 'This is it. I've really screwed myself because I did three independent films. I didn't do anything for money and now I don't have anything.' I was eBaying stuff for Christmas presents," Larson revealed in the interview. Little did she know, her choices would pay-off big time.
"THE INSPIRATION TO TAKE ON THIS ROLE WAS DRAWN FROM A CHILDHOOD SPENT LIVING WITH A SINGLE MOTHER, IN A TINY STUDIO APARTMENT."

THE ROAD TO THE OSCARS
Brie's rise to fame started when she was only seven years old. She began appearing in live talk shows, television sitcoms and commercials. Also having an interest in music, she tried her hand in the music industry by releasing an album titled Finally Out of P.E. in 2005. Her music career was short-lived and never really took off, but it was a good experience nonetheless. As the years progressed, Brie co-starred in more well-known movies such as Scott Pilgrim vs. the World (2010), 21 Jump Street (2012), Don Jon (2013) and The Spectacular Now (2013). Larson's big break finally came when she performed her first starring role in the independent drama film Short Term 12 in 2013. Her performance was critically acclaimed and proved a stepping stone to more leading roles ahead.
Brie's next starring role in Room (2015), earned her several of the most prestigious awards in Hollywood: she won best actress in the Academy Awards, the Golden Globes and the British Academy of Film and Television Arts (BAFTA). Room is a film based on the novel of the same name. It talks about a woman named Joy or 'Ma', who was kidnapped and held captive for seven years. During her years being held hostage, she bore a son, Jack, and they both lived in a shed they call Room. The film takes audiences through the escape and the eventual assimilation back into normal society after being locked up for so long, all this is being told through the perspective of Jack. She partially attributes her outstanding performance to her tough childhood, her strained relationship with her father and being raised by a single mother. On her rocky past, she tells Elle magazine, "I don't have anger; I have gratitude. It took me a really long time to feel that … I wouldn't have been able to play Ma and make Room if I didn't have my experience."

A CAPTAIN CHAMPIONING FEMINISM
A mere few years after her Oscar breakthrough, Larson landed one of the most coveted female roles in the current movie biz – playing Captain Marvel. The movie is highly anticipated, mostly because it is the first female superhero standalone film from Marvel Studios. Getting the role would also likely mean sequels and being integrated in the well- established Marvel cinematic universe, a sure-fire way to fame and fortune. But all that was not enough to convince Brie to take the part. More than just making blockbuster movies, Brie wanted something bigger out of Captain Marvel – she wanted it to be part of the movement that's pushing feminism and overall girl-power one step forward. A matter that is close to her heart, Brie is a supporter of the Time's Up organization, a cause powered by women, advocating for safe, fair and dignified work for women.
On accepting the role, Brie tells Vanity Fair, "I had to sit with myself, think about my life and what I want out of it. Ultimately, I couldn't deny the fact that this movie is everything I care about, everything that's progressive and important and meaningful … I really, really feel like it's worth it if it can bring understanding and confidence to young women." It's a tall order from a movie, but Brie worked hard and gave it her all for this one. It was reported that at one point, she was working out for four and a half hours every day, building up her physique and training for stunts. The cherry on top of this cake is that Captain Marvel premiered on International Women's Day.
"SHE WANTED IT TO BE PART OF THE MOVEMENT THAT'S PUSHING FEMINISM AND OVERALL GIRL- POWER ONE STEP FORWARD"
The message Larson hopes to bring across is plain and simple: she wants to encourage young women around the world to support each other, and to prove that women can be strong too. Last year, she wrote an inspiring post on her Instagram to commemorate International Women's Day. She says: "Here's to women. Whatever your race, religion, sexual orientation, bank account amount, or documentation – I will spend the rest of my life working to raise you up." We look forward to seeing how this young woman continues to paint the town red. For now, she's off to a pretty good start. HT
References: 1. Elle. Brie Larson's World Is About to Change. Just Don't Tell Her That. Retrieved from: https:// www.elle.com/culture/celebrities/a33820/brie-larson-full- elle-cover-story/. 2. The Guardian. Brie Larson interview: 'I just wanted to do weird stuff'. Retrieved from: https://www. theguardian.com/film/2013/oct/20/brie-larson-short-term- 12-interview. 3. Wikipedia. Brie Larson. Retrieved from: https://en.wikipedia.org/wiki/Brie_Larson. 4. Vanity Fair. Cover Story: Brie Larson, Hollywood's Most Independent Young Star. Retrieved from: https://www.vanityfair.com/
If you like this article, do subscribe here.