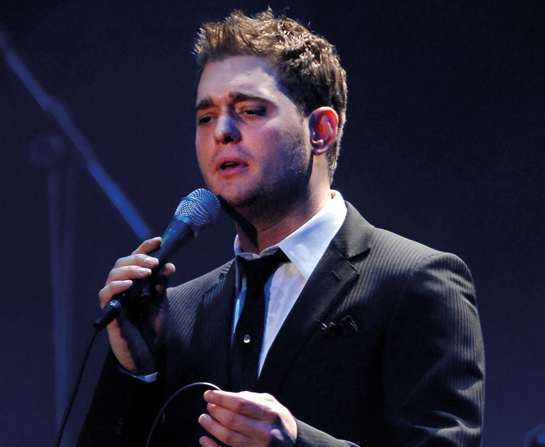 WORDS HANNAH MAY-LEE WONG
Michael Bublé is arguably one of the best performers of our time. Through his career, he has touched the hearts of millions by bringing old forgotten tunes back to life, and putting his own modern spin on them. This Father's Day, we explore Bublé's other voice, which is that of a father; and we get  to know the heart- wrenching journey he took supporting his young son through cancer.
Jazz swinger and old- tune singer, Michael Bublé is a Grammy Award winning music artist with a career spanning more than 15 years. He possesses a timeless, buttery smooth voice that is so unique, it can only be regarded as a gift meant for stardom. It's no surprise that Bublé took the express route and found major success since his debut album released in 2003. It was a feat which propelled him into international fame and earned him countless awards from then forward.
FROM THE SEA TO THE MICROPHONE
Perhaps partially due to his polished and refined vocal stylings, some may find it hard to believe that Michael was the son of a fisherman; he even worked as a commercial fisherman during summer breaks when he was a teenager. He was born in Canada in 1975 to mother, Amber and father, Lewis Bublé (a salmon fisherman). He grew up with two younger sisters, Brandee and Crystal—both of whom he is very close to.
From a very young age, Michael aspired to be a recording artist. He knew his voice was something special and was determined to make it a career for himself. He joined and won various singing competitions in his home country Canada, and in the early 2000's, he got a deal to work with David Foster (one of the most well-known music producers in the world). Shortly after, his first album titled Michael Bublé was released—it was a phenomenal success, and the rest was history.
AND ALL THAT JAZZ
Michael grew up listening to jazz music, a genre which was introduced to him by his grandfather. The influence from the close relationship Michael had with his grandfather, translated into a marvellous career for Michael, covering old songs in a way that would appeal to the masses of all ages. He has covered some of the best-known tunes of the golden era of music, such as "The Way You Look Tonight", "For Once in My Life" and "Save the Last Dance for Me".
Adding to that, one of the most unique things about Michael's career is that his Christmas album is among his most successful albums to date. Michael's rendition of popular Christmas songs seems to be a staple in most shopping malls and homes during the holiday season. Surprisingly though, the singer  says he totally could have foreseen the success of his Christmas album, and he embraces being linked to the holiday.
According to The Graham Norton Show, Michael's Christmas has been the number one Christmas album since 2011 in Australia. On an interview with the Today show, Australia, Michael comments, "If you're asking me if I could have somehow envisioned this thing happening, my answer is: absolutely. I knew my love of that holiday and that music was so real and so pure and so authentic, I remember very early on in interviews, they would say 'so you've made a Christmas record', and I would say, 'No … I've made THE Christmas record.'"
MEETING THE LOVE OF HIS LIFE
Before meeting his wife, the subject of love had always been a roller-coaster for Michael. In the past, Bublé had been engaged to actress, Debbie Timuss, and he openly shares that their breakup was the inspiration to his original hit songs "Home" and "Lost". He also famously dated English actress, Emily Blunt for a few years. But it wasn't until 2009 that his met the love of his life, an Argentine actress and model, Luisana Lopilato.
It was love at first sight for Michael, when he met Luisana while doing a show in Buenos Aires. Although she did not speak much English, Michael made it work by using electronic translation tools during their dates (and perhaps declaring his love for her through song helped too). The song "Haven't Met You Yet" was written for Luisana, and she also appeared in the music video. They married in 2011 and now have three beautiful children together: Noah, Elias and Vida.
NOAH'S FIGHT WITH CANCER
At the end of 2016, Michael revealed on his official Facebook page that his son, Noah (who was three years old at the time) was diagnosed with cancer. He wrote, "We are devastated about the recent cancer diagnosis of our oldest son Noah who is currently undergoing treatment in the US. We have always been very vocal about the importance of family and the love we have for our children. Luisana and I have put our careers on hold in order to devote all our time and attention to helping Noah get well." Michael took a long break away from his music, and he wasn't sure if he would ever come back.
Speaking about the heartbreak his family went through with Noah's liver cancer diagnosis, Michael also tells the Today show, Australia, "This was the worst possible thing that you could hear as a parent, and as maybe a human being. I much rather if it would have been me." In that period of darkness, the Bublés found solace in the overwhelming support from extended family, friends and fans. Michael's social  media page was filled with well-wishes, positivity and encouragement. He commented, "There were a million times me and my wife were just struggling to survive, and to breathe. More times than people could understand, some days we wished we didn't wake up. When we did, we felt the love of those people. We knew that they were praying for us, we knew that there was goodness out there. They gave us faith in humanity."
BUBLÉ IS BACK
Flashforward a few years later, Noah is now five and the family says that he is doing well. After a two-year career hiatus, Michael is finally back and ready to entertain, but some things have changed. He has been very vocal about putting family first and focusing his mind and his heart on the things that truly matter. He tells USA Today, "I don't even think about my career … And I remember that my promoter had told me, he said, 'Michael, if you do decide to come back, you have to prepare yourself. One of two things is going to happen. Either absence makes the heart grow fonder, or it's out of sight, out of mind.'" Determined to prioritize his family, Michael did not hesitate in taking that risk. Thankfully, when Michael was ready to return, his fans were right there waiting.
Michael didn't even know his upcoming world tour sold out in half an hour— he only found out through a congratulatory text from fellow singer, Ed Sheeran. When the news sank in, Michael said, "I cried so hard my wife came home and she thought someone died." His new album "Love" (symbolized by a heart emoji), goes back to the basics and features some of the best-known love songs in history. As touched as we are by Michael's story, we are even more encouraged to hear of how his family banded together and overcame such tough times. We wish Michael and his family all the best in their future and anticipate the great music we are going to hear from Michael in the years to come. HT
If you like this article, do subscribe here.