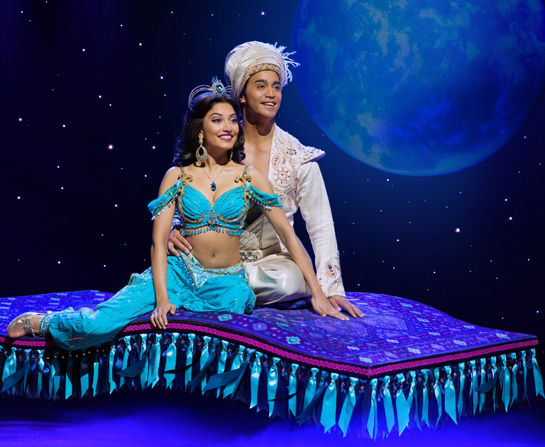 Words Hannah May-Lee Wong
Aladdin the hit musical makes its way to Singapore, the only stop in Asia. I know, I know … the location isn't the most convenient for us Malaysians. But if you just happen to be passing by or are there on a holiday with the kids, this could be the perfect pass time to add to your itinerary. 
A real treat for Aladdin fans, the show features a staggering 337 sparkling costumes (not kidding, we were also told around 500,000 Swarovski crystals were used), a super-fit cast of 34 members, an elaborate set that took more than 30 shipping containers (sailed to Singapore to recreate that Disney magic) … and lots of jazz hands— it's basically Aladdin reinvented for the glitz and glam of Broadway.
 (Wedding Kiss) Graeme Isaako as Aladdin with Shubshri Kandiah as Jasmine – James Green
(Rooftop) Graeme Isaako as Aladdin with Shubshri Kandiah as Jasmine – James Green
Even if you've seen the 1992 Academy Award-winning animated film and this year's reimagined feature film directed by Guy Ritchie, you wouldn't want to miss this one as it has so much more to offer. First off, we notice that there is no Abu (Aladdin's pet monkey and confidante). Instead, Aladdin is accompanied by three best friends, all of whom sing and dance rather well. You can expect to enjoy the five original songs from the films, and a couple of additional songs written specifically for this musical. One song that really stood out was Proud of Your Boy, a heartfelt ballad Aladdin dedicated to his late mother—in my humble opinion, it was the song that showcased Graeme Isaako's voice the best.
(Friend Like Me) Graeme Isaako as Aladdin with Gareth Jacobs as Genie – Deen Van Meer
Then comes the biggest star of the show: the whacky, flamboyant, wish-granting Genie. Played by Gareth Jacobs, the character brought on the snappiest jokes, the catchiest tunes and the most impressive dance numbers the show has to offer. Midway through the show, the audience were awed by the iconic magical carpet ride, where Aladdin and the gorgeous princess Jasmine (played by Shubshri Kandiah) realistically flew around the stage with no strings attached. We don't know how they did it, but it's probably a mix of technology, brilliantly executed illusions and a sprinkle of Disney magic.
Aladdin -Jeff Busby
Overall, Aladdin the musical is a fun, extravagant and extremely entertaining musical escapade to be enjoyed by young and old. If you're interested in making the journey to Agrabah and embarking on that magic carpet ride, the show will play at Sands Theatre, Singapore, from 21 July to 1 September 2019. Ticket prices start from S$68, available for purchase at premier.ticketcharge.com.my.
If you like this article, do subscribe here.