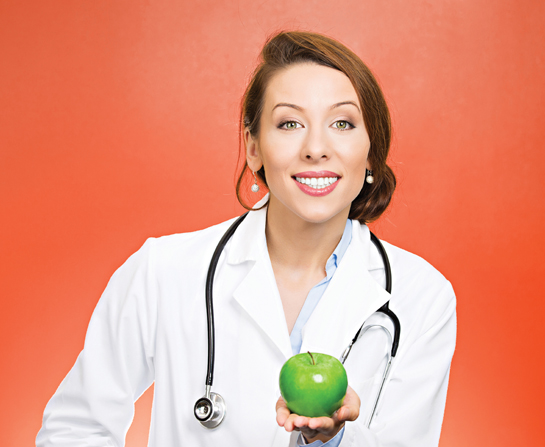 Dr. Chee Huei Phing Assistant Professor & Clinical Dietitian, Faculty of Science, Universiti Tunku Abdul Rahman
How true is the well-known advice that consuming an apple a day can keep the doctor away? Is it because the apple contains helpful substances called phytoestrogens to keep the virus at bay?
Fun fact! The full saying is said to be: "Eat an apple on going to bed, and you will keep the doctor from earning his bread." It was said to be used as early as the 1800s in Wales. The benefits of apple had been known (or, rather, suspected) for a very long time!
Researchers from the University of Michigan School of Nursing conducted a study to evaluate the truth behind the saying. For this study, they compare participants who eat an apple a day to participants who do not eat apples at all throughout that period, and the outcome of no more than one visit per year to the doctor was considered an indicator of the saying being true.
Hence, did an apple a day succeed in keeping the doctor away?
Alas, it did not. No statistically significant difference in visits to the doctor was seen among participants, regardless of whether they eat an apple a day or not. However, the study did demonstrate that an apple a day kept the pharmacist away.
This is because apples containing numerous phytoestrogens (such as quercetin). Studies suggest that they may provide protection against a broad variety of human diseases via their anti-viral properties. Other food high in quercetin includes blueberries, cranberries and onions.
These antioxidants counteract the damaging outcomes of free radicals, which are natural by-products of our body's metabolism. Free radicals can damage the molecules they react with, and are said to be one of the possible causes of cancer. Our immune system is not capable of fully fending off the actions of these free radicals, so antioxidants from foods such as apples may be helpful in warding off the negative effects of these free radicals.
There are many supplements containing antioxidants in the market, but if we eat a balanced, varied diet with plenty of vegetables and fruits (yes, including apples), then we do not need these supplements. Hence, the doctor may not stay away if we have an apple a day, but the pharmacist most likely will!
References:
Boyer, J., & Liu, R.H. (2004). Apple phytochemicals and their health benefits. Nutr. J., 3: 5.
Ho, J.H. & Chang, Y.L. (2004). Protective effects of quarcetin and vitamin C against oxidative stress-induced neurodegeneration. J. Agric. Food Chem., 52(25): 7514-7517.
Matthew, D., Julie, B., Brenda, S. (2015). Association between apple consumption and physician visits: Appealing the conventional wisdom that an apple a day keeps the doctor away. JAMA Intern Med, 175(5): 777-783.
Martin, J.H.J., Crotty, S., Warren, P., Nelson, P. (2005). The effect of phytoestrogen on nutric oxide production and HERV-K10 expression of human breast cancer cell lines. National Cancer Research Institute Cancer Conference, Birmingham UK, Abstract Number P66.
If you like this article, do subscribe here.