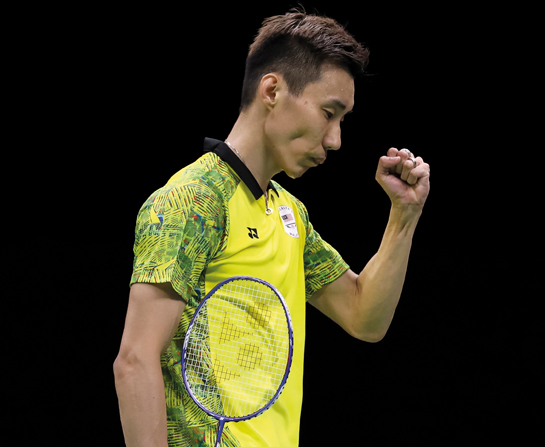 WORDS PANK JIT SIN
The legendary shuttler needs no introduction. His recent retirement from professional badminton left friends and foes shattered and the badminton scene will never be the same.
For the past decade, the sport of badminton was represented by the rivalry of two giants—our very own Datuk Wira Lee Chong Wei and Lin Dan, of China. Their on-court matches were the stuff of legends and any tournaments with the possibility of them clashing would draw in the crowds. In honour of one of the greatest sportspersons in recent history, let's look back at his illustrious career and revisit some of his trials and tribulations.
A TOUGH CHILDHOOD
Born in Bagan Serai in 1982, Chong Wei's parents—Lee Ah Chai and Khor Kim Choi— were struggling to make a living. As was seen in the biopic Lee Chong Wei: Rise of the Legend, he was almost given away but his mother was steadfast in her decision to keep him regardless of the hardship she had to endure. Chong Wei attributes his endurance and persistence to his mother. In the early days of his childhood, Chong Wei dabbled in basketball, but his parents didn't want him to play outdoors under the scorching sun. Back then and even now, most courts are open air. Instead, they brought him to play badminton, in a hall and away from the sun, under the tutelage of a local coach. Badminton proved to be the right choice as he took to it like duck to water. It wasn't long before he started winning competitions in school and against older, bigger opponents.
His talent and knack for the sport didn't go unnoticed and at age 17, he was discovered by Malaysian coaches at the time, Misbun Sidek and Morten Frost, and duly drafted into the national squad. In his autobiography, Chong Wei recalls working extremely hard during his early days when he was training at the national badminton camp. In order to match up to his older teammates, Chong Wei spent twice as much time to practice. Even blisters didn't stop him from practicing as he knew "the blisters would turn into callouses."
In 2003, Chong Wei's star began to ascend. In his first major tournament, the Malaysia Open, he lost in the finals to China's Chen Hong. The next year, the title was his. He proceeded to win the title for 11 more times for a total of 12. Those wins were punctuated at 2007, 2015 and 2017. Perhaps, the most momentous match in the career of both Chong Wei and Lin Dan came during the finals of the 2006 Malaysia Open tournament. Chong Wei and Lin Dan were playing the rubber match and our champion was trailing 13-20 in the final game. Lin Dan would have won the title with 1 more point. However, Chong Wei never gave up and fought tooth and nail to claw his way back to victory. It was a historic moment for badminton in Malaysia and in Chong Wei's career. The stadium erupted in cheer and applause as everyone chanted his name.
A SCANDAL & REBOUND
In 2015, Chong Wei was embroiled in a doping scandal. It was determined that the steroid, dexamethasone, found in his urine during a typical anti-doping test came from supplements provided to him by a dignitary who was never named. At a hearing before a panel of three Badminton World Federation judges, Chong Wei was found negligent, but the doping wasn't with intent to cheat. He was given a backdated 8-month ban and allowed to compete in short order. He quickly rose through the ranks to qualify yet again for the 2016 Rio de Janeiro Olympics. However, Chong Wei had to settle for second best once again in spite of beating his arch rival Lin Dan in the semifinals. The Rio games silver medal marked his third silver medal at the Olympics, with the first two collected in 2008 in Beijing and 2012 in London. In the first two instances, Lin Dan stood between him and the gold medal.
The year 2012 proved to be a big year for Chong Wei as it was also the year he wedded his long- time girlfriend and teammate Wong Mew Choo. The wedding was one of the events of the year for Malaysians as both were considered as sports royalty. Chong Wei and Mew Choo now have two boys Kingston and Terrance, and the nation is waiting to see if their parents' sporting genes do pass on to them.
"Perhaps, the most momentous match in the career of both Chong Wei and Lin Dan came during the finals of the 2006 Malaysia Open tournament."

THE BIG C AND SUBSEQUENT RETIREMENT
In mid 2018, Chong Wei took a sudden hiatus from the international badminton scene. It was as though he disappeared from the face of the earth. His absence in the courts and training sessions were immediately felt, as Chong Wei had a reputation for being a hard worker and would rarely miss training. It wasn't long before a social media post from a person linked to the sports ministry began to spread like wildfire. By September 2018, the Badminton Association of Malaysia (BAM) had no choice but to come clean about Chong Wei's cancer diagnosis. The shuttler had nasopharyngeal carcinoma or NPC. News of his cancer diagnosis came as a shock to the nation. Chong Wei was very secretive about his cancer diagnosis as he didn't want the ensuing publicity storm to negatively impact his family and those around him.
The first signs something was wrong came after his unprecedented 12th win in the Malaysian Open 2018 tournament. Immediately after the win, Chong Wei set off to Indonesia as part of the circuit, which the tournament's top players had to participate. He said he was feeling weak, which was something he was not used to. He lost to the Indian player H.S. Prannoy in Round 16 of the tournament and promptly came home to get himself checked out. In spite of feeling unwell, Chong Wei continued with his training schedule. News of his diagnosis was first conveyed to Mew Choo and she broke down upon hearing the news. Coincidentally, Chong Wei had just returned home from training and saw his wife crying. When she relayed the news to him, the news proved too much of a shock and he broke down in tears as well.
Not one to delay or go into denial, Chong Wei decided on the next course of action, which was to undergo contemporary cancer treatment in Taiwan. It wasn't the lack of faith in the local medical fraternity which caused him to seek treatment elsewhere but rather the need for privacy which led to the decision. He contemplated various places where NPC was common—Japan and South Korea but decided against those countries for fear of communication problems. His decisiveness paid off and the treatment went without a glitch. By early October 2018, he had completed his cancer treatment. Chong Wei had initially planned to return to competitive play as soon as he received the all-clear from his physician. The nation waited and waited. However, the word never came. Instead, Chong Wei announced his retirement from competitive sports in a press conference. He was sullen and the disappointment at being unable to try again for his Olympic gold dream proved too much to bear; he finally teared up as he bid farewell to the world of badminton.
His contribution to the game hasn't ended, as Chong Wei has promised to return to BAM in order to spar with the upcoming shuttlers. Whatever happens, we wish him the best and thank him from the bottom of our hearts! HT
If you like this article, do subscribe here.