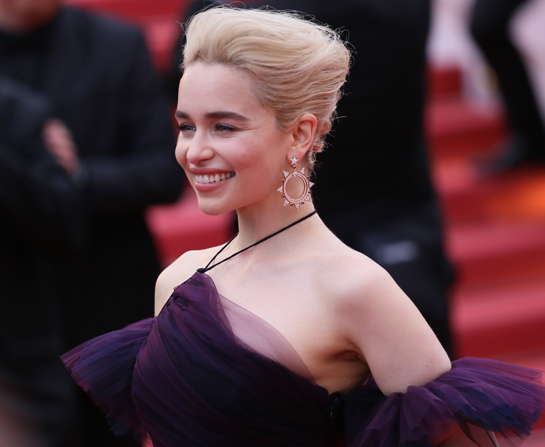 WORDS HANNAH MAY-LEE WONG
Her on-screen character, Daenerys Targaryen from Game of Thrones was meant to be a blend of Napoleon, Joan of Arc and Lawrence of Arabia—courageous heroes of the past. But when illness struck actress Emilia Clarke, she had to channel some of that strength and bravery into her real-life situation.
The world's most watched television series, Game of Thrones comes to a dramatic end after eight spectacular seasons. During its run from 2011 to 2019, it garnered critical acclaim, record-breaking viewership and attracted a fan base which spanned across the globe. One of the main highlights of the show was following titular character (and fan-favourite) Daenerys Targaryen—a young woman of royal bloodline—in her journey from living in exile to claiming the fictional Iron Throne.
Daenerys is described as a strong, confident and courageous woman, and the same could be said of the talented actress who plays her—Emilia Clarke. She revealed that in 2011, just after filming the first season of Game of Thrones, she suffered her first brain aneurysm. With courage and tenacity, she silently made a recovery and continued playing her character right until the series finale. Years later, Clarke is finally ready to tell her survival story and how she made it through such difficult times.
INSPIRED BY HER FATHER'S WORK
Emilia Isobel Euphemia Rose Clarke was born in London in 1986. Her passion for acting began at a young age, due to the influence of her father who was a sound engineer for musical theatres. He worked on-set of famous musical productions such as "West Side Story" and
"Chicago" in London's West End, and he occasionally brought young Emilia to work. By the age of three, Emilia decided she wanted to be an actress, after catching glimpses of the glamour and excitement of backstage theatre life. Years later, she completed her education at the Drama Centre London and set sail for her career.
FROM A CALL CENTRE TO GAME OF THRONES
After graduating drama school, Emilia made a promise to herself that for one year, she would only accept roles that truly interested her and her career. It was a difficult year as she was struggling to pay rent. She turned to waitressing in pubs, working part- time at a museum and working at call centres to make ends meet.
Not long later, Emilia's agent booked her an audition for a new television fantasy series. Little did she know, it was an audition that would change her life. Daenerys's character was physically described as a bleached-blond, ethereal woman of mystery. While Emilia was short, curvy and dark haired, she had her doubts of getting the part. Emilia shared her awkward audition experience with The Tonight Show saying, "There was a lot of adrenaline, I was very nervous. It was a big deal audition. I did all of the scenes and at the end of it, I was asking them if I could do anything else. And David Benioff (one of the screenwriters) said: 'You could do a dance.' So, I did the funky chicken which morphed into the robot." Emilia's genuine charm must have paid off because right there and then, she got the part.
ANEURYSM ADVERSITY
Clarke's life had just seemingly fallen into place—she just finished filming the first season of Game of Thrones where she played an amazing role. But unexpectedly, at age 24, Emilia experienced the first of two aneurysms while exercising with her personal trainer. She tells The New Yorker, "On the morning of February 11, 2011, I was getting dressed in the locker room of a gym, when I started to feel a bad headache coming on. I was so fatigued that I could barely put on my sneakers." Emilia pushed through and carried on her workout despite the pain, but midway through exercise, she recalled, "I immediately felt as though an elastic band were squeezing my brain." The pain got worse and the actress collapsed shortly after. She was taken to the hospital via ambulance.
After diagnosis through MRI brain scan, the doctors told her she had a subarachnoid haemorrhage, an uncommon type of stroke caused by bleeding on the surface of the brain. In Emilia's case, the stroke was caused by a ruptured aneurysm.
BRAIN ANEURYSMS AT A GLANCE
A brain aneurysm is a bulge or ballooning in a blood vessel in the brain. When this happens, the walls of the blood vessel are stretched out and weakened. Most brain aneurysms do not rupture or cause symptoms. However, in rare cases, aneurysms can grow, leak or rupture, causing bleeding in the brain (haemorrhagic stroke) that quickly becomes a life- threatening condition.
CAUSES
The reason behind why some people develop brain aneurysms remains unknown. However, aneurysms are more common in people over 40. Certain risk factors can contribute to weakness of the arterial walls and increase the risk of developing a brain aneurysm. These include: genetics, birth defects, sex (aneurysms are more common in women), smoking, high blood pressure, drug abuse and heavy alcohol consumption.
SECOND ANEURYSM AND RECOVERY
Emilia underwent her first surgery to treat the aneurysm and had recovered from it successfully after a month of staying in the hospital. However, her doctors discovered that she had another smaller aneurysm on the other side of her brain. At the time, they decided to monitor the aneurysm through regular brain scans. Unfortunately, 2 years later, the aneurysm had doubled in size and had to be operated on. Emilia went through two more surgeries to treat that second aneurysm.
Clarke shares that the recovery process for her second surgery was far more painful and more difficult than the first. She tells The New Yorker, "I looked as though I had been through a war more gruesome than any that Daenerys experienced." Thankfully, years later Emilia recovered fully from her condition and shares, "In the years since my second surgery I have healed beyond my most unreasonable hopes. I am now at a hundred per cent."
Grateful for her life and inspired by her own arduous health journey, Emilia spends a lot of her time and effort working on the charity she founded:  SameYou, an organization which aims to improve access to mental and physical rehabilitation after brain injury or stroke in the UK. She is also now an ambassador for the Royal College of Nursing and Nursing Now, a global campaign to improve health by raising the profile and status of nursing worldwide.
As for acting, although Game of Thrones has ended, we look forward to the many more entertaining roles that will be played by the young, strong and beautiful—Emilia Clarke. We wish her good health, and a wonderful career ahead. HT
If you like this article, do subscribe here.