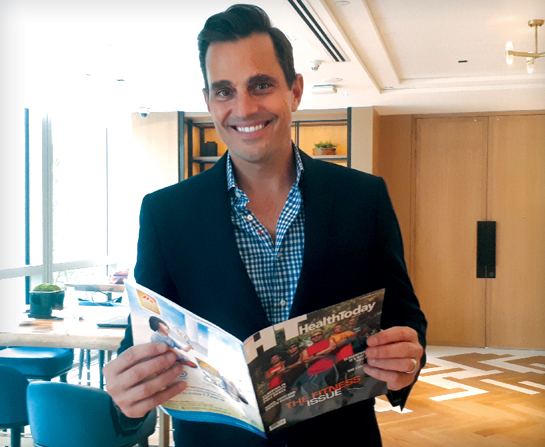 Words and interview by Lim Teck Choon
 
Bill Rancic first captured the attention of fans of reality TV when he became the winner of the very first season of The Apprentice back in 2004. He was handpicked then by the man who would eventually become the 45th President of the United States. Regardless of how one feels about Donald J Trump, Mr Rancic has since demonstrated that he is an entrepreneur through and through, certainly worthy of the honour of being the Apprentice. His business interests include the restaurant chains RPM Italian and RPM Steak, various real estate ventures in and out of the US and speaking engagements. Additionally, he is occasionally a TV host, an author of the family drama novel First Light and a full-time father and husband.
 
2018 marks another first in Mr Rancic's impressive list of milestones, as he and his wife, TV host Giuliana Rancic, embark on a partnership with pharmaceutical company Astellas Pharma US to select the recipients of the Astellas Oncology C3 Prize. Mr Rancic is among the judges that select, from among the many entries submitted from all over the world, the best proposal for a solution or technology that can improve cancer care for patients and their loved ones.
 
When Mr Rancic came to Malaysia recently with the rest of the judging panel, HealthToday managed to sit down and have a short chat with him.
(And yes, he still sports that very bright and disarming smile.)
 
Bill Rancic and his wife Giuliana.
HT: Judging a global challenge that focuses on inspiring non-treatment ideas to improve cancer care is very different from what you normally do. What motivated you and your wife to be a partner with Astellas for this particular challenge?
My wife Giuliana was diagnosed with early stage breast cancer in 2011. The experience not only changed our lives, it also spurred us to become more involved in promoting awareness and making a difference in the lives of those with cancer.
 
When Astellas approached us with the opportunity to partner with them, we didn't hesitate too long to say yes! As an entrepreneur, I am always willing to support efforts that lend a hand to small entrepreneurs and even students – which is what the Astellas Oncology C3 Prize is all about.
 
HT: How would you describe your experience in the judging panel?
It was both an inspiring and humbling experience. You have so many worthwhile ideas, and it is tough to have to narrow them down to pick three finalists and, ultimately, the grand prize winner. As I went through the entries, it often crossed my mind that, if the proposed solutions existed back when Giuliana was undergoing her treatment rounds, things would have been different, easier even. You can say that, for me, there is also an emotional investment in choosing the finalists because of the experience my wife and I went through.
 
HT: During an interview with Glamour back in 2012, your wife mentioned that there wasn't much being done to support caregivers of women with breast cancer. Do you think things have changed for the better since then?
Oh yes, these days it is so much easier to find information as well as support, thanks to the Internet and social media. Being a caregiver doesn't have to be an isolating experience like it might have been in the past.
There are also improvements in terms of treatment options as well as options and solutions to improve cancer care. This is why I'm excited for initiatives such as the Astellas Oncology C3 Prize – it will be exciting to find out, 10 years or so later, the impact that can be generated once these ideas are given time, opportunity and resources to develop into concrete solutions that can improve the way we care for cancer patients.
 
HT: Mr Rancic, one last question before you go. You've been heavily involved in all kinds of business ventures. After this, are you planning to start anything medical-oriented?
Well, there is nothing planned at the moment, but you never know!
If you like this article, do subscribe here.