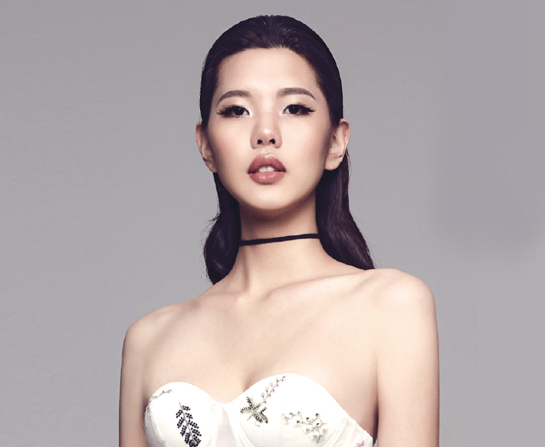 Words Hannah May-Lee Wong
When you first meet Jane Teoh, you are immediately taken aback by her height. She stands at a lofty 5' 10" or 178cm – taller than most Malaysian men! – but looks surprisingly delicate. The lanky lass is only 20 years old, but has gone far in the world of pageants and modelling.
A true Malaysian beauty, Jane was born and bred in Penang. Her gentle and demure nature makes her easy to talk to, but under the gentle exterior is the discipline, determination and tenacity that brought her to where she is today.
She started as a part-time model in her hometown, but was bitten by the pageant bug after participating in her first one. "I was sent to Mongolia to compete," she shares. "I wanted to expand my modelling career through these pageants, and Miss Universe is one of the most recognized. What better platform to get where I want to be?"
Behind the scenes
Some may think – how difficult can it be to compete in a beauty pageant? All you have to do is stand around and look pretty.
Well, there's a lot more going on than most of us realize. Jane tells us about the rigorous preparation she and the other contestants had to go through. "The top 18 finalists had to go through a boot camp, which was televised as a reality TV show in October last year. Many challenges were crammed into a short span of two weeks. Our training sessions included photo shoots, video shoots, catwalks, personality challenges and more.
"There was also a lot of mental preparation involved. It gets very tiring because we are rushed here and there and we get little sleep. In order to get through those tightly scheduled activities, we had to stay physically and mentally fit."
What about the Q&A part of the contest, we asked. Do pageant contestants know the questions they'll be asked beforehand? Do they prepare their answers in advance? "The questions are given at random… they could ask anything," Jane reveals. She chuckles as she tells us about having all the right things to say in her mind "so that when it comes out, it doesn't sound stupid or ridiculous".
"I prepared by researching the common questions, then writing down my answers and practicing them. But my answers are real… they are my real opinions. If my mind is in the right place, I can give honest answers that come from within."
Looking good = being fit
Jane shares that after the boot camp, she realized that she needed to work out more. "About three months before the finals, I started upping my fitness," she says. "I have personal trainers. And I go to the gym as often as I can."
Her workouts include HIIT (High Intensity Interval Training) and strength training. "For HIIT, I do burpees, push ups and mountain climber, which is like mountain climbing in the air. For strength training, I do lunges and more push ups, and also lift weights and dumbbells. The exercises are quite intense, but helpful in building up my stamina."
Super strict diet? Not necessarily
Models and beauty queens are known to be strict with their diet; some even go to unhealthy extremes. Jane, however, does not go down that route. "I don't count calories because deprivation methods don't work for me. I need to have my desserts, but I don't overeat. Portion control helps me eat what I want without going overboard.
"I make sure to have a balanced portion of nutrients, which include rice, meat, vegetables and fruits. Don't skip on carbs, because you need carbs to function throughout the day. Currently, I'm trying to take more foods that are high in protein, to build lean muscles and help muscle recovery after workout sessions.
"Goji berries and cherry tomatoes are my favourite snacks! Sometimes I pack them with me so I can have them on the go. My breakfast must-haves are milk, cereal or avocados. When I'm in a rush, I grab a muesli bar."
Being her beautiful best
According to Jane, her beauty regimen is a relatively simple one. "My beauty routines are quite basic, actually. I use toner, moisturizer and serum for the face. Eye serum is very important for me, especially after applying lots of eye makeup during the day. The eyes and lips are the most delicate parts of the face; therefore, I treat them with extra care. I always use a lip scrub and leave it on for a while before applying my lipstick. The must-haves in my makeup bag are my eyeshadow palette and lip balm. As for hair, I put on a hair mask every day. Occasionally, I'd go for professional hair treatment."
Fun facts about Jane Teoh
She is the middle child; she has an older sister and a younger brother.
She is the tallest person in her family.
She eats healthy, but once in a while she treats herself to her guilty pleasure – hamburgers.
When it comes to dessert, she has a soft spot for ice cream.
She recently started playing the piano again.
She avoids sweet drinks and alcohol, and stays hydrated by drinking lots of plain water.
She finds travelling alone exciting and challenging and hopes to do it more.
Her hobbies include reading and listening to oldies.
Fame isn't always pretty
The journey to winning the title of Miss Universe Malaysia was not an easy one, especially in the unpredictable (and sometimes cruel) space known as the Internet. Jane describes herself as shy and quiet, with just over 400 followers on Instagram. Today, she has 11,000. Inevitably, fame changes the way a person carries herself in public.
"When I first won, there was a large group of people who were very dissatisfied with the results. They were bashing me online, on my social media profile," Jane recalls. "Some said 'you're ugly' and 'you don't deserve this title', others said even more hurtful things."
She did the smart thing by simply not reacting. After some time, the public began to see how Jane continued to improve herself in preparation for joining the world stage. The negative comments have lessened and continues to fade, while support from her followers strengthens and grows.
The lesson she learned was that: "You can't control what people say. As long as you're positive about yourself and you're confident, you'll be ok. Look at the silver lining behind the cloud. The support I got from my family, my followers and my team really keeps me going.
"When I feel discouraged and need to give myself a boost, I would remind myself that this is what I want. I'll tell myself that I'm here, I'll do my best and make the most out of this year."
Putting to good use her personal experience with nasty comments on social media, Jane joined other Malaysian celebrities in the "Sebar Fakta, Bukan Dusta" (Spread Truth, Not Lies) campaign held in April 2018 to raise awareness on cyberbullying and counter the spreading of fake news.
Next stop: going international
The future is bright for our girl from Penang. After she has established her career in modelling, Jane plans on completing her degree in accounting and finance. But first, she is set to represent our country in the international Miss Universe pageant later this year.
"I am definitely excited about the upcoming Miss Universe pageant," she gushes. "I'm looking forward to that moment when I get on stage, on an international platform, and shout out "Malaysia!"
Jane, we wish you all the best and look forward to watching you on the world stage.
In the spirit of a beauty pageant Q&A session, HealthToday prodded Jane with some deeper questions. (World peace, perhaps?)

Do you think beauty pageants are only representative of superficial beauty? What does true beauty mean to you?
No, I don't think it's superficial at all. It's a platform to tell people who you are. True beauty to me is something that takes courage. It's the boldness to express yourself fearlessly. Not everyone can do that.
Behind the scenes, it's all work, not just beauty. To even get into the competition requires lots of effort and, in a way, it focuses a lot on the representation of an individual. Personally, the hardest thing I had to work on was my confidence. I was not a chatty or talkative person when I started. But slowly, by communicating with more and more people, I have improved that aspect of myself.
Who is your role model?
I would say my Mum. I know it's not easy to juggle between roles, and my Mum is a mother, daughter, wife and also a teacher. She's doing a great job. Although she has a career, she takes care of the family very well. I really admire how she stays passionate about everything she does. She's also very supportive and open-minded about the industry I'm in… not at all how you'd think a teacher would react.
What have been your proudest achievements thus far?
Of course, winning Miss Universe Malaysia! (said cheerfully). It's the biggest competition I've ever joined, I'm proud of what I've achieved, and I hope to do much more.
If you like this article, do subscribe here.