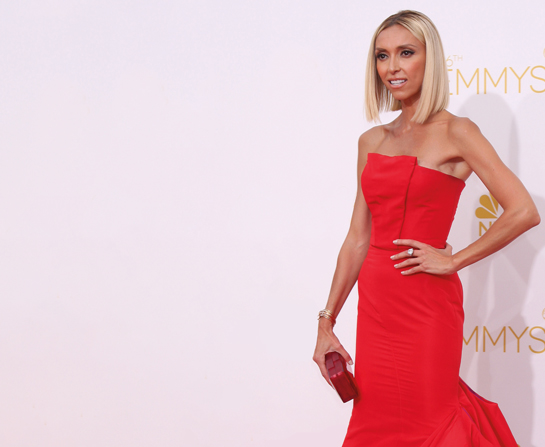 Giuliana Rancic is rarely away from the American small screen. For the last 10 years, she co-hosted E! News and Fashion Police. Of course, she was more than just a host – she starred in a reality TV series with her husband Bill, started her own fashion line, and dabbled in acting and producing TV shows.
In 2011, she made headlines for a more sober reason: she was diagnosed with breast cancer. In her latest autobiography Going Off Script: How I Survived a Crazy Childhood, Cancer, and Clooney's 32 On-Screen Rejections (published in early 2015), she revealed that prior to her diagnosis, she and her husband Bill were struggling to conceive. She was about to undergo a third round of in-vitro fertilization when, at her doctor's request, she took a mammogram. The result floored her; fortunately, the cancer was at an early stage.
She underwent surgery to remove the lumps from both breasts, but she eventually opted for a double mastectomy. "For me it was just more important to get the cancer out. With the double mastectomy I now have less than one per cent chance of getting it back, otherwise it was 20%, 30% or 40% chance and for me, it wasn't worth it," she explained.
And she went back to work just two weeks after her surgery. "Some people said how brave I was to go back to work so soon, but it wasn't about being brave," Rancic told the Los Angeles Times in a recent interview. "I wanted to stay busy, so I wasn't focusing on [my cancer]. When I went back to work, I felt so much better after getting hair and makeup done. I was able to look in the mirror and see the girl I knew before my surgery."
As a breast cancer survivor, Rancic now pays it forward to her fellow survivors and breast cancer patients in her own special way. Partnering with The Pink Agenda, she founded the Fab-U-Wish foundation, which grants breast cancer patients opportunities to feel good about themselves through free makeovers, beauty treatments and more.
Rancic recalled proudly how they flew in to Los Angeles a Marine stationed in Afghanistan, who had lost all her hair after chemo. "She wanted to feel like a princess, as she felt that she was losing her femininity along with her hair," Rancic shared, "so we flew her and her sister in for a mani/pedi." To date, about two dozen breast cancer patients had received special moments to remember from Fab-U-Wish.
At the end of the day, TV host and passionate advocate Rancic is also a content mother and happy wife. One can say that, despite the adversities life has thrown her way, Giuliana Rancic is writing her own script for a happily ever after.
References:
CBS News. Available at http://www.cbsnews.com
E! Online. Available at http://www.eonline.com
Los Angeles Times. Available at http://www.latimes.com
If you like this article, do subscribe here.