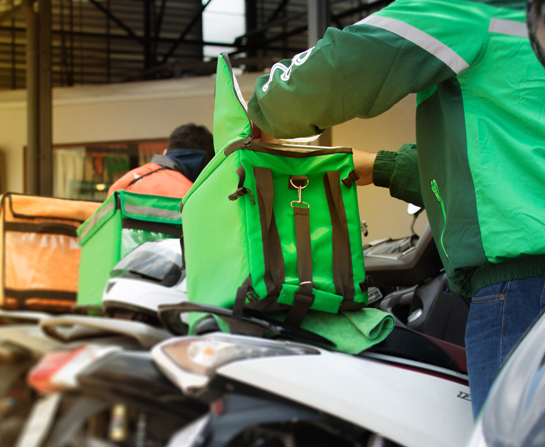 WORDS HANNAH MAY-LEE WONG
Food delivery services are now more efficient than ever. With the tap of a button, we have access to almost any kind of cuisine imaginable. With that convenience however, it's all too easy to treat each takeout order as an occasion to over-indulge.
As the pandemic still goes on, we should be prioritizing the nutritional value of our food, to support a healthy body. Thankfully, this is perfectly possible with takeaway food if we make the right choices. Here are a few pointers on how:
1. Order smart
Before you order, compare online menus beforehand. Search for restaurants that serve healthy dishes like lean proteins (grilled chicken breast or steamed fish are good options) and vegetables. Then, build the rest of your meal around those items.
2. Note that some foods may seem healthier than they actually are!
For example, certain sandwiches may be filled with fried meats, cheeses, mayonnaise, and other sauces can be high in calories. Still, such sandwiches can be made healthier if portion sizes were kept small, and if you choose whole grain bread with lean meats and fresh vegetables as fillings.
The same goes for salads. Salads topped generously with croutons, pasta, and heavy dressing can rack up in calories!
3. Make your own side dishes
If your favourite takeaway eateries do not offer a wide range of vegetable options, avoid ordering starchy and fatty side dishes (like French fries) to make up for it. Instead, consider streaming your own vegetables while waiting for the delivery to arrive.
4. Resist the upsell
Upsizing and set deals may be tempting, but they may increase your portion sizes by incorporating sugary drinks, fried appetizers, or starch-filled sides. It may be to resist the offer.
Think of it this way: you'll still be spending more money when you upsize. Plus, you'll be consuming more calories than you really need, and that can lead to unwanted weight gain.
5. Swap out for healthier options
With some tweaking to your orders, you may be able trim unnecessary calories off your favourite meals.
Ordering pizza? Thin crust pizza topped with lots of vegetables are lower in calories. If you're having a burger, swap out the fries with a size salad.
6. Take note of portion sizes
Remember, restaurant portion sizes can be bigger than what you normally eat. If portion sizes are too big, share it with your family members, or save the leftovers for next day.