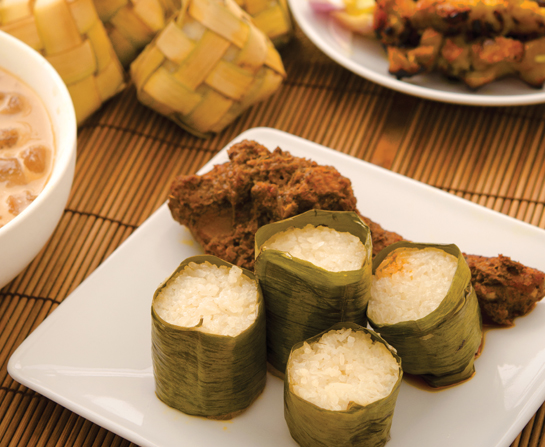 For Dr Yong Junina Fadzil, Hari Raya Aidilfitri is all about family. Celebration is low-key, involving her relatives coming over the morning of the first day of Raya. She would then visit her in-laws with her husband and children after lunch.
"We don't see one another often because not all of us live in Klang Valley; some of us are in Penang," she tells us. These days, we have Facebook and various mobile chat apps to close the distance, but Dr Yong points out that nothing beats personal interaction. Furthermore, the older family members are not as "wired" as the younger generation, so there is always plenty to catch up on when everyone gets together.
"I see some of the uncles and aunties only once a year, and this is the time for us to get together, eat together," she muses. She continues to say that family get-togethers are also a good way to be a part of the lives of those cousins, nephews and nieces who grow up ever so quickly. "Before we know it, they will be starting families of their own, and I'll be thinking, 'wow, time flies'," she adds.
Family moments together are precious because we will experience those beautiful little moments in ways that cannot be replicated through the technology of modern communication.
To Dr Yong, every second with the family is especially precious because she used to be an "on-call mum" during Hari Raya. Before she started her own private practice, she would be on-call on the night before Raya. Since she was living with her in-laws at that time, they would care for her children while she made her rounds in the hospital. She would rejoin her family only on the first Raya morning.
When her children got older, their clothes need to be sorted out before Raya – among many, many other things that only a mother could get right! So, she would go on-call on the second or third day of Raya instead.
"Now, I can take the entire week off!" Dr Yong says with a laugh.
Well, not quite. In addition to having her own clinic, Dr Yong is currently affiliated with UKM Medical Centre (UKMMC). As one of the two paediatric cardiologists at UKMMC, she is on-call throughout the week when the full-time cardiologist balik kampung to her hometown in Penang. "But I don't have to go in unless it's necessary," she says.
These days, she has plenty of time to whip up her specialities for her family and guests. On the first day, she would prepare nasi briyani or nasi tomato to go along with a variety of mouth-watering dishes, while on the second day, she would serve laksa at her annual "open house" for family members who could not drop by on the first day as well as for close friends. There is plenty of good food for great company!
While Dr Yong has some flexibility in her current schedule for some family time, her daughter has recently started her own housemanship in Melaka. If her daughter cannot take time off to join the family this year, Dr Yong's family would visit her in Melaka later in the week. The time and location do not matter; what important is that the family can be together and the bonds remain strong and true.
Dr Yong's Tips for Family Get-Togethers for Busy People
As someone who is used to being constantly busy, even during festive seasons, Dr Yong has a tip or two to share with everyone.
Outsource! Naturally, you cannot do everything in such a limited time, so set aside one or two dishes that you can prepare on your own time and have everything else ordered or catered. Dr Yong does not believe in mass-prepared cookies, kuih or lauk, though. She prefers to order most of her Raya delicacies from friends and colleagues.
Don't get too attached to your mobile. Times with the family are precious, so let's not squander those times answering messages or posting on Facebook. If you are constantly sidetracked by your mobile phone, Dr Yong recommends placing your mobile phone in your handbag and leaving the handbag somewhere safe before you mingle. That way, you can converse and enjoy your time with others without further distractions. 
If you like this article, do subscribe here.