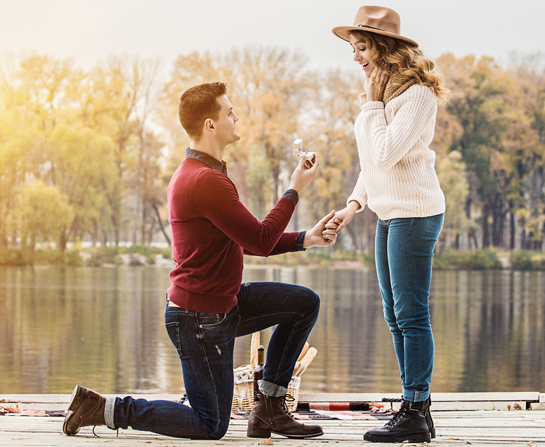 WORDS HANNAH MAY-LEE WONG
Ahh… weddings. Such a joyous occasion of celebrating love, family and romance. But anyone who has ever planned a wedding knows, that before the laughter and the happily ever after, comes budgeting, handling RSVP's and other complicated stuff.
He pops the questions, you're elated! You immediately call up your loved ones to tell them the good news. You have found the one you're willing to spend the rest of your life with — it's a miracle and a dream come true. Weeks pass and soon enough you're ejected into a whirlwind of wedding planning. Turns out, it's more tedious than you've ever imagined.
Lots of wedding planning stress comes from sorting out the financing, making decisions, seating arrangement and who can forget the family drama? Before you get to enjoy what could be the happiest day of your life, you'll have to work hard on the planning process to ensure things turn out exactly how you, your other-half and your family have envisioned. This is no easy task, it is very stressful. To avoid getting consumed by anxiety and negativity, it's a good idea to keep your head space in the right place. Try your best to keep your perspectives focused on what's truly important and enjoy the process while it lasts — easier said than done, right? Regardless, take comfort in knowing that this is a once in a lifetime experience and it goes by in a blink of an eye. 
Here are some helpful tips on how to stay calm, even when so much is going on:
Keep it sweet and simple
This might not be an option for some, as certain families might have set high expectations. But try keeping things as simple as you can, especially if you and your fiancé are paying for the wedding yourselves. Interesting statistic: according to a study, couples who spent less on their wedding were less likely to divorce. It just goes to show that you don't need an overly extravagant wedding to have a happy marriage. Besides, possibly getting into debt just for a wedding is hardly a good way to start a marriage.1 There are plenty of ways to cut back and simplify. Some of the best ways are: having a smaller guest list, booking a smaller venue, having a lunch get-together instead of a dinner banquet, using artificial flowers instead of fresh ones or sending e-invites instead of printed ones.
Get help
There are plenty of avenues where one can get help. One of the easiest options is to get a wedding planner will hold your hand and make sure your wedding goes by smoothly. Wedding planners come with a cost, but keep in mind that they have connections to vendors and their experienced hands will tell you what you need and what you don't need, for your day to look just as lovely. This might save you some money in the long run. Alternatively, if you opt not to hire a planner, fret not, I didn't hire a planner for my wedding and neither did many other brides. Still, we managed to pull-off an awesome wedding and I'd recommend this route to anyone. Indeed, planning a wedding yourself is a daunting task, but with the recruitment of some close family and friends, it's an exciting experience and a great bonding opportunity for those involved. It gets more people invested in your special day and after the event, you'll all be glad you did it together.
Focus on the important stuff
When so much is going on, it's easy to lose track of what's truly important: your relationship with your soon-to-be spouse. Remember, a wedding lasts for one day but a marriage lasts a lifetime. Take time off from the wedding planning occasionally and try your best to still do date nights. If you're feeling anxious, nervous or unprepared for the wedding, consider attending premarital counselling or marriage preparation courses. This is compulsory for Muslim couples in Malaysia, but if you are non-Muslim, consider sourcing for qualified centres that offer these services. While you may think you already know everything about your other half, these courses are often very efficient in bringing up important topics to discuss before marriage including: defining the roles of husband and wife, how to handle conflict, financial management and dealing with the in-laws.2 You'd want your marriage to have a good start, and the best way for this is to be prepared mentally and emotionally.
Stay organized
You'll find that wedding planning is more of a marathon than a sprint. The average time to plan a wedding is six months to one year, but it's not uncommon to extend beyond that. With weddings, most items need to be booked way in advance. Even things that you thought were simple, like getting your wedding bands made, ordering a wedding dress, scheduling a pre-wedding photoshoot can have weeks or even months of wait time. Furthermore, your days would be filled with so many meetings and appointments, that it can very difficult to keep track. Luckily, technology is on your side. The smartphone has plenty of apps that can help you create checklists, set up reminders and organize your documents. Make Google Calendars, Microsoft Word and Excel your best friends (they have plenty of features and are most probably already installed on your devices). Additionally, you can invest in a physical notebook or planner to write down your thoughts or note down anything that inspires you.
Utilize online resources
There are so many wedding-related resources available on the internet, and they post beautiful pictures, useful tips and are regularly updated. There, you'll find loads of inspiration, insightful articles, detailed checklists and easy-to-use templates. I personally felt that I could not have planned my wedding without these websites they were lifesavers! If you're the first in your family to get married, many of these sites have step-by-step guides on how to plan your wedding from beginning to the end. My favourites are: www.theweddingscoop.com and http://www.theweddingnotebook.com. Some websites even offer templates whereby you can create your own e-invites, wedding posters and wedding programmes. I used www.canva.com and www.greetingsisland.com.
Stick to your budget
This may seem obvious, but moments of weakness or not setting a budget in the first place can lead you to overspend, and this leads to unnecessary stress. It's best to set a budget before starting the wedding planning process and stick to it. Create a spread sheet and document each item you spend on. Don't be afraid to say no when necessary.
Don't forget to smell the roses
With endless to-do lists and long tiring days, it's tempting to wish the wedding would just be over already. But getting married is a big deal and you're only going to do this once. It's a lifelong commitment and the joining of two sets of friends and families. This should be celebrated and remembered for the years to come! You'll love seeing your friends and family all in one place, celebrating you and your loved one's decision to tie the knot. No matter how big or small your wedding is, it is your day and you should remember to be present in the moment and take time to soak it all in. HT
References:
The Independent. Couples who spend more on their weddings are more likely to divorce. Available at: https://www.independent.co.uk/life-style/love-sex/wedding-cost-marriage-divorce-ring-how-much-price-study-a8435646.html.
New Straits Times. Hold premarital courses. Available at: https://www.nst.com.my/news/2016/12/196932/hold-premarital-courses.
If you like this article, do subscribe here.