"It's A Universal Story": Awkwafina On The Farewell And Finding Laughter After Loss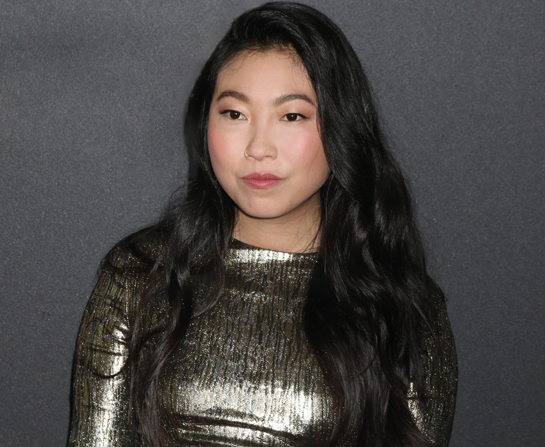 WORDS RACHEL SOON
"I know a lot of comedians whose comedy … is a symptom of adversity that they experienced as children. I think that's where I pulled from too."Crazy Rich Asians and The Farewell star Nora Lum, a.k.a. Awkwafina, talks about her experiences with loss in the family and the ways people collectively cope with grief.
"I felt odd and uncomfortable when adults cried to me … So I started trying to make [them] laugh."
As she'll admit herself, Awkwafina's characters on the silver screen are usually not unlike the comic persona she displays in her notorious comedy-rap performances, as
well as in her everyday life.
"My grandma watched Crazy Rich Asians and was like: 'So what? You're not even doing anything!'" she laughed, in an interview with The Guardian.1
More internationally famous for her zany, comedic roles as street-hustling pickpocket Constance in Ocean's Eight and the bombastic wingwoman Peik Lin in Crazy Rich Asians, 31-year-old Nora Lum—better known by her stage name Awkwafina—took what some considered a 180-degree turn in her budding acting career as the conflicted protagonist in Lulu Wang's acclaimed family drama The Farewell. Though she says she did not actively seek out the role, she took it up as it resonated closely with her Asian-American roots and parts of her own personal family history.2

THE ARMOUR OF COMEDY
In The Farewell, Lum plays Billi, a second-generation Chinese American millennial, who returns to the small town of Changchun, China, after her beloved grandmother (affectionately called "Nai Nai") is diagnosed with terminal lung cancer. Rather than let Nai Nai know the truth of her diagnosis, the entire family makes a pact to keep it a secret from her. However, Billi, who was raised by Nai Nai, struggles with the deception, as well as her sense of displacement amidst traditional Chinese cultural practices and perspectives.
Born in New York to a Chinese American father and a South Korean mother, Lum was only 4 years old when her mother passed away due to complications from pulmonary hypertension.
"It was a very slow illness … I remember [my mother], but I remember mostly when she passed. Obviously it was a very tragic situation, but I felt odd and uncomfortable when adults cried to me," said Lum. "One of the first emotions I ever felt was embarrassment. So, I started trying to make [the adults] laugh."3
Humour would define Lum's future career, with her trash-talk parody rap My Vag catapulting her to YouTube fame at 24, while a series of comedy-rap tracks and supporting roles in comedy films built a professional reputation for her talents in the genre. Still, the childhood loss would resonate with Lum for years after.
"My earliest memories of my mom are from when she was already sick. I remember her a lot through her food. She used to feed me a lot of Korean food, and I remember her really caring about that, caring about what I brought to lunch in my lunch box," said Lum. "She used to feed me tteok, rice cakes. Years later when I'd eat them, I'd cry because I'd remember her."4
In her mother's absence, Lum's paternal grandmother—who Lum describes as "not just a guardian, but an inspiration, a matriarch and the support system for so many of us"— stepped in to care for Lum and her siblings, providing a similar support as Nai Nai does for Billi in The Farewell.1
Talking about the challenges of playing Billi, Lum credits director Lulu Wang for helping her consciously tap into a sense of vulnerability and grief she had been avoiding from a very young age. Comedy, Lum noted, was a kind of shield she had developed in response.
"It's really easy to pop a water balloon in your face and get some laughs. That's what I grew up doing," said Lum. "To be really vulnerable and confront these things in a way I never really have—that was something that I grappled with as a performer. It was very real for me."5
She added that she knows many comedians whose sense of humour "is a symptom of adversity that they experienced as children. It also allows them to understand darkness. I think that's where I pulled from too."

COPING AS A FAMILY
"I think there's a very specific way my family has always dealt with loss, and that really rings true in The Farewell," said Lum. "It's this game of wanting to be okay and present yourself as okay, but on the inside not really knowing what to do with that grief."2 
In the movie, Nai Nai's relatives go to great lengths to maintain the deception, even to the extent of falsifying medical documents. The plot centres around a wedding staged ostensibly for Billi's cousin, but in truth the eventis a pretext to assemble the family for what could be their last days with their beloved matriarch.
While the story may seem fantastical to some, the plot is in fact based on Lulu Wang's real-life experience with her family's collective decision to conceal their own Nai Nai's Stage 4 lung cancer diagnosis.
In Chinese culture, death is generally regarded as a negative life event. There can be a sense of taboo over speaking of someone's death, as some believe that doing so may speed up the dying process or cause someone to die before their time. As such, the practice of concealing news from the patient—for the sake of protecting them—is not unusual among Chinese families.6
Lum commented on how a lot of the scenes in the film revolved around family meals, and how Wang used those moments to illustrate the conflict experienced by a family trying to put on a positive normalcy over a sense of grief, for the sake of a loved one. "I've never seen food portrayed so coldly, especially Asian food.
You never see it portrayed like it's the last thing you ever want to eat," said Lum. "But Lulu said that this food, in these circumstances [of grief]—you can't eat it. You don't want to eat it. How can you sit down to a joyous meal like that?"5
Even so, Lum notes that the grieving process is not without its own lighter moments, and that sharing the experience with others who've also experienced their own loss can be cathartic.
"When you want to think about someone [you've lost], you want to think about them at their best. That's sometimes where the comedy comes in," Lum remembers. "When my mom passed, after the funeral, after all the tears, everyone was in my apartment, and my whole family got into a conversation about our memories of her. Good memories. We were all cracking up laughing. And my neighbour came to drop off a casserole and opened the door, and my dad was laughing. Everyone around me was laughing."
Lum admitted that The Farewell forced her to confront the potential of her own grandmother's passing, what it would mean, and how people were supposed to deal with it, on an individual level as well as a family.
"[The Farewell] is a very universal story," said Lum."People will find their way to connect to it."
The Farewell opened in US cinemas on 13 July 2019 and is now available on streaming services and DVD home release. HT
If you like this article, do subscribe here.
References: 1. The Guardian.Awkwafina on race and Hollywood. Retrieved from https://www.theguardian.com/film/2019/sep/07/awkwafina-farewell-crazy-rich-asiansoceans-8-nora-lum. 2. The Wrap.Awkwafina on the Personal TragedyThat Connected Her to 'The Farewell'.Retrieved from https://www.thewrap.com/awkwafina-farewell-personaltragedy.3. The Guardian.Awkwafina:'I was always the crazy one, the funny one. I'd do anything for a laugh'. Retrieved from https:// www.theguardian.com/film/2018/
jun/17/awkwafina-oceans-8-youtube-crazy-funny-nora-lum.4. People. Awkwafina Opens Up About How the Death of Her Mother at 4 Years Old Changed Her Life. Retrieved from https://people.com/movies/awkwafinamoms-death-changed-her-life. 5.Vox. "I needed to do this movie":Awkwafina on her star-making role in The Farewell. Retrieved from https://www.vox.com/culture/2019/7/18/20689014/ awkwafina-interview-farewell. 6. Xu, Y.(2007). Death and Dying in the Chinese Culture: Implications for Health Care Practice. Home Health Care Manag Pract;19(5):412–414.