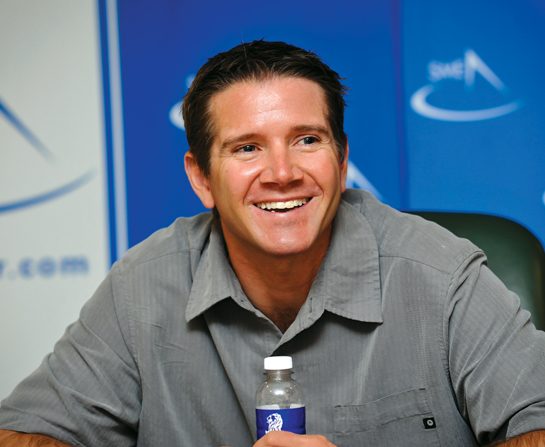 Cancer was a part of Sean Swarner's life since his early teens. He was diagnosed with Stage IV Hodgkin's Lymphoma at 13, and Askin's sarcoma at 16. They found a golf ball-sized tumour in his right lung, but its removal only sent him into an induced coma and left him with only one functional lung.
The doctor told him that he had only 3 months to live after his first diagnosis, and 14 days after the second diagnosis. Always the fighter, Sean beat the odds, a turnaround that his friends and family members considered a miracle. In his book, he recalls the seemingly endless and even agonising diagnostic tests and chemotherapy session, and how he persevered through this earth-shattering ordeal with the support of his family and friends.
"I knew in an instant that my hair didn't matter, that having no hair didn't matter, that wearing a wig didn't matter. Friends, family, doctors, nurses – people – they were all that mattered," he recalls.
On top of the world
A decade later, he not only stayed alive – he was determined to conquer the odds. With grit and not a little hard work, he went on to become the first cancer survivor to climb Mount Everest and 6 years later he completed the Ford Ironman World Championship in Hawaii – a wish he made to himself when he was confined to a hospital bed. "I went up Mount Everest first before attempting the Ironman Challenge so I could scream 'HOPE' from the top of the world," he explained.
And he did that while carrying a flag that bore the names of all those who had been affected by cancer – his personal tribute to the courageous souls who had inspired him. Sean went on to scale 6 other highest peaks, one in each continent: Africa, Europe, South America, Australia, Antarctica, and North America.
His cancer only motivated his inward growth: Sean started off as a molecular biology student but, after surviving cancer, he moved on to become a psycho-oncologist.
Today, Sean motivates people around the world through his talks and writing (he is the author of Keep Climbing: How I Beat Cancer and Reached The Top Of The World). Between adventures and duties as a motivational speaker, Sean visits hospitals in his spare time to share his survivorship stories with patients. He also founded The Cancer Climber Association to support cancer survivors in their adventures and provide grants for setting up mobile camps for children with cancer.
"Live, love, laugh, learn, and lead by example. Those five things are, I believe, the basis of life."
References:
Amazon. Available at www.amazon.com
Cancer Climber. Available at www.cancerclimber.org
Gig Masters. Available at www.gigmasters.com
SB Nation. Available at www.sbnation.com
Share Hope. Available at www.isharehope.com
Today. Available at www.today.com
If you like this article, do subscribe here.