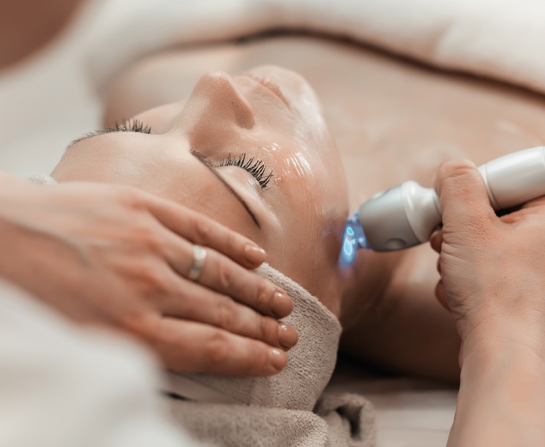 WORDS HANNAH MAY-LEE WONG
Can you believe that zapping your skin with laser beams can vaporize some of your deepest insecurities? This technology has come a long way in the aesthetic industry. Laser therapy for the skin can be used to resurface acne scars, remove freckles and tattoos, lessen wrinkles and more.
HOW DOES IT WORK?
There are different types of lasers out there. Each laser machine emits lasers at a specific wavelength. By tweaking the wavelength of the laser, we can treat different skin conditions.
We use carefully chosen wavelengths, pulse durations, and energy strength to target an area and minimize injury to the surrounding healthy skin. Generally, lasers can be used to improve acne scars, reduce pigmentation, wrinkles, blood capillaries, remove tattoos and rejuvenate the skin.
Laser machines work by emitting light of a single wavelength that is absorbed by target chromophores. In the beauty industry, lasers target chromophores (target cells) such as tattoo pigments, melanin, haemoglobin and water. What happens is that certain light waves would target broken capillaries and vessels, while others target dark spots and pigments. When light energy is absorbed by these targets, the vessels or pigments would break down and get swept away by white blood cells or macrophages in the body. In other words, after being zapped by lasers, these imperfections will disappear or fade.
Some lasers are used for rejuvenation. In these cases, the energy from the laser is absorbed deep within the skin and creates a "controlled injury". This process would stimulate the inner layers of the skin to produce more collagen. As a result, fine lines would appear less visible and the skin would look firmer.
"By tweaking the wavelength of the laser, we can treat different skin conditions."
However, this is not a one-size- fits-all kind of treatment. The intensity of each laser therapy depends on what the patient hopes to target, skin type, the age of the skin and the gender of the patient. For example, the skin of a 60-year-old gentleman would be thicker and rougher compared to that of a 20-year-old lady. Hence, the settings of the machine used during each treatment needs to be carefully tuned by the doctor to achieve the best possible results.
With more technological innovation, newer machines now provide faster results, are safer for use and have less risk of complications.
WHAT ARE ABLATIVE AND NON-ABLATIVE LASERS?
By definition, "ablation" means to surgically remove. Ablative lasers work like sandpaper — they "sand away" or "resurface" the top layer of your skin and they may cause peeling. With non- ablative lasers, the top part of your skin remains unharmed, because the wavelength and energy used penetrates deeper into the skin and stimulates collagen production. Non-ablative lasers do not cause any injury to the top layer of your skin.
MUST ALL LASER PROCEDURES BE DONE BY A DOCTOR?
Yes. In Malaysia, laser procedures for the skin are supposed to be done by doctors who are trained and certified to use laser machines. These doctors need to obtain a Letter of Credentialing & Privileging (LCP) from the Ministry of Health before being allowed to practise. This is to ensure patient safety. Improper use of lasers may cause burns to the skin and even damage to the eyes.
ARE THERE CERTAIN GROUPS OF PEOPLE WHO CAN'T GO FOR LASERS?
Pregnant or breastfeeding mothers are advised not to go for lasers. Also, those who have recent sunburn would have to wait for a couple of days for the skin to heal before going for laser therapy.
WHAT IS THE PROCESS LIKE?
The patient would first have to come for a consultation session. The doctor would discuss the patient's expectations and explain the possible risks and complications. Once the patient is fully informed, treatment can be started.
Before the doctor performs the laser procedure, a nurse would wash the patient's face to remove impurities and apply numbing cream. It takes 30 to 45 minutes for the numbing cream to set in. After that, the doctor performs the laser procedure, which typically lasts for 20 to 30 minutes. Once that is completed, the nurse would wash the patient's face, do a post-laser care regime and apply a cooling mask to soothe the treated skin.
The doctor may prescribe some medication to help with the discomfort and inflammation. The patient is usually given some skincare to take home too. Patients are required to protect their skin with sunscreen, daily. Overexposure to the sun after the laser treatment to remove pigmentation may result in the treated skin turning darker.
DOES IT HURT?
It depends on the patient's pain tolerance and what treatment the patient goes for. If the patient receives more intense treatments like tattoo removal, birth mark removal or vascular lesion reduction, light sedation or local anaesthesia may be given. Generally, ablative laser treatments are slightly more painful, and they also require local anaesthesia or sedation.
Non-ablative lasers tend to hurt less. Don't worry, numbing cream is usually applied before these procedures to reduce the pain sensation, so it will be tolerable. The sensation is akin to being snapped by a rubber band.
ANY DOWNTIME INVOLVED? FOR HOW LONG?
Again, it depends on what you get treated for. If you do laser treatment for rejuvenation or lessening wrinkles (milder treatments), your face would only appear pinkish for a day. If you go for lasers to remove or reduce the appearance of a scar (a stronger treatment with the use of higher energy lasers), it takes up to a week to recover. In those cases, your face would appear red for some time, followed by some peeling of the skin which normally occurs after day five of treatment.
HOW MANY SESSIONS DOES A PERSON NEED TO SEE RESULTS?
This is very subjective and it depends on which treatment you opt for. Most of the time, if you're looking to treat pigmentation issues like solar lentigo (darkened patches of skin due to exposure to the sun), bulky skin lesions like seborrheic keratosis or treatment to brighten up the skin, results sometimes can be seen after just one session.
However, for treatment of melasma (patches of brown on the skin), it will be more challenging and would take around six or more sessions to get good results.
HOW LONG DO THE RESULTS LAST?
It depends. The rule of thumb is that the more you take care of yourself, the longer the results last. If you don't smoke, sleep early, have a healthy diet and drink lots of water, the results remain for a long time.
Also, if you go for laser therapy to remove hyperpigmentation, you'll need to protect your skin from the sun diligently because exposure to the sun may cause the pigmentation to reappear.
WHAT ARE THE POSSIBLE RISKS AND COMPLICATIONS WE SHOULD KNOW ABOUT?
Lasers are at large, safe for use. However, in inexperienced hands the risk of complication would  be much higher. Complications can include damage to the eyes, burns on the skin and pigmentation becoming darker or very much lighter (post-inflammatory hyper/ hypopigmentation). During tattoo removal, if the power of the laser is set too strong, the person might develop blisters, which may lead to infection.
Remember, always get your treatment from a licensed doctor to minimize your risk of complications. Your health and safety are of utmost importance and this should not be compromised. While we all want flawless skin, we need to remind ourselves that the procedures we go for should be done safely and with minimal risk. HT
If you like this article, do subscribe here.