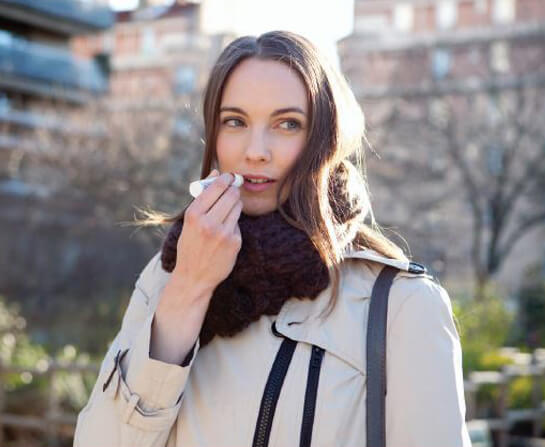 WORDS HANNAH MAY-LEE WONG
The skin on our lips is typically thinner and drier than other parts of the face. Follow these tips to show your lips some extra TLC.
Ahh the lips. We all know what the ideal set of lips should be: smooth, plump, soft and supple. It's especially desirable for our lips to remain in pristine condition during the holiday season. I mean, how else would we rock a bold lippie for that year-end party? But all too often, our expectations fall short when we wake up to (yet again) find dry, cracked lips. Worst of all, no lipstick can hide dull, crusty lips! Don't worry,  this is quite a common problem among men and women alike.
If you really want luscious lips, sometimes, you've got to work for it. Here's how:
1. KNOW YOUR INGREDIENTS
If you've got dry, sensitive lips, try paying more attention to the ingredients in your lip products the next time you go shopping. Choose products that are fragrance free and hypoallergenic."
According to the American Academy of Dermatology, those with chapped lips should avoid the following ingredients in their lip products:
Camphor
Eucalyptus
Flavouring such as cinnamon, citrus, mint, and peppermint that can be especially irritating to dry, chapped lips
Fragrance
Lanolin
Menthol
Octinoxate or oxybenzone
Phenol (or phenyl)
Propyl gallate
Salicylic acid.
Instead, opt for products that contain these ingredients to help heal cracked lips. Dermatologists recommend choosing lip products that have one or more of the following ingredients:
Castor seed oil
Ceramides
Dimethicone
Hemp seed oil
Mineral oil
Petrolatum
Shea butter
Sun-protective ingredients, such as titanium oxide or zinc oxide
White petroleum jelly
Pro tip: If you apply a product on your lips that starts burning, tingling, stinging or causing you discomfort, these signs don't point to the product working its magic on your lips. Quite the opposite—it most likely means that the product you are using is irritating your lips, so it is best to stop using that product immediately.
2. MOISTURIZE DAY AND NIGHT
A good lip balm contains nourishing emollients to help form a barrier that protects your lips. If you've got dry lips, it's a good idea to apply lip balm, a moisturizing lipstick or other types of lip moisturizer throughout the day and before bed. Thick ointments such as white petroleum jelly is good for cracked lips—ointments are more effective in locking in moisture than waxes or oils.
Pro tip: A popular Korean product making waves in the beauty scene is the overnight lip mask. These are deeply hydrating and are meant to be put on just before bed so that your lips stay hydrated until the next morning.
3. GET OUT OF THE BAD HABIT OFLICKING OR BITING YOUR LIPS
When your lips are dry, you may be tempted to wet them with saliva. But this often worsens the problem. When saliva evaporates, your lips can become drier. If you need a quick moisture boost, use a lip balm. Biting your lips would also irritate your lips and prevent them from healing.
4. YOUR LIPS NEED SUN PROTECTION TOO
The sun can burn dry and chapped lips, which could lead to cold sores. Protect your lips from the UV rays by using lip balm that has SPF30 or higher. Lip balms that have sun protection typically contain titanium oxide or zinc oxide as ingredients. Don't forget to reapply every 2 hours.
5. STAY HYDRATED
Drink plenty of water to keep your skin hydrated from within. It's good for your overall health too.
6. REMOVE MAKEUP AT THE END OF EVERY DAY
Your skin needs time to breathe too. Washing your face and removing makeup thoroughly at the end of every day is an essential step for smooth, healthy skin. If you wear long-lasting/waterproof lipstick, remove your makeup with an oil-based makeup remover to get rid of all traces of makeup.
7. USE A LIP SCRUB
Exfoliating or using a lip scrub can help slough away dead skin cells when necessary. It is recommended to only do this once or twice a week. You can probably find a ready-made lip scrub from your nearby pharmacy or beauty store, but you can also easily make your own at home (check out the recipe below!). Note: If you have sensitive skin, injuries on your lips or severely chapped lips, refrain from exfoliating.
8. KNOW WHEN TO SEEK HELP
Most of the time, dry or chapped lips can heal itself within 2 to 3 weeks. However, peeling lips could also be a sign of an allergic reaction to lipstick, toothpaste, food or certain medication. If the issue persists, it's best to consult a dermatologist.
9. ALWAYS A GOOD TIME FOR LIPSTICK
On top of providing colour, the right lipstick adds a layer of protection and much-needed moisture to dull lips. There are all kinds of options of lip products to choose from, the trick is to pick what best suits your lifestyle. If you go outdoors a lot, get a lipstick or lip moisturizer with SPF for sun protection. If you've got dry lips, avoid wearing matte lipsticks. Instead, choose a lip gloss or moisturizing lipstick that is rich in nourishing and emollient ingredients (such as shea butter or cocoa butter).
You can also add a layer of moisturizing lip balm under your usual lipstick for longer-lasting hydration on your lips. HT
If you like this article, do subscribe here.
References: 1. American Academy of Dermatology. 7 Dermatologists' Tips For Healing Dry, Chapped Lips. Retrieved from: https://www.aad.org/skin-care-basics/heal-dry-chapped-lips 2. Stylecraze. Care for Your Lips. Retrieved from: https://www.stylecraze.com/articles/care-for-your-lips/#gref