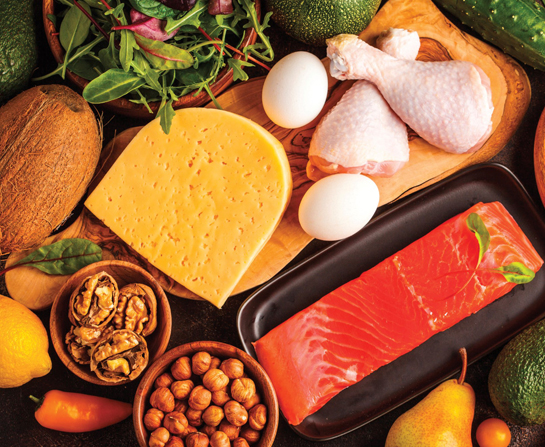 Georgen Thye
BSc. (Hons) Nutrition and Dietetics, IMU Dietitian, Holmusk
Council Member, Malaysian Dietitians' Association (MDA)
Founder of Georgen Cooking www.facebook.com/georgencooking georgen_thye@live.com
"I AM NOT SUPPOSED TO EAT THAT, I FEEL SO GUILTY. I'VE MESSED UP MY DIET, I MIGHT AS WELL GIVE IT ALL UP!"
I hear quite a lot of these statements from my patients. It's like they're trapped in a diet prison filled with rules and restrictions, thinking that only after going through all these "hardships" can they achieve their health goals. But in fact, diets have been shown over and over again to fail 95% of the time and are a predictor of future weight gain (66% of people end up weighing even more than the weight they started off with). They then go back to dieting, back to the rules and restrictions and continue the never-ending cycle of diet → eat → repent → repeat.
"SO, ARE YOU SAYING THAT I CAN EAT ALL I WANT?"
Healthy eating is more than just Yes or No. It's very crucial for one to acknowledge this fact in order to make peace with food. Shut the food police inside your head that makes you believe "I am being good for eating salad" and "I am bad for having an ice-cream." All foods can fit into a healthy diet using the principles of balance, variety, and moderation to guide your eating habits.
A simple guide to follow is the healthy eating plate: a quarter filled with carbohydrate foods, another quarter with protein foods and the remaining half with fruit and vegetables for every meal. However, do talk to a qualified dietitian if you need more personalized advice and guidance.
It's totally fine to have less healthy choices sometimes! Try going by the 80/20 rule: 80% eat healthily and enjoy the other 20% of the time.
This would help to have a balance for your own social and psychological wellbeing too! In this issue, I am sharing a recipe of a food that is commonly perceived as BAD: Fried Chicken! It's okay to have fried food (deep-fried in oil) if you wanted too, but it's best to limit it to no more than 2 times a week.
I think the regular deep-fried chicken recipe is super common and it's all over the Internet. Hence, I am making a Malay Style Air-fried Chicken this time to give it a twist. You can bake it too if you like and trust me, it tastes just like "deep-fried"! I've made a video out of this recipe too, do check it out on my Youtube Channel: Georgen Cooking https://youtu.be/jqGjY5rKzac. Have fun and make peace with food! HT
Guilt Free Ayam Goreng Berempah
Recipe Serves: 5 persons
| | | | |
| --- | --- | --- | --- |
|   | Ingredients | Measurement | Remark |
| A | Chicken Drumsticks | 5 pieces |   |
|   | Garlic | 6 cloves | Peeled |
|   | Onion | 1 medium | Peeled, cut into cubes |
|   | Shallots | 8 pieces | Peeled |
|   | Ginger | 1 piece | Thumb-size |
|   | Lemongrass | 3 stalks | Cut into small pieces |
|   | Chilli Powder | 1 teaspoon |   |
| B | Fennel Seeds Powder (Serbuk Jintan Manis | 1 teaspoon |   |
|   | Cumin Seeds Powder (Serbuk Jintan Putih) | 1 teaspoon |   |
|   | Coriander Powder (Serbuk Ketumbar) | 1 tablespoon |   |
|   | Meat Curry Powder | 2 tablespoons |   |
|   | Water | 50 ml |   |
Methods
In a food processor, blend ingredients B into a smooth paste.

Marinate the chicken drumsticks with the paste for at least 3 hours or overnight in a refrigerator.

Brush some oil on an air-fryer basket and then arrange the chicken drumsticks in the basket in a single layer. Depending on the size of your air fryer, you may need to do the frying in two batches.

Air-fry the chicken at 160°C for 15 minutes and then at 200°C for 15 minutes and then at 200°C for another 5 minutes. It's ready to be served!
(Note: If you're using an oven, preheat to 230°C, bake the chicken drumsticks for 20 minutes, turn them over and bake for another 15 minutes or until they're a nice brown colour.)
Nutritional Information (1 Serving)
| | |
| --- | --- |
| Energy (kcal) | 202 |
| Protein (g) | 28.0 |
| Fat (g) | 10.0 |
| Carbohydrate (g) | 0.0 |
| Fibre (g) | 0.0 |
If you like this article, do subscribe here.