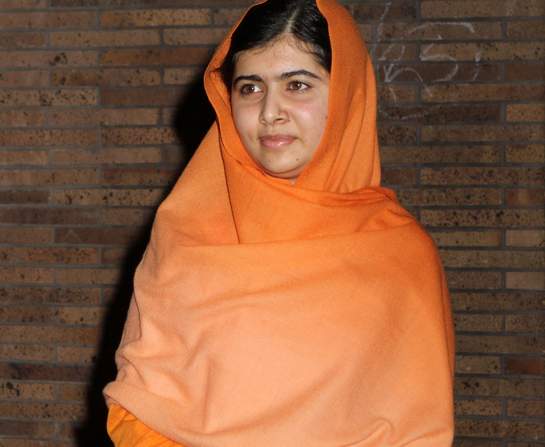 The entire world was shocked on 9th October 2012, when a Taliban gunman shot a 15-year old girl three times. Her name was Malala Yousafzai.
Malala was born on 12th July 1997, in the Swat Valley of  North-West Pakistan to Ziaudin Yousafzai. Ziaudin was a poet and a passionate advocate for education reforms. Ziaudin always encouraged his daughter's interests. It was said that he often spent long hours into the night discussing politics with his young daughter.
Unsurprisingly, her father's passion both for education and reform became the foundation of Malala's own spirited personality and beliefs. A bright and determined student, she was only 11 when she began writing a blog for the British Broadcasting Channel (BBC) under a pen name, Gul Makai.
During that period, the Taliban militants that ruled the region implemented a ban on television, music, education for girls and women leaving their homes. Bodies of beheaded policemen were hung in town squares to deter anyone who dared defy the regime.
Therefore, Malala was putting her life as risk writing for the BBC. Yet, her courage allowed the world to read about and feel for a young girl and her friends who lived in a turbulent time of violence and uncertainty. She and her father became vocal and outspoken critics of the Taliban, taking part in a documentary by the New York Times and criticizing the regime in a press conference.
Her fate was sealed. Her increasing popularity earned her the enmity of the Taliban, who decided that the 15-year old girl had to be killed.
The world rallies for Malala
On 15th October, Malala was moved to the Queen Elizabeth Hospital, a facility dedicated to treating military personnel injured in war. In the meantime, support poured in from world leaders as well as the public, all of whom considered her a heroine that stood up for what she believed in.
And the world exhaled in relief when Malala came out of a coma on 17th. She had to undergo skull reconstruction and surgery to restore her hearing. Rehabilitation was next, and there was no stopping Malala from that point.  
The attack on Malala galvanized more than two million people to sign the Right to Education campaign, which led to Pakistan's first right to education bill. Malala herself tirelessly gave talks and advocated reforms, and her inspiring story moved people to understand and support other girls like herself who were denied the right to education due to socioeconomic, legal and political factors. A non-profit charity, the Malala Fund, was set up to help such girls.
For her tireless efforts, 12th July is celebrated as Malala Day – to honour young education advocates worldwide – since 2013 when she gave her first public speech after the attack. Malala was awarded the Nobel Peace Prize in 2014 – the youngest person to receive such an honour.  
"I am not against anyone, neither am I here to speak in terms of personal revenge against the Taliban or any other terrorist group. I'm here to speak up for the right of education for every child. I want education for the sons and daughters of the Taliban and all terrorists and extremists."
References: 1. BBC News. Available at www.bbc.com 2. NBC News. Available at www.nbcnews.com 3. Nobelprize.org. Available at www.nobelprize.org 4. Malala. Available at www.malala.org 
If you like this article, do subscribe here.