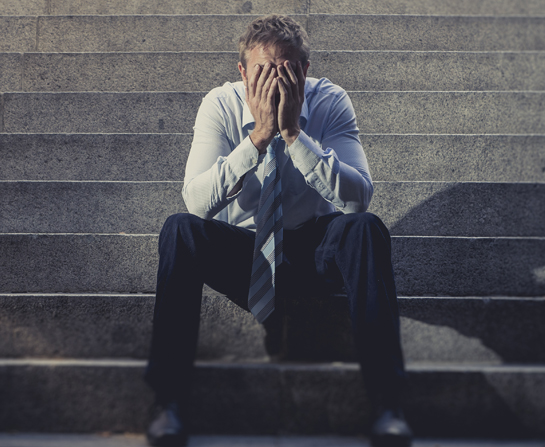 Patrick Cheng   Licensed & Registered Counsellor & Life Coach, KIN & KiDS Marriage, Family & Child Therapy Centre
Johann Wolfgang von Goethe, the 19th century German writer and statesman, was recorded as having said, "One cannot always be a hero, but one can always be a man."
But what does being a man mean? If we subscribe to the stereotypical notions of masculinity, it often translates into oozing confidence, competency, and success. Whether we are talking about a rugged cowboy or a dashing gentleman, the man is master of all he surveys. Any sign of emotion or an admission of vulnerability is considered a weakness – "unmanly". Real men don't cry, after all.
The consequences of silence
Patrick Cheng, a licensed counsellor, disagrees. He points out that when a man keep his emotions bottled up inside, his frustrations would still be manifested in other ways, often through his actions. He may end up with a short fuse, with the tendency to lash out at his partner, children or subordinates at work. This would lead to all kinds of friction which would only worsen the situation, a downward spiral in motion.      
Manly Problems
Sex. Patrick finds that, in his experience, the most common aspects of a man's sexual dysfunction in a marriage are pornography and masturbation addictions, which can affect his relationship with his spouse.
Competition. It is common for a man to feel threatened or insecure by what he perceives to be a threat, especially in the workplace. If left unchecked, such pent-up feelings of jealousy or frustrations could lead to workplace friction.
Failure. The concept that a "real man" has to be successful in everything he dabbles in has been ingrained into the psyche of many men today; so, any failures (real or perceived) in areas such as providing for the family, sexually gratifying his partner or earning a promotion could lead to a disproportionately great loss of self-esteem and a sense of inadequacy.
Talk it out
If the man can open up and talk to a counsellor, he would discover that a counsellor can be a great supporter and ally. Patrick says that a counsellor never judges a client – no response is "immoral", "wrong" or "too shameful" in a session.
A counsellor does not tell the client what to do. Patrick explains, "The counsellor empowers the clients to seek answers within themselves by asking probing questions and offering emotional support. That way, when you realise that you have it in you to do the right thing for yourself, you will feel good about yourself. You will also realise how strong you can be." He adds that a couple who go for counselling together often discover new things about themselves that strengthen their relationship.
If the client has problems finding ways to express what is in his brain and heart, Patrick uses music and even play-acting to help him open up. For example, in couples therapy, he has used Karyn White's song Superwoman to allow the wife to express her frustrations at being taken for granted by her spouse. Elvis Presley's version of Always on My Mind can be a beautiful catharsis for men who wish to express remorse at having failed (or believe that they have failed) their partner.
These days, Patrick is involved in a men's group, where men of all walks of life come together to share their problems. "Men's groups work because this concept allows members to know that they are not alone. Other people have the same problems too," he explains. This knowledge alone often lifts a great weight off their shoulders and compel them to open up and share their feelings too. Such groups are usually small, and membership is by invitation only, in order to create a safe environment for sharing one's issues and supporting one another.
Patrick is keen to form a new men's group. Space is limited to about 8 members. Interested parties can contact him at patrick@kinandkids.com for a "try it and see" experience of being in such a group. "There is no obligation to commit until you are absolutely sure that you want to be part of the group," he says. "But if you need someone to talk to, please join us. Hopefully, we can help you heal and make positive changes in your life."
If you like this article, do subscribe here.