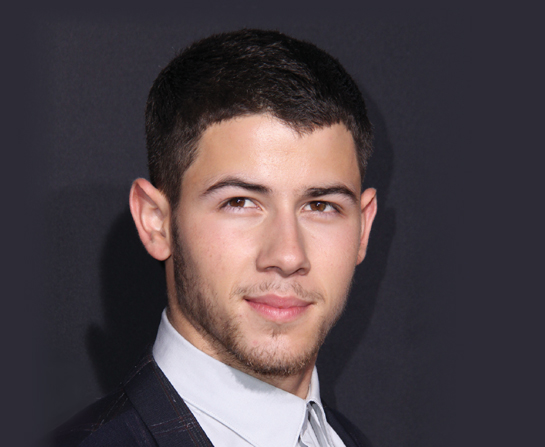 Besides navigating the hurdles of childhood stardom and breaking out of the Disney bubble, Nick Jonas has been candid about his health struggles. He has never held back in being involved as a spokesperson and raising awareness for type 1 diabetes.
Words Hannah May-Lee Wong
Anybody remember the Jonas Brothers? If you're a millennial, you probably will. If not, let me fill you in. Of the three members, Joe Jonas was the front man of the band, also known as the resident ladies' man (he broke up with Taylor Swift via text message). Kevin was the down-to-earth one who liked to handle the business side of things, while Nick was the youngest and the most music-focused brother. With boyish good looks, Nick was endearingly charming, garnering popularity among teens all over the world back in the day.
Flash forward 10 years after the Jo Bros' prime, Joe has moved on to form a new punk-rock band named DNCE, best known for their hit song "Cake by the Ocean". Kevin, since his marriage, has become somewhat of a family man. And Nick, 26, is now pursuing his solo singing and acting career.
The early years of Nicholas Jonas
Nicholas Jerry Jonas was born on the 16th September 1992, to parents Denise and Paul Kevin Jonas. He had a knack for singing and performing since young and was discovered at the tender age of six at a barber shop. "I was in a hair salon with my mom and I was bored, singing while my mom was getting her hair done. Someone heard me sing and said I should go see this manager. I went and saw the manager and started doing auditions for Broadway shows and things. My first ever show was with Frank Langella when I was eight," Nick said in an interview.
Nick also wrote his own songs from a young age, and it wasn't long before he released his first album, self-titled Nicholas Jonas in 2004. The following year, Nick and his brothers formed the Jonas Brothers band. However, soon after the group's formation, Nick discovered he had type 1 diabetes (T1D). He went public about it in 2007 and has since been very involved in education and raising awareness about the disease.
Dealing with diabetes
Living with diabetes is never easy. Nick recalled the first symptoms he experienced, which led to his diagnosis at age 13: "We (the Jonas Brothers) were in the beginning stages of our career and we were doing a school tour… I started to notice that I was losing weight. I lost about 15 pounds (6.8kg) in two weeks and I only weighed about 110 pounds (50kg). I was drinking a lot of water, using the bathroom a lot and overall had a very bad attitude but didn't know why." Nick went to the doctors to discover his blood sugar level was extraordinarily high.
He revealed that in the beginning, he was scared because he didn't know anyone else who had the disease. "Diabetes sounds like you're going to die when you hear it… But once I got a better idea of what it was, and that it was something I could manage myself, I was comforted."  
Type 1 diabetes at a glance
Diabetes is a chronic disease and it happens when blood sugar (glucose) levels in the body are too high. Glucose is important as it is a source of energy for the body to function. However, in people with diabetes, the hormone insulin, which helps glucose enter our cells to make energy, is not produced in sufficient quantity or is not utilized well. As a result, glucose stays in the blood and does not reach the cells where it is needed. High glucose levels can lead to serious health problems – it can negatively affect the eyes, kidneys and nerves. It also increases the risk of developing heart disease, stroke or even the loss of a limb.
Although diabetes is not uncommon and affects millions around the world, only less than five percent of all diabetes cases are type 1 (the majority have type 2 diabetes). Type 1 diabetes used to be known as juvenile diabetes or insulin-dependent diabetes. But it is now known that type 1 can develop at any age, even in adults. T1D occurs because the body does not produce insulin. The exact cause of this is still unknown, but possible causes include an autoimmune response, genetics or exposure to viruses or environmental factors. That said, with insulin therapy and other treatment options, those affected can still live healthy lives by learning how to properly manage their condition.
There are plenty of options available for diabetes treatment. Nick shared that he manages his disease by using an insulin pump and checking his blood sugar levels regularly. He also said in an interview, "My family has been an incredible support from the time I was diagnosed to now… I am never afraid to rely on them when certain situations come up." The message he wanted to bring to others living with type 1 diabetes is: "Know that you can still do anything you want to do with your life. I didn't let it slow me down, and you don't have to either."
Beyond type 1
In 2015, Nick together with Juliet de Baubigny, Sarah Lucas and Sam Talbot founded Beyond Type 1, a non-profit foundation dedicated to educating, advocating and supporting active research on the chronic disease. According to the foundation's website, it aims to educate the global community, provide resources and support those living with type 1 diabetes. Nick explained why Beyond Type 1 is a unique philanthropic foundation in its own right: "I think traditionally the internet has been used as an educational tool for many diseases and things of that nature, but in regards to type 1 diabetes, this is the first time social media has really been a defining factor in the outreach and the presence of a non-profit."
The foundation uses social media as its main platform to reach as many people as it can across the world – they currently have 16 digital platforms (including Instagram and Facebook). On top of that, Beyond Type 1 also hosts programmes such as a global app, pen pal programmes, marathons and nationwide bikeathons across the United States. At the heart of all these activities, Beyond Type 1 works towards uniting communities for better education regarding the disease, improving access to better diabetes care and encouraging innovation. For more information, check out beyondtype1.org.
In 2017, Nick won the Disney Hero award at the Radio Disney Music Awards for his efforts in co-founding Beyond Type 1. In his award acceptance speech, he looked back on when he was first diagnosed with diabetes, saying, "It was a moment in my life when I was just getting ready to start making music with my brothers, and touring, and it was something I thought would slow me down before I even got started. Thankfully it didn't, and I'm in the healthiest place I've been since my diagnosis… What I saw as the biggest challenge of my life really did become the biggest opportunity to bring some encouragement to people."

Making movies and meeting his wife
Following the split of the Jonas Brothers in 2014, Nick released his second solo album that same year, titled Nick Jonas, from which emerged two hit songs, "Jealous" and "Chains" (they are extremely catchy!). Following that, Nick came out with his third studio album, Last Year Was Complicated in 2016, which featured lead single "Close", a collaboration with Swedish singer Tove Lo. He also helped write "Home", the title song to the soundtrack of animated film Ferdinand (2017). The song was nominated for Best Original Song at the Golden Globe Awards.
In the realm of film, Nick co-starred in the 2016 drama Goat, a coming of age movie about two brothers navigating their college fraternity. And just last year, he appeared in Jumanji: Welcome to the Jungle, a fun family film which starred the likes of Dwayne Johnson, Jack Black, Kevin Hart and Karen Gillan. The movie was a major success, grossing close to US$1 billion worldwide.
Nick still has a couple of upcoming projects up his sleeves; he certainly seems like a bright young star to look out for.
On a more personal level, the good news that surrounds Nick lately is his engagement with Indian actress and singer Priyanka Chopra. The exotic beauty was the winner of the Miss World pageant in 2000 and is one of India's most popular and celebrated women.
On an American talk show, Nick revealed how they met. "We met through a friend and got connected first over text. We started talking for a while and this was six months before we met up in person. And then we attended the MET gala a few years ago together and had a great time just as friends. And our lives were kind of taking us to different places. Then we met up just a few months ago and it was kind of immediate. We just knew it was right, we jumped right in and we are very happy," he proclaimed cheerfully.
In August this year, Nick officially announced his engagement to Priyanka with a loving photo of the two of them, captioned "Future Mrs. Jonas. My heart. My love." on his Instagram. This was followed by more pictures of the couple's engagement ceremony in Mumbai, India – a custom signifying confirmation and approval from both sides of the family.
We are guessing that their wedding will be one of the most anticipated celebrity events on both sides of the planet. We would like to wish Nick and his bride all the best in their years ahead, and hope that he continues his good work on T1D advocacy.
<< Pull quotes >>
"What I saw as the biggest challenge of my life became the biggest opportunity to bring some encouragement to people."
If you like this article, do subscribe here.