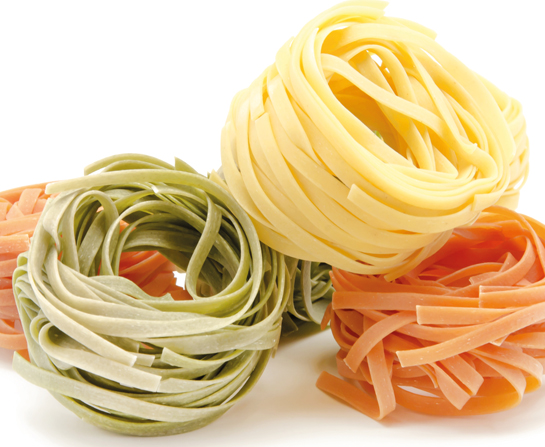 Edna Loh
Accredited Practising Dietitian (Aus) Unicare Pharmacy (Petaling Jaya)
Before we begin, Edna Loh points out one should keep in mind that comparisons of nutritional content among different types of noodles – see part 1 in the April issue – are not the only factor that should be taken into consideration. The presence of existing medical conditions can also be a determining factor. For example, someone with food allergy may be better off avoiding noodles that contain a trigger ingredient, while people with type 2 diabetes mellitus should opt for noodles with low glycaemic index.
Having said that, let's get to some common frequently asked questions!
ARE THIN NOODLES BETTER THAN THICK ONES?
Edna Loh: This depends on the types of noodles, and the choice depends more on the mouthfeel and taste of the dish.
For example, when it comes to wheat noodles, expert chefs may be more concerned on the twisting, stretching and folding of noodles to create better mouthfeel. In this case, thicker wheat noodles are the better choice as they tend to give a chewier texture when served.
Egg and alkalized noodles, on the other hand, have a firmer texture due to their wheat flour to egg ratios. When it comes to stir-fry or soup dishes, most will prefer thinner noodles as they do not  take too much effort to chew and swallow. Thinner noodles also take a shorter time to blanch and cook, and they allow for a more thorough coating of sauces.
"Interestingly, the length of noodles sometimes has a cultural role. Some cultures, such as Chinese and Korean, believe that it is bad luck to cut long somen noodles!"

ARE CLEAR OR WHITE- COLOURED NOODLES HEALTHIER OR MORE HYGIENIC THAN DARKER-COLOURED ONES?
Edna Loh: Contrary to some people's beliefs, this is not necessarily true.
While white-coloured noodles may look cleaner to some people, whether they are hygienic depends on the manufacturer's quality control when it comes to food production hygiene and safety. The majority of the reported food poisoning cases are caused by inadequate or unhygienic preparation and storing, which promote the growth of microorganisms such as Salmonella. One example occurred recently in October 2018 whereby the laksa produced at a manufacturing facility was contaminated because of improper storage, and the problem was worsened by inadequate reheating of these noodles at various restaurants. The result was an outbreak of 83 food poisoning cases!
As for the health benefit of white noodles, this depends on the ingredients used to manufacture the noodles.
Most commercial 'white' noodles are made with refined white flour or bleached flour; this means the noodles contain mostly refined carbohydrates, sodium and preservatives. As a result, the nutritional content of the noodles will be low.
On the other hand, coloured noodles may be made using natural colouring from vegetables such as spinach. These noodles will contain small amounts of added nutrients aside from carbohydrates. In the case of spinach noodles, these noodles will contain small amounts of dietary fibre, B-vitamins (spinach is rich in folate, thiamin and niacin) and small amounts of iron.
Therefore, it is not accurate to judge a noodle solely by its colour. What goes into the noodles as well as whether they are manufactured, stored and cooked properly are the factors that we should be taking into consideration instead.
ARE NOODLES THE HEALTHIER CHOICE COMPARED TO RICE?
Edna Loh: Both rice and noodles are important sources of carbohydrates. Table A below shows a brief comparison of nutrients between 100 g of rice and noodles.
Table A
White Rice (100 g) 
Wheat Noodles (100 g)

140 kcal
2.8 g protein
0.4 g dietary fibre
31.1 g carbohydrates
5 mg sodium

95 kcal
3.1 g protein
1 g dietary fibre
19 g carbohydrates
200 mg sodium
As we can see, nutritionally 100 g of wheat noodles seem to trump 100 g of rice.
However, many of us overlook the fact that the actual portions that are served in eateries are not standardized. On average, there are roughly 300 g of noodles in a soup bowl compared to 200 g of rice in a rice bowl. So, if person A eats a bowl of noodles while person B eats a plate of rice, both will very likely be consuming similar amounts of energy and carbohydrates, but person A may end up consuming a significantly higher amount of sodium as well!
In summary, just the nature of rice versus noodles alone is not enough to determine which one is the healthier choice. We need to consider the portion sizes of each dish. We shouldn't overlook the presence of pre-existing medical conditions too – someone with high blood pressure may want to avoid noodle dishes that are high in sodium content, for example. We can discuss with a dietitian to better understand how much rice and noodles we should eat to avoid overconsumption.
ARE SOUP-BASED NOODLE DISHES HEALTHIER THAN THOSE PREPARED IN OTHER WAYS?
Edna Loh: Similar to the previous question, the answer lies in portion control – the key in determining whether a meal is 'healthy' leans more towards the portion size rather than the nature of the dish.
Having said that, some noodles such as spaghetti can have their GI lowered when cooked al dente (firm to the bite) rather than too soft.
ARE FRESHLY MADE NOODLES THE HEALTHIER CHOICE COMPARED TO COMMERCIALLY MADE ONES?
Edna Loh: There is a misconception that all fresh noodles are more superior in nutritional value compared to commercially produced noodles.
Take pasta for example: fresh pasta uses whole eggs to make (whole eggs are higher in cholesterol) and contains higher amounts of sodium. If the individual is watching out for his or her blood pressure and cholesterol levels, then dried pasta is likely the better option.
Having said that, the reality is that the mushrooming numbers of highly processed instant noodles sold in hypermarkets and grocery stores may have detrimental effects on one's health.These instant noodles contain preservatives, additives, monosodium glutamate (MSG) and artificial colouring to extend their shelf life. In 2014, Korean researchers surveyed 10,711 adults and found that a dietary pattern rich in fast foods such as instant noodles poses greater cardiometabolic risk and increases the prevalence of metabolic syndrome. While more research is needed to find the link between instant noodles alone and cardiometabolic risk factors, it is always a good idea to limit one's consumption of instant noodles.
CAN YOU SUGGEST SOME IDEAS FOR A HEALTHY NOODLE DISH?
Edna Loh: There is always room to be creative when it comes to noodles!
Use fresh foods instead of processed foods to reduce total fat content of the dish. Common processed extras in noodle dishes such as commercially sold fish balls and meatballs tend be high in fat and sodium and may contain trans fats. Instead of these ingredients, let's go for fresh chicken or fish slices, eggs, or minced lean meat for some good quality protein. These fresh extras can also help to increase the feeling of satiety!
For stir-fried noodle dishes, stir fry using a non-stick pan so that less oil is needed. Additionally, use oils and fats containing unsaturated fats (canola or olive oil, for example) as they are a good source of omega-6 fatty acids.
Select whole-wheat noodles instead of refined grain noodles. The former contains more dietary fibre.
Feeling hungry? Instead of adding another helping of noodles, bulk up the dish with vegetables. This is especially relevant for people with diabetes, as it will help to improve the feeling of satiety while reducing the carbohydrate load. Green leafy vegetables are great choices for both soup-based and stir-fried noodles, but for variety, one can also go for cauliflower florets, celery, carrots, onions, broccoli, turnip and zucchini.
Use fresh herbs and chopped chili for condiments rather than sambal sauces for lower calorie intake. Sambal sauces are commonly made with cooking/ chili oil, palm sugar and fish sauce. Two tablespoons of sambal contain 1 teaspoon of sugar and according to myfitnesspal, this takes 14 minutes of physical activity to burn!
NOODLE CONTAMINATION BY SUBSTANCES SUCH AS BORIC ACID COME UP NOW AND THEN. HOW CAN WE MINIMIZE THE RISK OF PURCHASING AND CONSUMING CONTAMINATED NOODLES?
Edna Loh: To date, many reports have commented that the contamination of noodles or noodle dishes is not considered a food safety issue in Malaysia.
As for other parts of the world, we have mixed opinions. For example, in Australia and Europe pasta dishes are placed on the list of foods at potential risk of contamination. Bacteria can multiply very easily in these foods, and contaminated dishes usually still look, smell and taste normal. HT
If you like this article, do subscribe here.