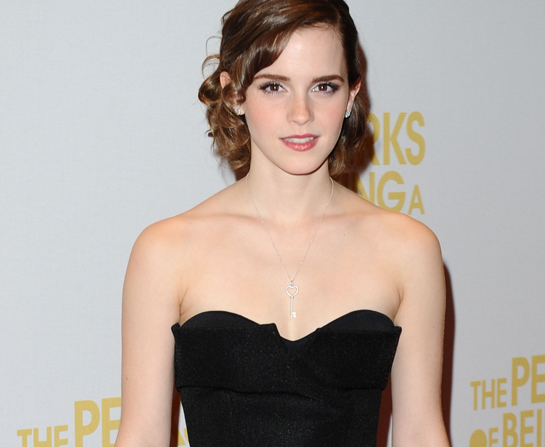 Although her acting career has seen her take on many commendable roles, it is safe to say that Emma Watson is most renowned for her role in the epic fantasy series, Harry Potter. While she has put away her wand and cape (metaphorically speaking, of course; it has been 4 years since the last instalment of the Harry Potter franchise), who could possibly forget – and not adore – her as the gutsy heroine Hermione Granger?
At first glance, it appears that Emma and her movie character share nothing in common. Be it posing on the red carpet or running errands in her London hometown, Emma is always the image of beauty and grace; nary a hair out of place. In contrast, Hermione is depicted to be average in appearance and always sporting a bushy, untamed mane. Another difference would be the way they carry themselves. Emma is generally soft-spoken whereas Hermione is bit of a know-it-all and can appear bossy at times.
But for all their differences, Emma and her character are actually more similar than you think. If anything, they share one common trait (and an outstanding one at that): the courage to stand up for what they believe in. For instance, fans of the Harry Potter series can attest to how actively Hermione campaigned for the plight of house elves. But while Hermione's lobbying of the welfare of magical creatures is the stuff of fiction, Emma's role as a women's rights activist couldn't be more real.
Making her voice heard
For many, September 20th 2014 might have been just another day but for Emma, it was the day for much-awaited change. It was the day for not only her voice but also for the voices of millions of women across the globe to be heard.
As the United Nation's newly appointed Women Goodwill Ambassador, Emma took to the podium at the UN headquarters that very day to deliver an impassioned address on gender equality and feminism. Besides detailing the injustices faced by women, her speech called on not just fellow women but more importantly, men to play a more active role in the advocacy of gender equality.
In her speech, Emma is to have said, "I'm reaching out to you because I need your help. We need to end gender inequality – and to achieve that, everybody must be involved. This is the first campaign of its kind at the UN. We aim to galvanize as many boys and men as possible to be advocates for gender equality. Instead of merely talking about it, we strive to ensure that it's tangible. We are struggling for a uniting word but the great news is we have a uniting movement. It is called "HeForShe". I am inviting you to step forward, to be seen to speak up, to be the "he" for "she". And to ask yourself 'If not me, who? If not now, when'?"
Needless to say, the message's honesty and urgency coupled with the fervour in her delivery sent social networks abuzzing and even, resulted in a thunderous standing ovation from UN delegates.
Waves of changes
Hilary Clinton and Prince Harry are among the world leaders who have lent their support to the campaign. Celebrities such as Russell Crowe and Harry Styles have also gotten on the bandwagon – making them two of the estimated 300,000-plus men who have joined the campaign so far. Fellow English actor Tom Hiddleston even took to Twitter to commend Emma for her stance, describing her as "impeccable" and "extraordinary".
And it's not just the adults who are responding to Emma's call for change, a Year 9 student at Australia's prestigious Ivanhoe Girls Grammar School cited Emma as her source of inspiration during her school's special assembly on leadership. The student, Jocasta Ryman stressed, "Not only is Emma empowering women, she's aspiring to convey this revolution to everyone, including the opposite gender. Rather than arguing for an increase in women's rights, she's conveying the idea to men and women alike; uniting the genders as equals, which is actually the definition of feminism. There have been great feminists but Emma's bringing an influential change to our society by involving diverse individuals instead of just women."
Weaving her magic
While it seems impossible to hate on Emma's mission, naysayers were quick to strike when her speech was made public. She tells The Wrap, "People actually threatened to release naked images of me online." But she was unfazed. "I knew it was a hoax. Those pictures don't even exist."
"You might be thinking what is this Harry Potter girl doing at the UN? Trust me, I've been asking myself the same thing. I don't know if I'm qualified to be here. All I know is that I care about feminism. And I want to make it better. I feel it's my duty to say something. If you truly put your heart into what you believe in, even if it makes you vulnerable, amazing things can happen."
Emma is no witch but that isn't stopping this petite trailblazer from weaving some magic of her own. To quote UN Secretary General Ban Ki-Moon: "Emma's been waving a magic wand. I hope she uses her wand to end violence against women." And so do we.
References:
Duke of Edinburgh's International Award. Available at www.dukeofedvic.org.au
The Public Slate. Available at www.thepublicslate.com
The Wrap. Available at www.thewrap.com
UV Women. Available at www.unwomen.org
Vanity Fair. Available at www.vanityfair.com
If you like this article, do subscribe here.