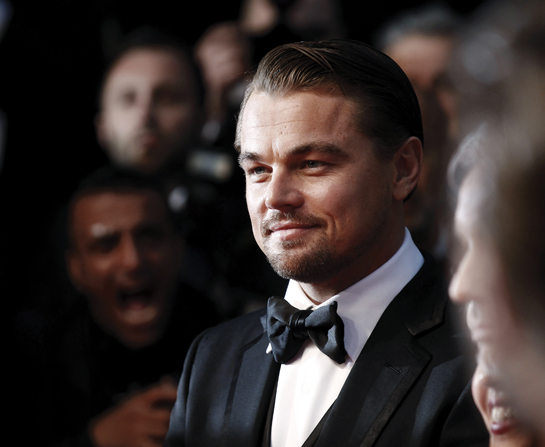 "Climate change is real; it's happening right now. It's the most urgent threat facing our entire species, and we need to work collectively together and quit procrastinating. We need to support leaders around the world who don't speak for the big polluters, but who speak for all of humanity, for the indigenous people of the world, for the billions and billions of underprivileged people out there who would be most affected by this."
Anyone who did not catch last month's Oscars ceremony telecast or did not read about it in the news might be forgiven for assuming that the above speech was made anywhere but an occasion as glamorous and glitzy as the Oscars. At an event more known for the elaborate designer outfits of celebrities, absurdly expensive gift bags (this year's celebrity attendees reportedly received gift bags worth 200,000 USD each!) and acceptance speeches which are mostly self-congratulatory at best (and narcissistic at worst), it was indeed a refreshing surprise to see the 41-year-old Leonardo – hailed one of the greatest actors of his generation – use his acceptance speech as a platform to highlight a subject as relevant and pressing as climate change.
As if Leonardo had not already wowed millions around the world with his brilliant and varied performances, his passion for environmental issues (as evidenced by his speech) drew praise from his peers and the public alike. As Ally Brooke from the pop group Fifth Harmony tweeted when news of his much awaited Oscar win broke out: 'Leo is just sensational and one of a kind!'

Making it big
Looking at his phenomenal acting career, it is hard to believe that Leonardo once had difficulty landing an agent. He recalls, "One agent even suggested that I change my name to Lenny Williams for the sake of improving my appeal. They thought my name was too ethnic and would limit my jobs." However, the then 11-year-old was adamant to keep his name. "It did thwart me from acting for several years," he admits. "But I tried again when I was 13 and finally got an agent to accept me with my name." 
After several years of regular television work, Leonardo moved on to the silver screen starring alongside Hollywood heavyweights such as Johnny Depp in What's Eating Gilbert Grape? – a role which snagged him the first of many Oscar nominations to come. Never one to rest on his laurels, he continued to expand his resume with leading parts in notable films like The Basketball Diaries and Romeo & Juliet. But it was his role in the blockbuster epic Titanic which propelled him to superstardom resulting in fan worship among young women – a worldwide phenomena which became known as 'Leo mania'. Touching on that chapter of his life, he says, "It was a very surreal period. It was so bizarre and intense that I took a break for a couple of years. I had to recharge and refocus."
The role of a lifetime
Although Leonardo's career hit a snag after Titanic, he soon bounced back with roles in noteworthy movies under the helm of acclaimed directors like Martin Scorsese and Steven Spielberg. Since then, he has been in as many as 17 features including The Great Gatsby, Django Unchained and of course, The Revenant which won him his first Best Actor Oscar.
Discussing his experience working on The Revenant, he says candidly, "It was physically grueling. The toughest thing for me was getting in and out of frozen rivers. I had on elk skin and bear fur which weighed about 100 pounds when wet. It was a daily challenge not to get hypothermia." But he does not stop there. "Making this movie was about man's relationship with the natural world – a world which we collectively felt in 2015 as the hottest year in recorded history. In fact, our production team had to move to the Southern tip [of Argentina] just to find snow," he emphasises.
Crusader with a cause
So, how does an actor become so invested in things like global warming? "When I took time off after Titanic, I re-evaluated my other great passion – the environment. I've been into biodiversity and science ever since I was a kid, probably from watching documentaries about the rain forest at the Natural History Museum. That's how I was exposed to the wonders of nature. So, I decided to explore this interest by getting actively involved in environmental issues."  
A man of his word, Leonardo has since contributed significantly to the environmental movement. He was the narrator and producer of The 11th Hour, a documentary exploring the precarious condition of the world's ecosystems. That aside, he is a founder of The Leonardo DiCaprio Fund (a non-profit organisation which strives to support and raise awareness on various environmental causes), has served on the boards of the World Wildlife Fund (WWF), the International Fund for Animal Welfare and the Natural Resources Defense Council. That's not all. He even converted his official website into an ecosite! So, the next time you log on to www.leonardodicaprio.com, expect to see updates about his foundation along with news on his latest film ventures.
When asked to describe himself, Leonardo himself seems to sum it up best: "I'm not the kind of person who tries to be cool or trendy. I'm definitely an individual." And judging by his resume – climate crusader, wildlife champion, acting veteran, film producer – he truly is. Leonardo DiCaprio is an individual, alright – a very remarkable one.
References:
One Green Planet. Available at www.onegreenplanet.org
Rolling Stone. Available at www.rollingstone.com
Time Out Hong Kong. Available at www.timeout.com.hk
If you like this article, do subscribe here.