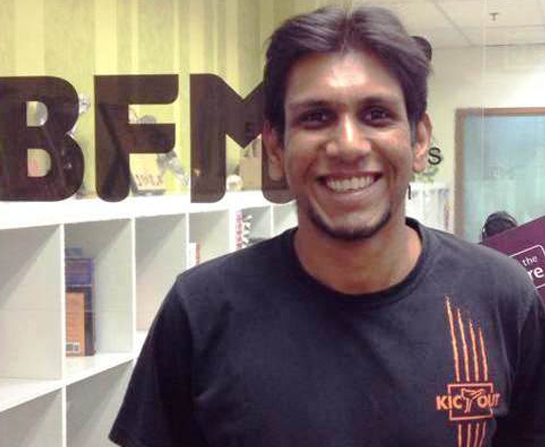 Shamir Rajadurai Crime Safety Specialist, www.PreventCrimeNow.com
Shamir Rajadurai, a Crime Safety Specialist has a 2nd DAN (Degree) Black Belt in Taekwondo and is a three-time gold medallist. Even with that experience, he believes that fighting back is never the best solution.
He chooses the concept of breakaway as opposed to fighting back because our life is more important than our belongings. Please remember that our belongings are secondary.
With permission from the authorities, he and his colleagues interviewed imprisoned criminals to find out how they committed their crimes. The following are some of things he learned.
Three important steps
The first step in crime prevention is to maintain a distance between you and your attacker. The further away you are from your attacker, the safer you are. From Mr Rajadurai's conversations with criminals, he found that most thieves carry knives, not guns. So, they may not be able to hurt you if you keep a safe distance from them.
Secondly, you must identify potentially dangerous situations instead of potential criminals, as it is impossible to recognize potentially aggressive criminals. You are never going to be able to tell aggressive criminals apart from non-aggressive ones. So, it is better to avoid getting into dangerous situations in the first place.
Thirdly, learn to defend yourself in a dangerous situation.
Safety tips
How to detect a two-way mirror in changing rooms or washrooms: Put your finger on the glass. If there is a gap between your fingernail and its reflection, it's a real mirror. If there is no gap between your fingernail and its reflection, it's a fake two-way mirror. This tip is useful to avoid getting caught in situations in which you may be spied upon as you are changing in a dressing room or using the toilet.
Escaping from your attacker: If someone grabs you, the first thing to do is to scream as loudly as you can. Sometimes, your attacker will step back temporarily, allowing you the chance to break free and distance yourself.
The safest way to carry your handbag: Wearing your handbag on your shoulder is the safest way to hold it. Do not sling your handbag across your shoulder, as you risk being dragged across the ground if the robber fails to cut the strap cleanly. Do not be complacent even if you feel that you are holding your handbag properly and away from the traffic flow – snatch thieves informed Mr Selvadurai that, if they wanted to snatch a handbag, there is always a way to do so!
When driving: Do not leave your handbag on the front passenger seat because the robber may see your bag clearly and target you. Windows protected with a security tint can still be dismantled in a few seconds with the right tool. So, keep your handbag below the front passenger seat instead.
When parking: Whenever possible, reverse park your car so you can see the road in front of you and spot anyone approaching you on bike or on foot.
When in a restaurant: Never leave any of your valuables like your wallet or hand phone on the table or in your back pocket.
What to do during a possible carjacking: When a car knocks from the back with very little force, you must be suspicious of a carjacking. Stop your car at the side, stay inside and quickly take down the number plate of the vehicle that knocked into you. Wait in your car for the person to approach you. Do not wind down your car window more than 2 cm, as anything more will make it easy for anyone to pull down the window and attack you. Tell the person that you will discuss it at the police station, and meet him or her within the compound of the police station.
If you notice that your vehicle number plate is missing, make a police report it is because it may have been stolen and used in a robbery. This might implicate you so you must report this to the police
When a police officer stops you: You have the right to politely ask for the police officer's ID card before you show him or her your MyKad or driving licence. To confirm the ID is genuine, call the police hotline and ask to verify the police officer's number, which is very difficult to fake. The police officers who man roadblocks usually carry IDs that are yellow in colour.
If you like this article, do subscribe here.