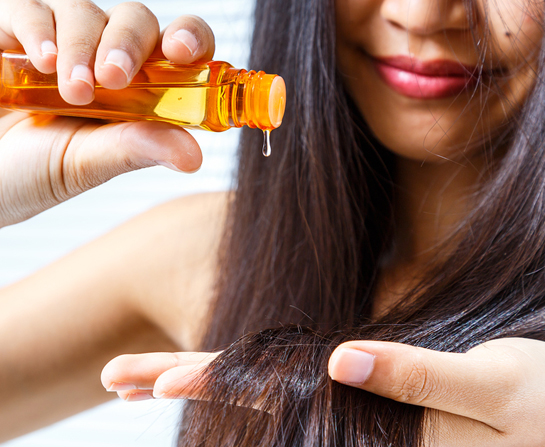 We've all experienced a bad hair day at some point in our lives – we're only human, after all. However, there are some people who are plagued with it all too often. If that includes you, you'll know exactly what I'm talking about. You wake up every morning, hoping that today will finally be the day when your hair will no longer be dry and brittle.
But, as always, it never actually happens. Your hair still gets tangled up in knots, which are becoming increasingly difficult to brush out. Adding to your concern, the strands of hair between the bristles of your hairbrush seem to be growing in number. And let's not forget your horrendous spilt ends!
Hairy solutions
Having dry, frizzy hair can be a nightmare. After all, everyone wants their 'crowning glory' to actually be glorious – and lacklustre, damaged hair just doesn't cut it. So, here's a rundown of some tried-and-tested tips to restore much-needed moisture and shine to your locks!
Go nuts on coconuts!
Coconut oil, to be exact. As coconut oil contains compounds small enough to penetrate the hair's core, applying just half-a-teaspoon to your hair can work wonders. Rub the oil through the mid-lengths and ends of your hair before wrapping it in cling film and leave it for 30 minutes. Then, rinse off the oil with water and baby shampoo.
Love your hair
Don't put your hair through more than it can bear. While heat-styling is great for creating polished hairstyles, too much of it can damage your hair. Traditional wet-roller setting is a more hair-friendly alternative. Even if you do go for heat-styling, always opt for the lowest heat setting and use heat protection sprays.
Watch the weather
Our hot weather can spell trouble for dry locks. But while you can't do something about where you live, you can do something about your hair. Wear a hat and use special sun-protection hair products if your locks are exposed to prolonged sunlight and heat.
Condition with mayonnaise
Aside from being a great sandwich spread, mayonnaise makes for a fantastic hair conditioner. Firstly, wet your hair with warm water. Next, massage a generous amount of mayonnaise on your hair and scalp before covering with a plastic bag. After half-an-hour, rinse off the mayonnaise with water and shampoo.
The hair diet
Hair care isn't merely about picking out the right shampoo and conditioner; it also involves eating healthy. Consume more oily fish like salmon and mackerel as they are rich in omega-3 fatty acids, which are necessary for maintaining scalp health. Also, vegetables and whole-grain foods are great sources of zinc, iron and vitamins – nutrients essential for boosting healthy tresses.
References:
LiveStrong. Available at www.livestrong.com
WebMD. Available at www.webmd.com
If you like this article, do subscribe here.