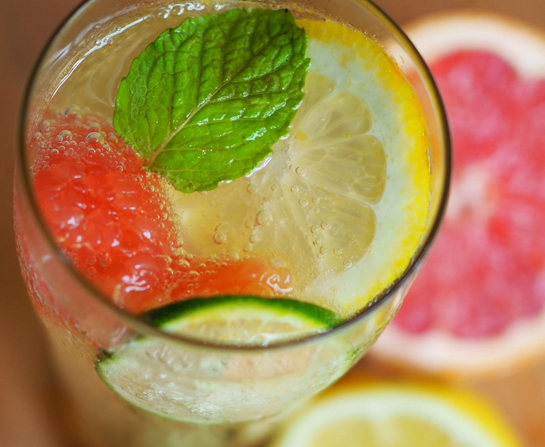 Georgen Thye
BSc. (Hons) Nutrition and Dietetics, IMU Dietitian, Holmusk
Council Member, Malaysian Dietitians' Association (MDA) Founder of Georgen Cooking 
www.facebook.com/georgencooking georgen_thye@live.com
On November 2, our government announced, for the first time, that a tax will be imposed on sugary drinks from April 2019. Sweetened beverages containing sugar exceeding 5 grams per 100ml and juices with sugar content of more than 12 grams per 100ml will be taxed 40 sen per litre. To get a better perspective, this means one can of regular soda (325ml) and a big bottle of 1.5L soda will be 13 sen and 60 sen more expensive respectively.
This tax is one of the government's initiatives to tackle the rise in the prevalence of overweight and obesity in the country. Malaysia has the highest overweight and obesity rate in Asia with nearly half of the population in these categories. Being overweight is a main contributing factor to diabetes and has therefore also caused the diabetes rate in Malaysia to climb. In 2016, over 3.6 million Malaysians aged 18 and above were diabetic – that is about 17 percent of the total adult population, an alarming statistic indeed! Other than causing weight gain and promoting diabetes, excessive sugar intake has also been linked to increased risk of heart disease, cognitive decline, dementia, fatty liver (a condition in which excessive fat builds up in the liver) and cavities too.
Food Item
Sugar (Teaspoon)

Bubble tea (regular 350ml)

7

ABC or Air Batu Campur (1 bowl)

6.5

Sirap bandung (1 glass)

6

Sugar cane juice (1 glass)

6.5

Teh tarik (1 cup)

4.5

Chocolate cake (1 slice, 60g)

3.5

Tomato ketchup (1 tablespoon)

1

Sweetened breakfast cereal (1 cup)

2.5

The amount of sugar in some common food and drink items.
WE CONSUME MORE SUGAR THAN WE REALIZE
There are two types of sugar in our diet: naturally occurring sugars and added sugars. The first refers to sugars found naturally in whole food such as fruits, vegetables and milk. These natural sugars do not lead to health problems that added sugars do. What are added sugars? Added sugars or free sugars are sugars, syrups, natural sugars present in honey and fruit juices, added to food and beverages when they are processed or prepared. These added sugars are the kind we should minimize in our diet.To be frank, it is almost impossible to avoid added sugar completely in this modern age, as most of the food or beverage we consume have added sugar in them. So what's the limit? The American Heart Association recommends a limit of added sugar for men and women to be not more than nine teaspoons and six teaspoons a day respectively. Sound like a lot? It isn't. One can of soda already contains up to seven teaspoons of sugar. Check out the table above to find out the sugar content in some common food and drink.
Yes, tomato ketchup is high in sugar too! This is what we call hidden sugar. A lot of savoury foods can have a high amount of added sugar lurking inside. One plate of mee rebus can contain three teaspoons of sugar while three tablespoons of Thousand Island dressing can contain two teaspoons of sugar, just to name a few. So even if you're not a big fan of sweet food or drink, you can still consume quite a lot of added sugar in hidden form. That's the bitter truth about sugar.
EXCESSIVE SUGAR INTAKE CAN CAUSE WEIGHT GAIN, DIABETES, CAVITIES, HEART DISEASE AND EVEN COGNITIVE DECLINE.

YIKES! HOW CAN WE CUT DOWN THE AMOUNT OF SUGAR IN OUR DIET?
The introduction of this sugary drink tax has sparked heated debates between different parties. Some questions asked: Can this tax really help to reduce the purchase of sweetened drinks and bring about a reduction in overweight and obesity rates in the country? Should the tax be applied to manufacturers and not at the point of sale, so that manufacturers can then work on offering lower sugar options to consumers?Why tax sweetened beverages only but not food high in sugar like sweetened confectioneries? Will this tax encourage consumers to switch to other sugar- sweetened beverages such as teh tarik, kopi susu and home-prepared cordial drinks? There is research that shows other major sources of added sugar in Malaysians' diet to be sweetened condensed milk, sweetened creamer, cordial drinks, chocolate-flavoured beverages and traditional kuih too.
However, everything has to start somewhere. Looking on the bright side, at least the conversation about sugar consumption has started and people are now more aware of the need to cut back on sugar. Hopefully, food companies will start introducing beverages below the taxable criteria so that consumers can have healthier choices.
In my opinion as a dietitian, empowering the public with knowledge and skills is the key! To the right are some recommendations to reduce sugar intake, adapted from the Malaysian Dietary Guidelines. Take a look:
Food
Choose or prepare kuih and cakes with less sugar. Cut back on the sugar called for in the recipe by 1/3; you probably won't notice the difference.
Replace sweet desserts such as kuih and cakes with healthier options such as fruits.
Consume foods containing sugar less frequently.
Avoid consuming sugar-filled foods in between meals and close to bedtime.
Check food labels for sugar content, focusing on the position of sugar on the ingredient list. The higher up it appears on the list, the more sugar the product contains. Sugar may be described in different ways, so watch out for words on a food label such as glucose, fructose, dextrose, fruit juice concentrate, malt syrup, honey, maltodextrin, high-fructose corn syrup, maltose and so on.
Beverage
Choose plain water rather than carbonated and non- carbonated sugary drinks (such as soft drinks, syrup and cordial).
Limit intake of table sugar, sweetened condensed milk or sweetened condensed filled milk to one teaspoon per cup of drink.
When ordering drinks, ask for less sugar, less sweetened condensed milk or sweetened condensed filled milk.
Check the nutrition information panel on labels of beverages for sugar content.
Reduce consumption of beverages containing sugar such as carbonated drinks, cordial, cendol and air batu campur (ABC).
Avoid consuming sugary drinks in between meals and close to bedtime.
You know what? You're already sweet enough, so say no to added sugar. I hope you have a sweet time reading this article!
Follow "Georgen Cooking" on Facebook, Instagram and YouTube for more healthy eating tips and recipes.
Here are two recipes for healthy, refreshing drinks you can serve this Christmas (or any time you wish!). Not only are they yummy and beautiful to look at, but they are completely free of added sugars. HT
SPARKLING CITRUS REFRESHER
Serves: 4 persons
Preparation: 10 minutes
| | | |
| --- | --- | --- |
| Ingredients | Measurement | Notes |
| Orange / Tangerine | 1 medium / 2 small | Juiced |
| Grapefruit | 1 medium | Peeled, cut between the segment and membrane to get the flesh. |
| Lime | 1 small | Thinly sliced |
| Lemon | 1 small | Thinly sliced |
| Mint leaves | 1 small stalk |   |
| Ice cubes | 1 cup |   |
| Soda water | 4 cans (325ml/can) | Chilled |
Method
Pour the orange juice into a big jar.
Add in grapefruit flesh, lime, lemon, mint leaves and ice cubes into the same jar.
Pour in soda water, give it a gentle stir and it is ready to serve!
Nutritional Information (1 serving)
| | |
| --- | --- |
| Energy (Kcal) | 39 |
| Protein (g) | 0.6 |
| Fat (g) | 0.2 |
| Carbohydrate (g) | 8.8 |
| Fibre (g) | 0.6 |
RED CHRISTMAS SPRITZER
Serves: 4 persons
Preparation: 10 minutes
| | |
| --- | --- |
| Ingredients | Measurement |
| Frozen raspberries | 2 cups |
| Pomegranate | 1 cup |
| Rosemary | 1 small stalk |
| Ice cubes | 1 cup |
| Soda water | 4 cans (325ml/can) |
Method
Mash 1 cup of frozen raspberries in a small bowl with a fork until they have achieved a smooth purée texture.
Transfer the raspberry purée into a big jar, followed by the remaining 1 cup of frozen raspberries, pomegranate, rosemary and ice cubes.
Pour in soda water, give it a gentle stir and it is ready to serve!
Nutritional Information (1 serving)
| | |
| --- | --- |
| Energy (Kcal) | 76 |
| Protein (g) | 1.5 |
| Fat (g) | 0.9 |
| Carbohydrate (g) | 15.5 |
| Fibre (g) | 5.8 |
If you like this article, do subscribe here.